When the tassels have been turned and the diplomas distributed, it's time to get the graduation celebration started. No matter what level—from kindergarten to grad school and beyond—every walk across the stage is worthy of a feast for family and friends.
This year, keep the pomp and circumstance going by throwing a celebration that will earn you an honorary degree in the culinary arts. Here are some graduation dinner ideas that will make your graduation soirée the party to remember.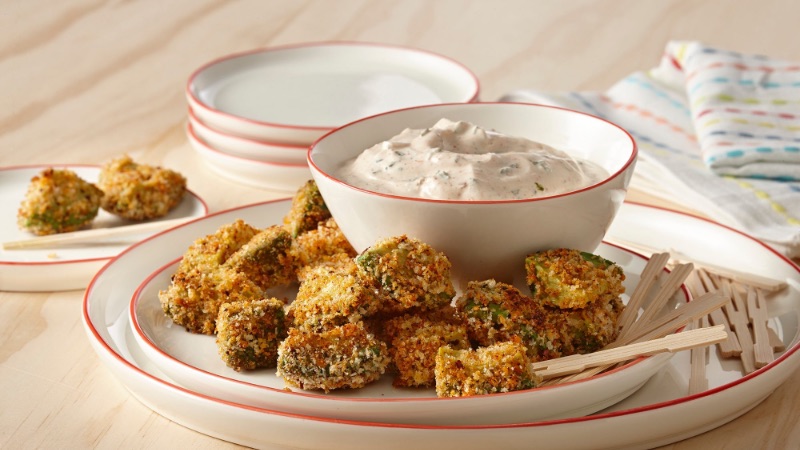 Graduation Party Finger Food Ideas
Keep your guests' hunger at bay with these Southwest flavored baked avocado bites. Sprinkled with Parmesan cheese and dipped in Greek yogurt dipping sauce, these avocado "tater tots" will have everyone licking their fingers.

Looking for even more graduation party finger food recipes? Try these recipes for finger foods that are both delicious and easy to eat while mingling:
• Turkey meatball recipe with scallion skewers topped with a miso glaze
• Cheesy meatball sandwiches on pull-apart bread
• Caribbean style chicken satay recipe
• Hand-held empanadas with your choice of protein and plenty of spices (garlic and paprika and cumin, oh my)
Want more quick and easy meals? Impress your guests with these snack recipes – perfect to munch on before hitting the graduation party buffet!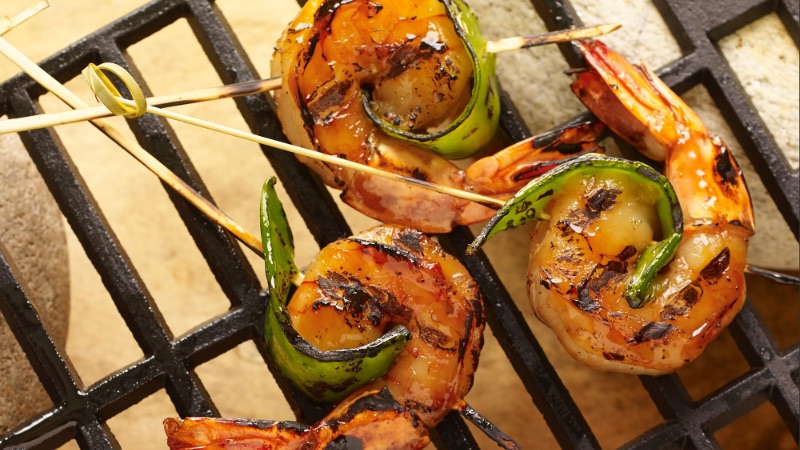 Graduation Party Appetizers
Take the party outside with these grilled shrimp kabobs seasoned with sesame ginger marinade. Get creative with your kabob items – add peppers, onions, or even other meat if you like! The options are endless. Serve with snow peas for an Asian-flavored seafood feast.
• If a full meal—seated or otherwise—is more your hosting style, start the feast by offering appetizers loaded with veggies. Try these refreshing appetizers to start off your meal:
• A simple and refreshing mixed green salad with spiced pecans and pomegranate vinaigrette
• Classic Greek salad made even easier—and more delicious—with McCormick Gourmet Greek Seasoning are great starts to any meal.
• Chilled gazpacho soup recipe topped with avocado puree (serve the gazpacho in little plastic cups for an easy grab-and-go option during cocktail hour before the feast begins)
• Quick and easy bruschetta toast recipe with hummus or salsa
• Or, go for something a little sweeter with these baked sweet potato fries with honey dip.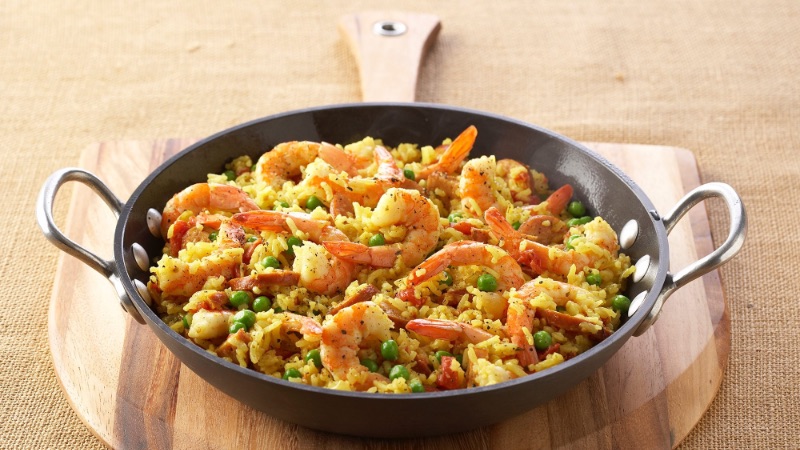 Graduation Party Entrees
There are two ways to go when it comes to serving a stunning main course – family-style or individual servings. Go communal-style by prepping a dish that allows your guests to DIY ("dish it yourself"). These recipes are perfect for family-style meals for this memorable occasion:
• A tomato chicken paella is full of flavor and a guaranteed hit with guests (if you're indulging in the age-old tradition of last-minute party prep, try this quick and easy paella recipe)
• Similarly, a huge skillet of andouille jambalaya will feed a crowd and dazzle them with spicy crushed red pepper, thyme, and oregano while cutting down on your workload. It's the perfect meal for a graduation party buffet
For individual servings, more formal doesn't have to mean more complicated. Try these delicious recipes for an unforgettable main course:
• Roasted paprika chicken served with steamed veggies, roasted potatoes, or salad is versatile, flavorful and easy to make
• Stuffed chicken caprese covered in the three-in-one spice blend of McCormick's All Purpose Seasoning Basil Oregano Garlic will also give your spread an impressive look, while delighting guests with the refreshing flavors of the Mediterranean
Love the sweet and spicy flavors of Cajun cuisine? Check out more Cajun and Creole recipes - perfect for a crowd! Looking for a taste from across the seas? These Mediterranean recipes are simple yet packed with flavor.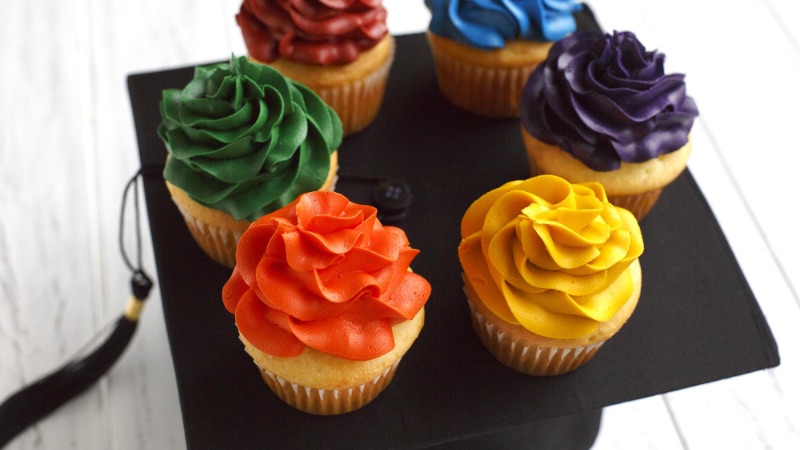 Graduation Party Desserts
It wouldn't be a graduation party without the desserts! Celebrate all your hard work and accomplishments with these fun colorful cake and cupcake recipes:
• Try this fluffy white graduation cake, cream cheese frosting, and fresh strawberries – all rolled into one delicious diploma cake. 
• To really nail the theme, serve up these school spirit cupcakes in your grad's team colors, or a batch of chocolate graduation cupcakes shaped like a cap
• Test your artistic abilities—and create a little flavor variety by adding easy red velvet cupcakes to the mix, complete with cream cheese frosting full of flavor courtesy of McCormick's Pure Vanilla Extract. Once your white canvases have cooled, it's time to get decorating. Think school initials, colors, or even diplomas and confetti to give your cakes a little character.
If cake isn't your style, create a graduation dessert table that features a little something for every taste bud in the room. Add these dessert recipes to your party menu for all the gram-worthy photos and mouth-watering flavors:
• Lemon tarts with limoncello blackberries
• Chocolate mint cheesecake bars 
• Peanut brittle social s'mores
• Summer fruit tart mixed with ground cinnamon and whichever seasonal fruits and berries strike your eye to tie the spring awakening together.
Satisfy your sweet craving with more summer graduation desserts here!
Graduation Party Drinks
When it's time to say cheers to the new grad, the name of the game is fresh and fruity. For non-alcoholic drink options, serve up glasses of these refreshing drinks and mocktails:
• Fresh lemonade recipe garnished with grilled lemons and watermelon
• Or, opt for fresh fruit spritzers that start with a base of sparkling grape juice, apple juice concentrate, and McCormick Pure Lemon Extract, and then let your guests mix-and-match with their fruits of choice (think berries, grapes, and oranges)
• This earthy turmeric infused mocktail is another flavorful way to enjoy the festivities sans alcohol
When it comes to alcoholic beverages for those of age, stick with the theme of refreshing citrus, but go cocktail-style.
• A cilantro lime fizz adds a touch of sweetness courtesy of almond extract to the cilantro, ginger beer, and lime base
• Or, go the bourbon route and serve Kentucky coolers with a little lemon zest. Coat the rims of your glasses in McCormick Grill Mates Brown Sugar Bourbon Seasoning and your cocktails will look like works of art.
• For a more refreshing cocktail, try this peppermint flavored vodka lemonade recipe
• For root-beer lovers, this homemade root beer recipe will not disappoint
For more cocktail options for your graduation buffet, check out our full selection of refreshing cocktails now.