Radishes and arugula. Apricots and cherries. As hard as we try to get excited about roots and tubers, there's nothing quite like spring produce. That's why we're highlighting the fruits and veggies you'll want to fill your crispers with from April to June, along with recipes for how to use them.
Spring Vegetables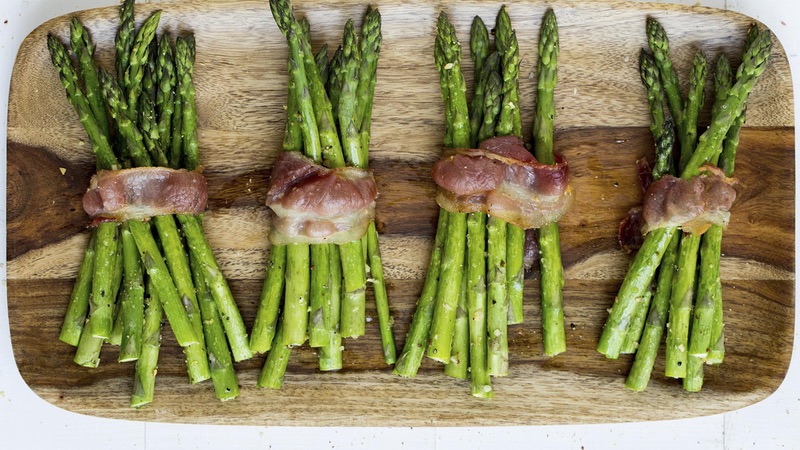 1. Asparagus
Primarily found growing in the Midwest and Northwest, asparagus spears start "crowning" (meaning they're ready for harvest) as soon as the ground warms in early spring, through the very beginning of July (after that, they get stringy and woody). Since they are perennials, once established, asparagus plants will sprout year after year, with the thin, delicate spears being on the younger side, while the thicker, meatier spears are older. Since both are absolutely delicious, it all comes down to personal preference. Enjoy any size of asparagus simply steamed, drizzled with lemon-infused olive oil or dolloped with dill-specked yogurt, or slice on the bias and toss with pastas and risottos, or incorporate in a lively spring salad.
Asparagus Recipes for Spring Season: Lemon Herb Asparagus, Air Fryer Salmon and Asparagus
Learn More About Cooking Asparagus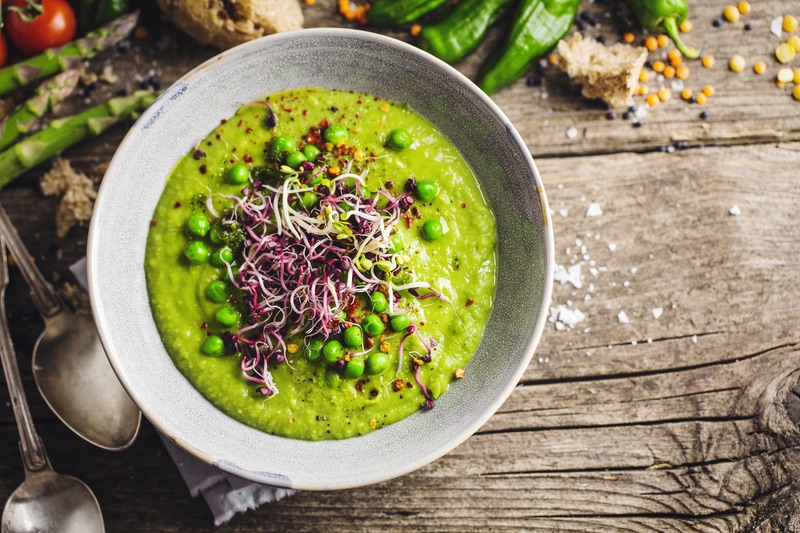 2. Peas and Fava Beans
If you've only ever had frozen peas from the supermarket, you must experience the wonder of an incomparably sweet garden pea (otherwise known as an English pea), plucked straight out of its shell. Entirely edible snap peas are another incredibly welcome sign of spring, as are fat and buttery fava beans (which can be enjoyed with or without a nice Chianti). Save for the fava beans, a truly fresh pea requires little to no cooking at all. If you must apply heat, simply fold into a finished dish just before serving—that slightest bit of radiant warmth will help them become perfectly tender, and allow their vibrant green color to pop. Just keep in mind that peas prefer cool weather, showing up right at the beginning of April, and losing their sweetness the hotter it gets.
Pea Recipes for Spring Season: Spring Pea Soup, Spring Vegetable Salad
Learn More About Cooking Peas And Fava Beans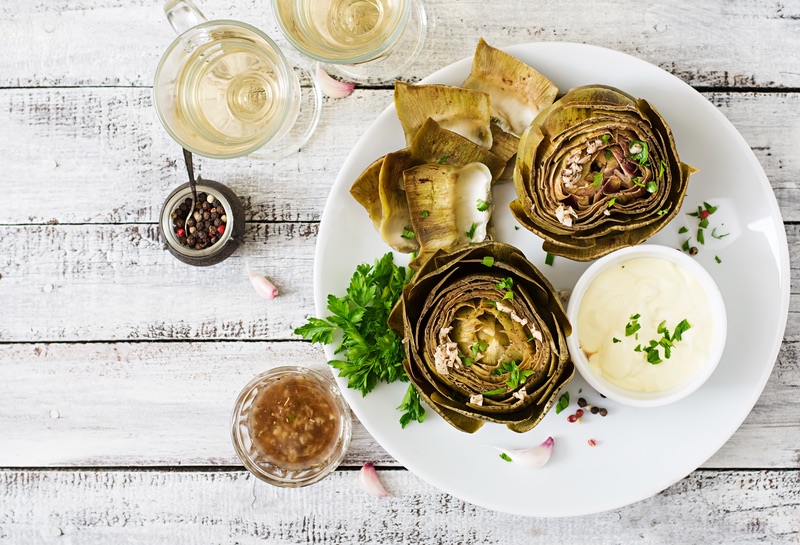 3. Artichokes
Related to daisies, artichokes are the young, unopened buds of the thistle plant. Commercially grown in coastal areas of Northern California, they're at their peak from March until June, before experiencing a second bloom in the fall. With their spiny rings of rough leaves, artichokes tend to have an intimidation factor with home cooks. But they're totally worth the effort, and not as impenetrable as you think, armed with a little know how. Trim the tough leaf tips then steam whole, and serve with a tasty dipping sauce. Or go a step further by trimming the tips, hollowing the inside, and filling with a savory stuffing. Or break the entire artichoke down, in order to access the ultimate score—the soft and succulent artichoke heart, which can be roasted, sautéed, or marinated with olive oil and herbs.
Artichoke Recipes for Spring Season: Crispy Roasted Baby Artichokes with Lemon Dipping Sauce, Spinach, Artichoke and Dill Dip
Learn More About Cooking Artichokes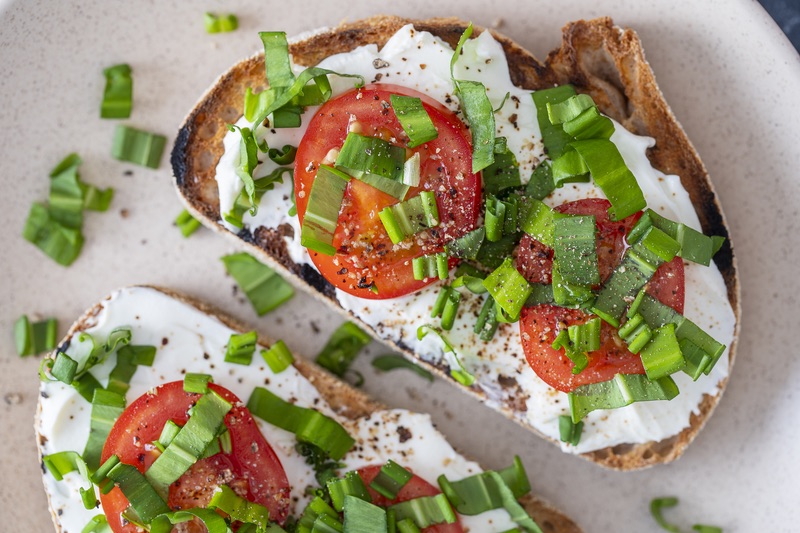 4. Scapes, Ramps, and Spring Onions
Chefs and in-the-know foodies go crazy for ramps—the mild wild leeks that can only be foraged, never cultivated, and are found growing in patches on wet, rolling, wooded hills, at the very beginning of spring. If you can't find ramps at the farmer's market (or through your local forager), spindly, swirly scapes are much more abundant. The tender stem and bud of a growing hard neck garlic plant, harvested from late spring to late summer, before the bulbs mature, they have a mild onion flavor but a surprisingly crunchy texture, not dissimilar to green beans. They can be pureed raw into pesto, chopped fine and used as you would garlic, or cut into 1-inch lengths and sautéed, as an aromatic addition to stir-fries, salads, pastas or soups. Finally, keep your eyes peeled for spring onions, which look like scallions with a more pronounced bulb. They're a definite prize during warm weather season, as they're awesome grilled whole!
Add Ramps, Scapes or Spring Onions to the Following Recipes: Creamy Linguine with Shrimp and Asparagus, Grilled Mushroom and Fontina Toast
Learn More About Cooking Vegetables
Spring Fruit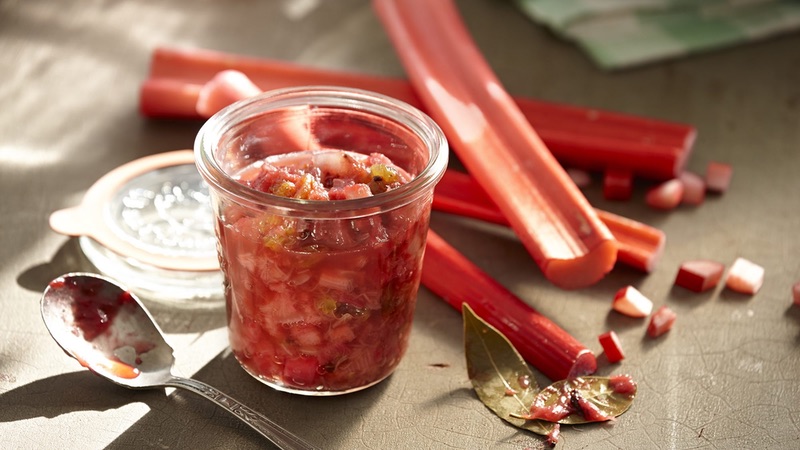 1. Rhubarb
These sweet-tart stalks — which look exactly like blush-colored celery — are practically synonymous with spring. Appearing between April and June, they're best friends with strawberries (see below), frequently joining forces in cobblers and pies. They can also be eaten raw (ideally dipped in a dish of sugar), or quickly and easily cooked down into a compote or jam.
Rhubarb Recipes for Spring Season: Strawberry Rhubarb Fruit Pockets, Rhubarb Strawberry Cheesecake
Learn More About Cooking Rhubarb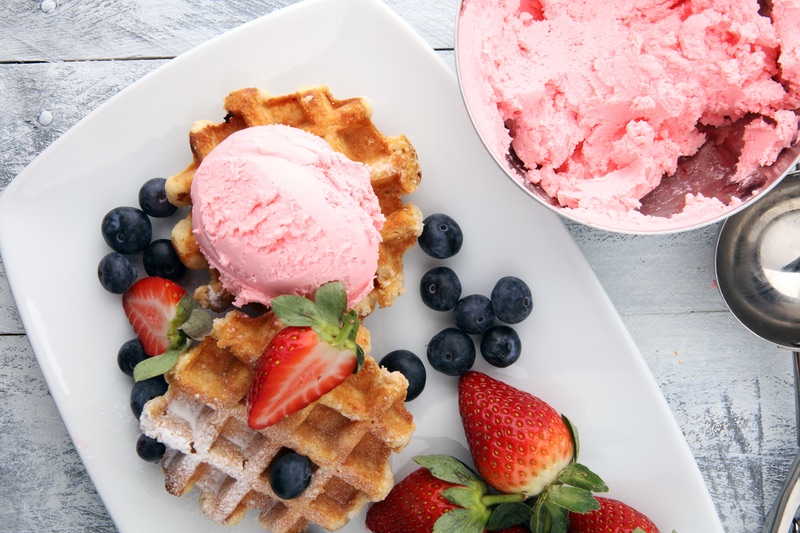 2. Strawberries
The sweet to rhubarb's sour, strawberries are amongst the first of the season's fruit to ripen, with a harvest that extends from early spring to early summer. Super juicy and speckled with seeds, strawberries are utterly delightful as is, or can be sliced into fruit salad, layered into shortcakes, or churned into ice cream.
Strawberry Recipes for Spring Season: Strawberry Rhubarb Cobbler in a Mug, Strawberry Vanilla Smoothie
Learn More About Cooking Strawberries
Read More About Spring Vegetables, Fruits & Cooking Tips
Save your favorite spring recipes and organize your ingredients with our online meal planner. You can also make meal prep simple by creating a Flavor Profile, so you can store your favorite recipes and create grocery lists for easy shopping.