Whether you're an adventurous foodie or more of a picky eater, potatoes have universal appeal. And it helps that they're so versatile. From buttery mashed potatoes to crispy-skinned roast potatoes, and from steamed potatoes tossed with dill to fluffy baked potatoes dripping with sour cream, we're sharing our guide to how to cook potatoes, along with some of our favorite potato recipes.
1. Baked Potatoes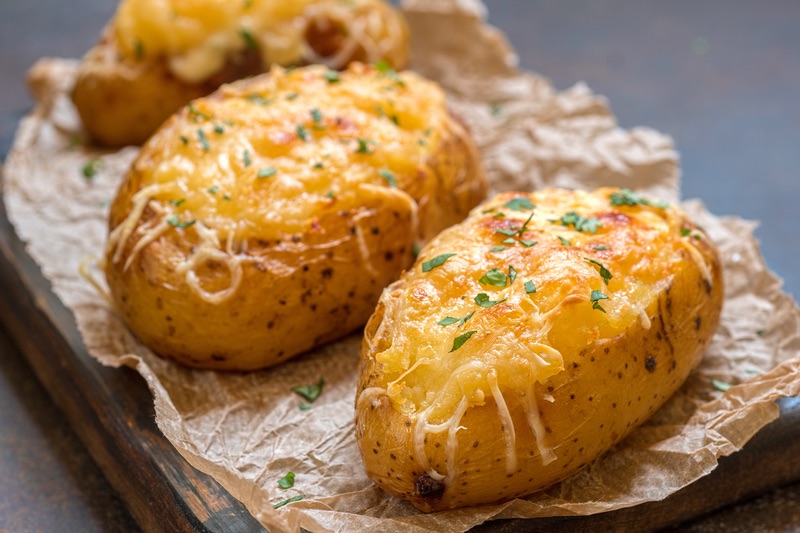 How To Bake A Potato
No matter what method you use, large and starchy russet potatoes are best for baking, since their thick skins cook up nice and crisp, while their sweet interiors remain fluffy and moist.
How To Make A Baked Potato In The Microwave
You can technically "bake" a potato from start to finish in a microwave by scrubbing it, pricking it all over with a fork, wrapping it in a few layers of moist paper towel, and zapping it for 10 minutes or so, or until tender. But for the best possible results, use this method as a 5-minute head start to reduce actual oven baking time.
How Long To Bake Potatoes In Oven
To finish in the oven, carefully unwrap your potato, place on a baking sheet, rub all over with olive oil, and generously season with salt and pepper.
Place in an oven that's been preheated to 425F, and bake for about 50 minutes or until tender, turning the potato over halfway through.
Slice down the middle and serve with your favorite toppings.
Use one of these fabulous baked potato recipes below:
2. Roasted Potatoes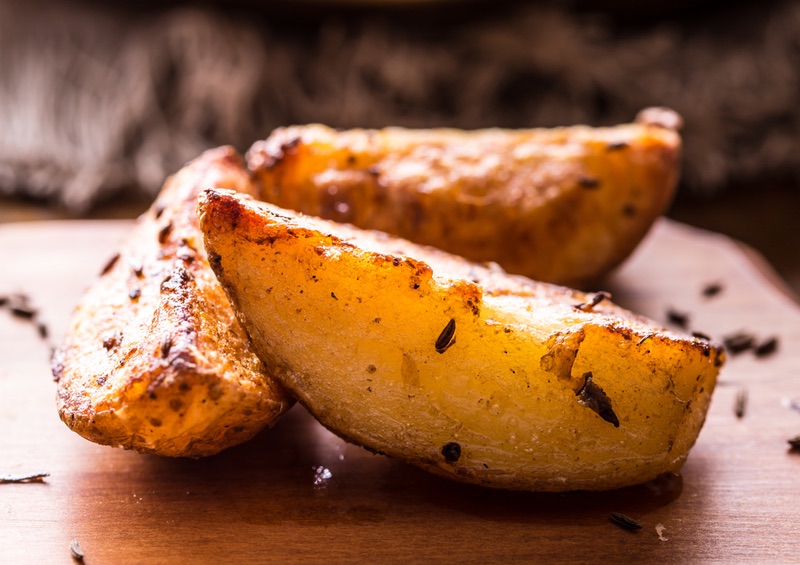 How To Roast Potatoes
Waxy, creamy, and colorful potatoes are the go-to spuds for this method; think Yukon Golds, Red Bliss, fingerlings, or even Purple Peruvian potatoes.
To maximize surface area for superior crisp and crunch, cut larger potatoes into quarters, halve smaller ones, or keep especially diminutive spuds whole.
Toss on a baking sheet with plenty of olive oil, kosher or sea salt and freshly ground black pepper, along with optional herbs such as rosemary or thyme.
Place in an oven that's been preheated to 425F and roast, tossing occasionally for about 45 minutes, or until evenly golden on the outside and tender within.
Feast on these roasted potato recipes: 
3. Boiled Or Steamed Potatoes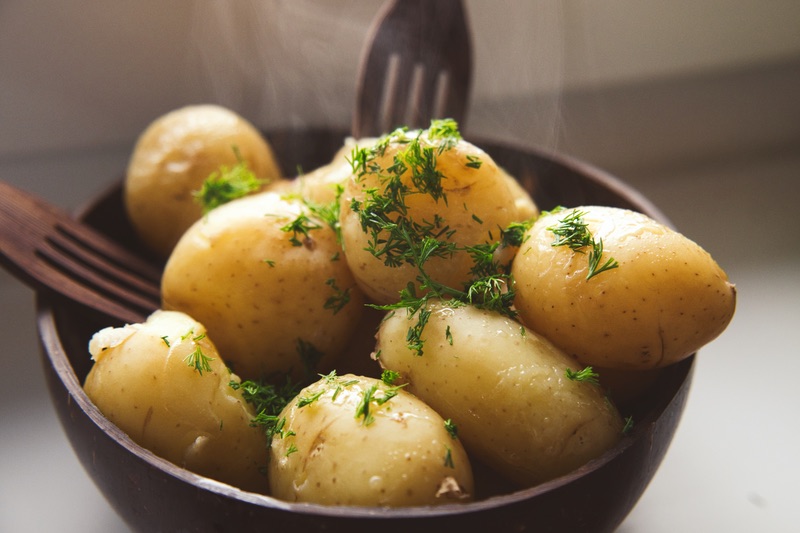 New potatoes or red potatoes are beautiful steamers, and because their skin is so thin, don't require peeling (leaving the skin intact will also prevent them from become waterlogged).
How To Steam Potatoes
To steam potatoes, place the potatoes in a steamer basket over a few inches of salted boiling water, cover with a lid, and cook for anywhere from 15-25 minutes, depending on size, until tender.
How To Boil Potatoes 
To boil potatoes, place in a pot and cover with cold water. Add a lid, and bring to a boil over high heat. Once boiling, season the water generously with salt, lower the heat to a strong simmer and place the lid slightly askew. Continue cooking until tender, anywhere from 15-25 minutes, depending on size.
Check out these boiled or steamed potato recipes: 
4. Mashed Potatoes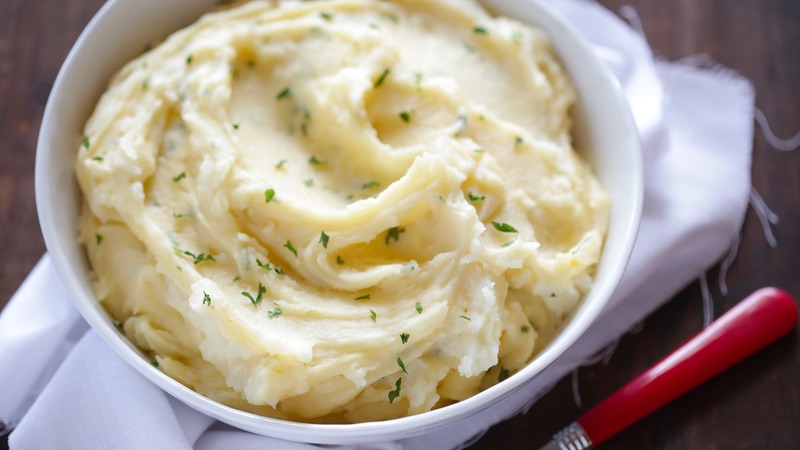 Starchy Idaho or Russets are ideal mashing potatoes (waxy spuds can get gluey).
How To Make Mashed Potatoes
Peel and cut the potatoes in chunks, then boil until tender, using our method above.
Use a handheld masher, or place in a food mill or ricer, to create a smooth puree.
Once smooth, combine with butter, milk or cream, plenty of salt and pepper, or perhaps roasted garlic or fresh herbs. 
Check out our video on how to make the ultimate creamy mashed potatoes. Try one of these delicious mashed potato recipes:
More Potato Recipes
And those are only a few potato preparations! Check out more crave-worthy potato recipes below: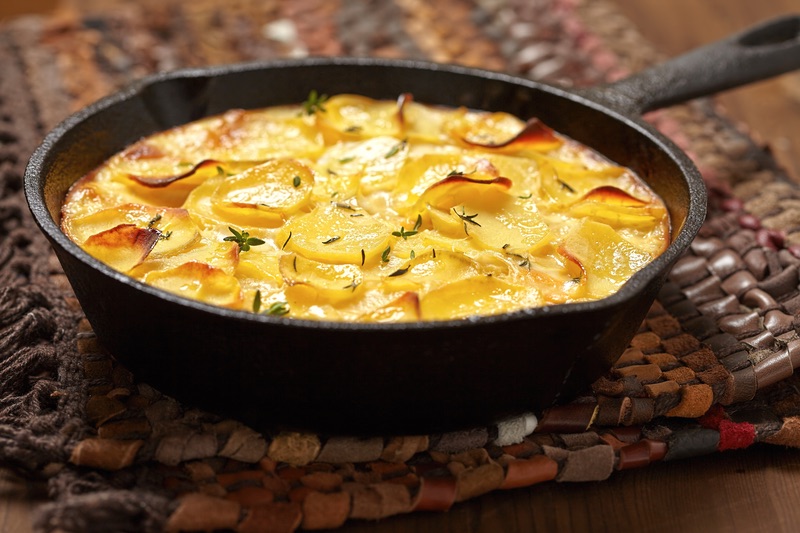 More Tips On How To Cook Potatoes 
Save your favorite potato recipes and organize your ingredients with our online meal planner.  You can also make meal prep simple by creating a Flavor Profile, so you can store your favorite recipes and create grocery lists for easy shopping.