Pumpkin season may have come and gone, but we're very into hearty winter cooking. That means perfectly roasted beef, satisfyingly crispy chicken and all the winter veggies––especially Brussels sprouts.
Why sprouts, you ask? Well, not only are they plentiful this time of year (they're in season from September until mid-February), but they're also incredibly easy to cook with. Whether you sauté them so they're just-tender, keep 'em pleasantly crunchy served raw, or get them satisfyingly crispy in the oven, Brussels sprouts make the perfect cool-weather side dish.
But if you haven't yet experienced the wonders of Brussels sprouts (or you're still haunted by the stinky, soggy sprouts you ate as a kid) now's the time to give them a chance. It's simple––just use this guide to prep, season and cook your Brussels sprouts, and get ready for so many delicious sides.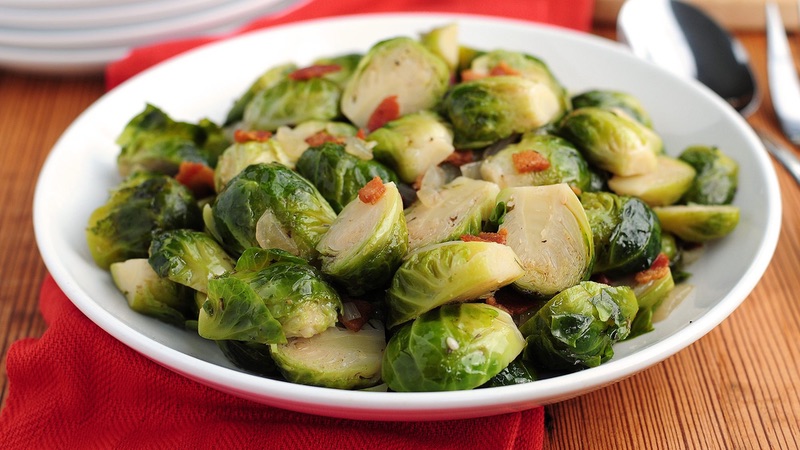 How to Buy and Store Brussels Sprouts
Most sprouts you'll find at the grocery store are loose (which means they're already taken off the stalk for you).
• Look for small to medium sprouts that have bright green, tightly-wrapped leaves
• Steer clear of very large sprouts since they tend to have less flavor
• Also avoid any sprouts with withered, loose or yellowed leaves
• Store your Brussels sprouts in an airtight bag in the crisper
• Eat Brussel sprouts within a few days of purchase, as they'll lose their natural sweetness over time
If you're shopping for your Brussels sprouts at the farmer's market, look for ones still on the stalk. They'll stay tasting fresher, longer. Simply place the stalk in water, as you would for flowers, and use a paring knife to remove the sprouts when you're ready to prepare.
From there, just give them a quick wash and slice off the stem: you're ready to cook.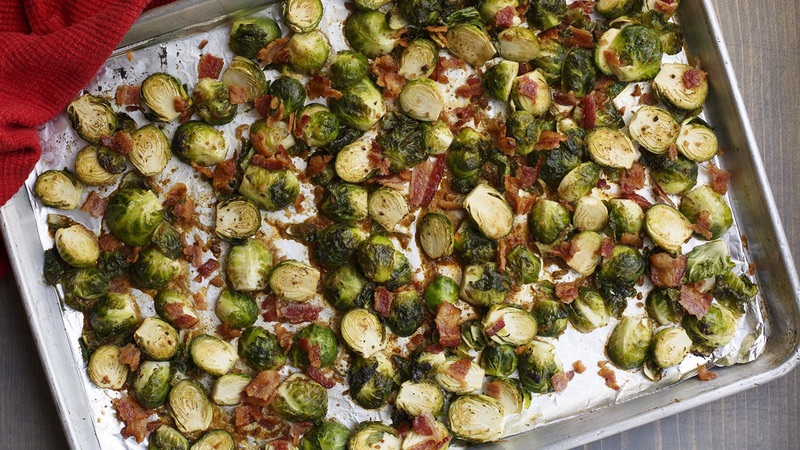 How to Cook Brussels Sprouts
When it comes to cooking methods, you have plenty of options.
Our fave? Roasting. Some quality time in the oven lightly caramelizes the sprouts, bringing out their natural sweetness while at the same time making the outer leaves pleasingly crispy. They're also easy to make––just use this oven-roasted Brussels sprouts recipe to bake them to perfection.
Want tasty sprouts in just a few minutes? Steaming or boiling is the way to go. Steaming takes just 6 to 8 minutes, while boiled Brussels sprouts will be ready to eat in just 5 minutes. Seasonings and mix-ins added after cooking help infuse your sprouts with more flavor.
Alternatively, go for a slightly richer side dish by sautéing your Brussels sprouts. It's easy: just add halved sprouts, a pat of butter (or a drizzle of olive oil) and your fave seasonings to a skillet, then cook until the sprouts start to brown.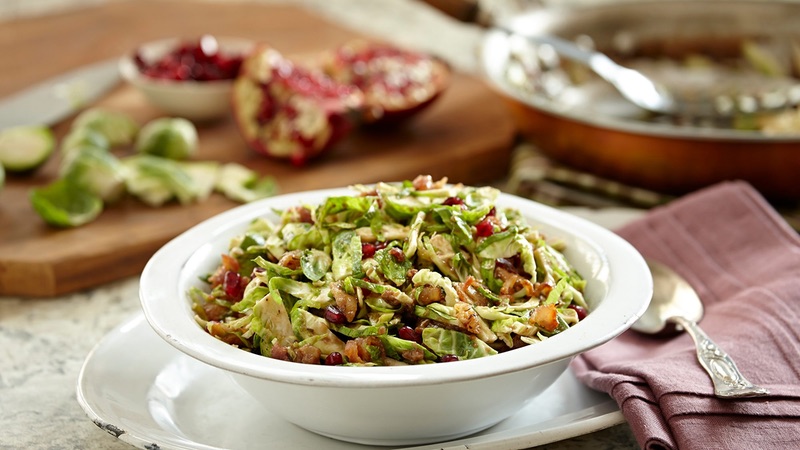 Whichever cooking method you choose, don't overcook your Brussels sprouts. Doing so will zap their natural sweetness, making them unpleasantly mushy and giving them that pungent scent that might remind you of the less-than-gourmet sprouts you ate in childhood. They should be tender enough to eat but still maintain some crispness.
Alternatively, you can serve your sprouts raw. Use a food processor to create shaved Brussels sprouts, which are perfect as the base for a crunchy, flavorful salad – like this shaved Brussels sprouts salad with cranberries and walnuts – or add them to your favorite grain bowls or wraps for extra crunch.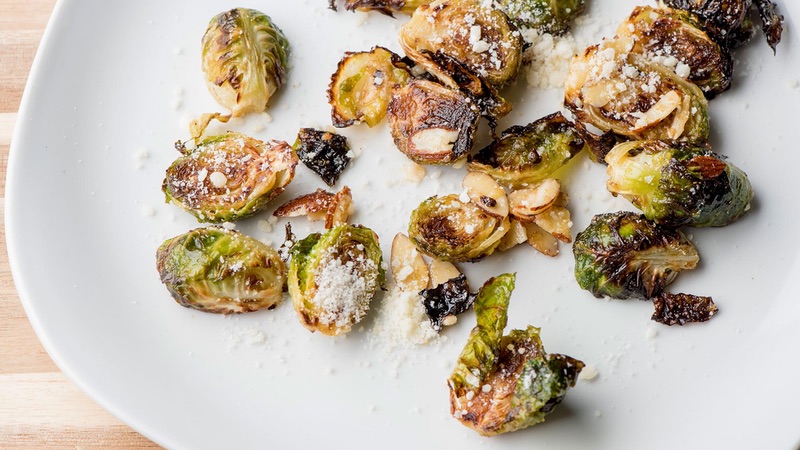 How to Season Brussels Sprouts
A little olive oil, salt, and pepper are all you really need to make Brussels sprouts taste delicious. But, let's be honest, cooking is a lot more fun when you experiment with different seasonings and flavor combinations. So give one (or several) of these options a try.
Try a Tasty Seasoning Mix
Need instant flavor? All you need is a spice or two. Add a sprinkle of garlic powder and parsley to make satisfyingly garlicky sprouts, then top them with some freshly grated Parmesan after cooking for garlic bread-inspired flavor.
Looking for a bright, citrusy side dish? Add a dash of McCormick® Perfect Pinch® Lemon & Pepper Seasoning for deliciously lemony sprouts. Or season your Brussels sprouts with turmeric. A dash of ground turmeric and red pepper flakes gives your Brussels sprouts earthy flavor with a little kick.
Use Vinegar for Zippy Flavor
You can also spice up your Brussels sprouts by mixing seasonings with vinegar. Toss your Brussels sprouts in a homemade balsamic vinaigrette – like the one from this pasta salad recipe – to add savory and sweet flavor. Or coat your sprouts in malt vinegar and sea salt before roasting for "salt and vinegar chip" flavored Brussels sprouts.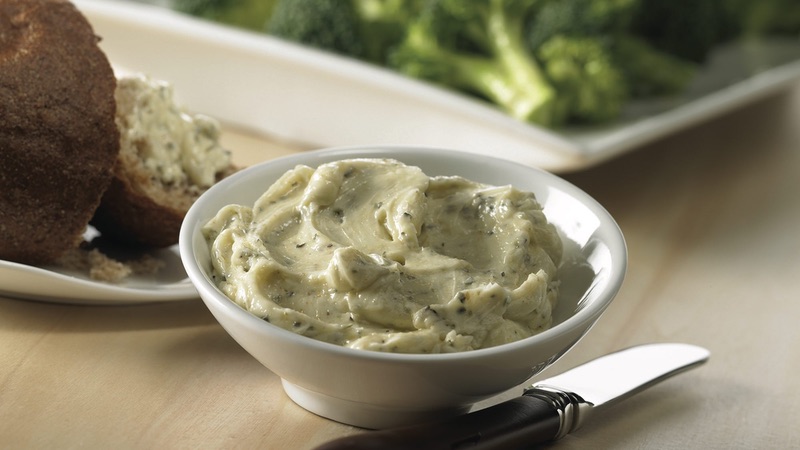 Butter Them Up
If you're seeking a richer seasoning option, try coating your Brussels sprouts in compound butter (because butter makes everything better).
Keep it classic by using homemade savory herb butter with garlic, ground mustard, and Perfect Pinch Italian Seasoning, or add some Mexican-inspired flavor with the chile lime butter.
Infuse your Brussels sprouts with smokiness with smokehouse maple chipotle butter. Or fully embrace cool-weather flavor by adding apple cinnamon butter to complement the natural sweetness of the sprouts.
Sample Satisfying Mix-Ins
Craving more texture in your side dish? Use mix-ins to upgrade your sprouts. Bacon is a natural pairing for Brussels sprouts, so whip up these tasty sautéed sprouts for an easy weeknight meal. Or use nuts to add satisfying crunch to your Brussels sprouts. Toasted walnuts or pecans taste great paired with Brussels sprouts, or you can amp up the flavor even more by adding chopped spiced nuts.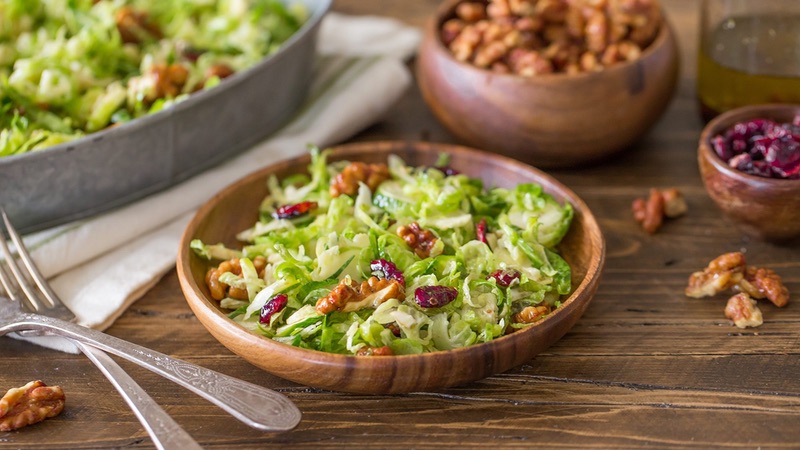 Dress to Impress
Another option? Mix in homemade sauces or vinaigrettes to turn basic Brussels sprouts into a gourmet-tasting, warm salad. Adding ginger honey sauce, like we did for these Brussels sprouts, brings out the sprouts' natural sweetness. While this dijon thyme vinaigrette gives your sprouts a twist of tangy flavor.
Brussels Sprout Recipes
One of the best things about Brussels sprouts is how adaptable they are. Whether you're in the mood for sweet, sour, tangy, savory or spicy, you can conjure up a flavor combo that works using the spices and pantry staples in your kitchen.
That said, a little guidance is helpful when you're still experimenting with Brussels sprouts. So choose one of these tried-and-true recipes to get started.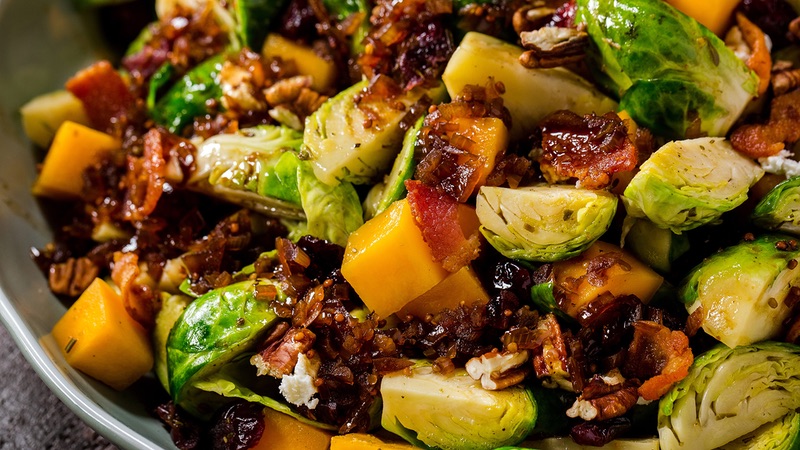 Give your Brussels sprouts salad a comforting cool-weather makeover with bacon and butternut squash. Featuring McCormick® Herbes de Provence for herby warmth, this salad is the perfect way to enjoy this seasonal vegetable.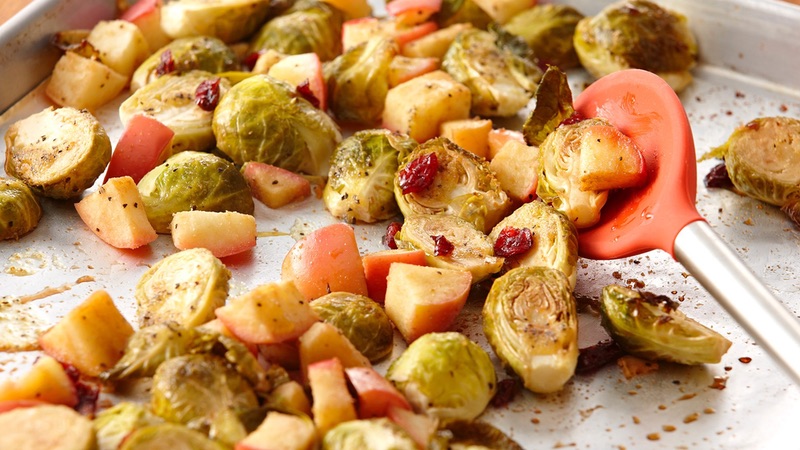 Add a little sweetness to your side dish by roasting your garlic and onion powder flavored Brussels sprouts with perfectly seasoned apples.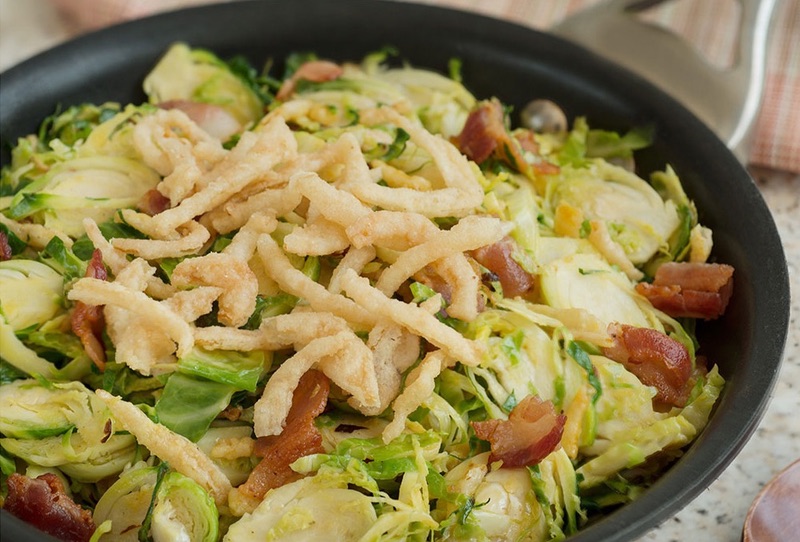 Smoky bacon, crispy onions and a tangy mustard dressing featuring French's Classic Yellow Mustard and topped with French's Caramelized Crispy Fried Onions make this side dish seriously satisfying.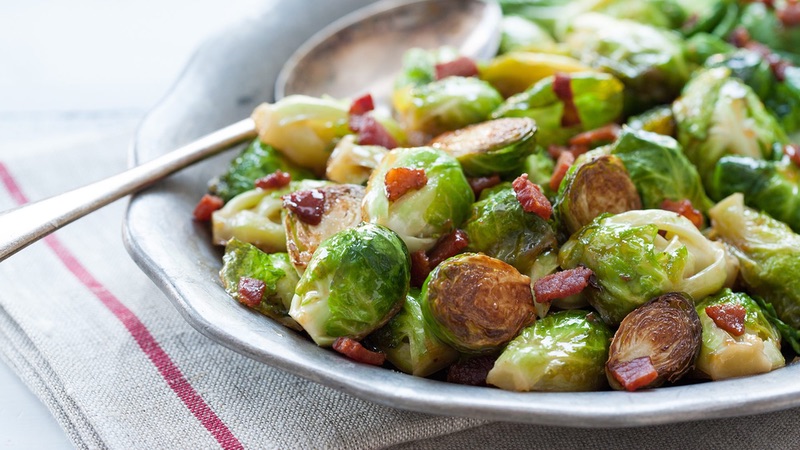 A simple glaze made from honey, ginger and orange peel makes these Brussels sprouts feel fancy enough for entertaining.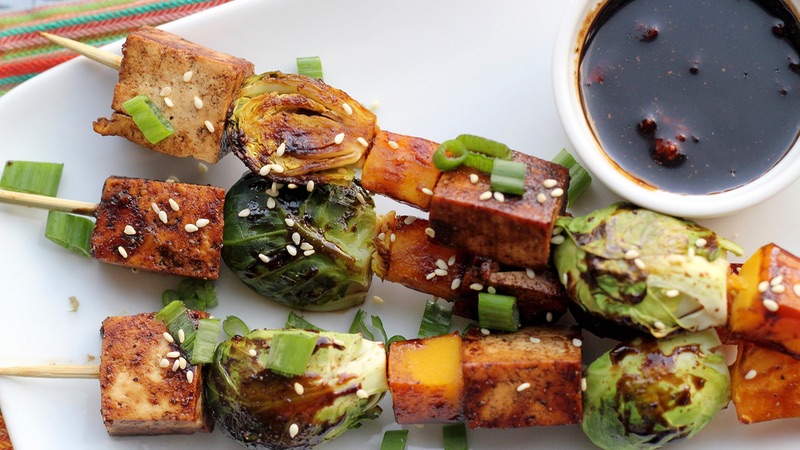 Bring BBQ flavor to your table with these easy skewers, seasoned with ginger, tamarind paste, and soy sauce and topped with sesame seed for Asian-inspired flavor.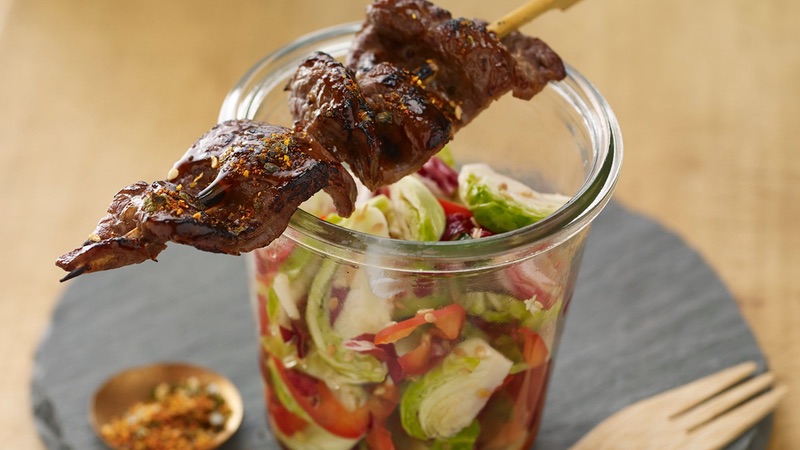 Speaking of BBQ flavor, these skewers bring the taste of fresh Japanese street food to your kitchen (thanks to Japanese Seven Spice). And the sweet-but-tangy Brussels sprouts salad? Perfection.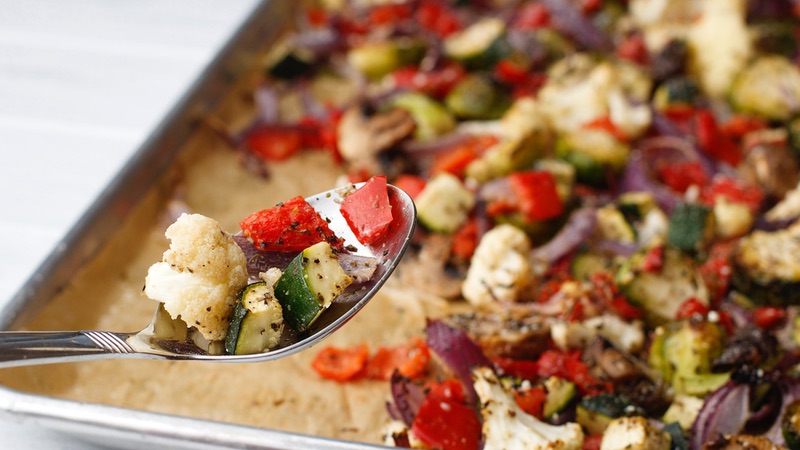 What's better than Brussels sprouts? Brussels sprouts and their friends! Use up all the seasonal produce in your fridge with this easy roasted vegetable medley, seasoned with garlic, basil and oregano leaves, and black pepper.