Grain bowls have become a staple on our Pinterest feeds, and we're officially ready to declare this "trend" a new classic. Ultra-portable and adaptable, grain bowls are the easiest way to get creative in the kitchen. They work with any combination of toppings, so you can create unlimited recipes that incorporate your favorite flavors and textures for dozens (or hundreds!) of unique and delicious meals.
If you're holding out on making them because you don't like the taste of rice or quinoa, or your grain bowls just don't seem to turn out the way you planned, now's the time to give them another try. Upgrade your grain bowl recipes from "meh" to "mouthwatering" by choosing the right mix-ins and toppings and make tastier grains with a few easy tricks. Read on to learn everything you need to know to invent your own grain bowls — and get some inspiration from our recipes.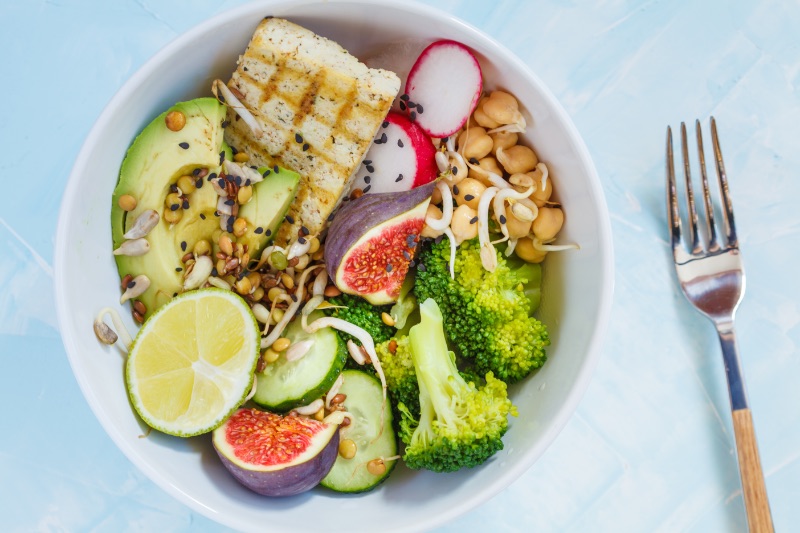 Types of Grains
Two of the most popular grain bowl classics are brown rice and quinoa.
Brown Rice or Quinoa
What is quinoa? Although known as one of the most popular grains, quinoa, which belongs to the amaranth family and is native to the Andes Mountains in South America, is actually a seed! While both quinoa and brown rice have a relatively mild taste, they work with flavors from a wide range of cuisines, making them great "starter" grains for your bowl.
Amaranth or Teff
However, they're not your only options. Alternative grains like amaranth and teff can switch up the texture of your bowl without significantly altering its taste - an excellent option if you're trying to introduce new foods to picky eaters.
Brown rice, quinoa, amaranth, and teff are all gluten-free grains so they're great options if you have dietary restrictions.
Wheat Berries, Whole Wheat Kernels or Freekeh
Take your base to the next level with some bolder options: wheat berries, or whole wheat kernels, have a toasty nutty flavor, while freekeh — made from roasted, wheat grains — infuses your bowl with a pleasant smokiness. Heirloom rice varieties, like red or black, also amp up the texture without straying too far from a traditional rice bowl.
Farro
You've probably heard of farro, another grain often mentioned with quinoa. What is farro? Farro is a type of wheat (so it's not gluten-free) that looks very similar to brown rice (with a slightly nuttier taste) and refers to a variety of wheat species. One of the oldest grains – going back to ancient Roman times – farro is another great way to start off the base of your grain bowl.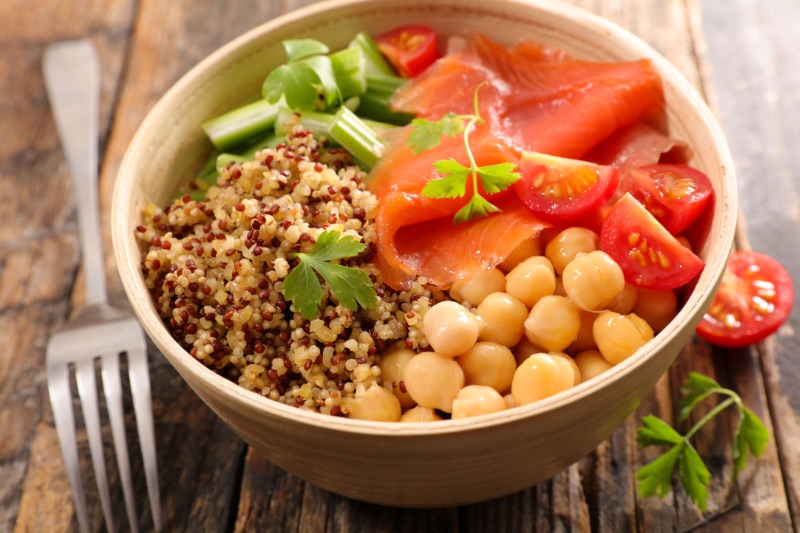 How to Make Grains Taste Better
While veggies and protein typically take center stage in your grain bowl (more on those in a sec!), there's no reason the grains themselves shouldn't taste amazing. If you've ever wondered how to make quinoa taste better (or even plain rice), try toasting your grains in oil before you cook them. Toasting brings out a roasted earthiness in the grains, which makes for a better-tasting, heartier bowl.
Seasoning is crucial, too. Add some unsalted chicken or unsalted vegetable stock to the cooking water, along with a dash of onion powder or garlic powder to season your grains as they cook. These also tend to taste relatively "neutral" – not only do they work with a range of toppings, you won't be committed to making just one type of bowl.
Looking to branch out and take your flavors up a notch? Try a seasoning blend that gives you the flavor of several spices in one bottle. Try a dash of taco seasoning for Mexican-flavored grains, or use Adobo Seasoning with Pepper if you're craving a Latin-inspired bowl. Or, if you're in the mood for a taste of the Mediterranean, Perfect Pinch® Italian Seasoning is perfect with its zesty blend of classic Italian herbs and spices.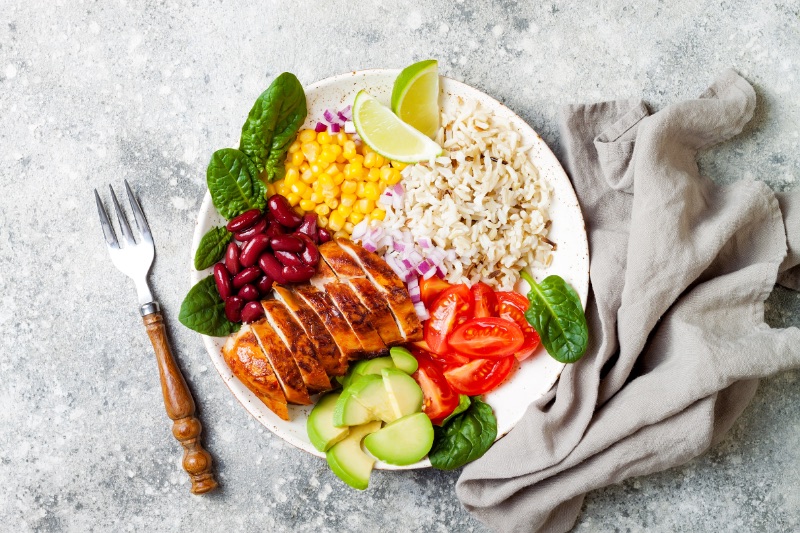 Pick the Perfect Protein
Protein helps give your grain bowl staying power, so you'll stay full for hours after your meal. And you can use virtually any meat or meat alternative to pack in some protein. Some topping ideas include chopped grilled chicken with harissa for North African flavor or use sliced lemon rosemary grilled chicken for a Mediterranean bowl. Chickpeas are another perfect way to add protein into your grain bowls – this curry chickpea recipe seasoned with cumin and coriander pack a spicy punch that's complemented perfectly by diced tomatoes, spinach, and onions.
Try topping your grain bowl with zesty red wine and herb steak with grilled mushrooms and onions for a hearty meal, or add a few paprika-spiced shrimp for a lighter lunch. Another great option is this cilantro lime shrimp bowl with rice – with loads of savory spices like garlic, cumin, and smoked paprika. Or, go for Asian flavors with this Asian quinoa bowl with steak and bok choy uses beef stock to flavor the grains and features carrots, cilantro, chilies, and crushed peanuts.
You can make vegan or vegetarian grain bowls easily: Just add plant-based protein with a spoonful of black bean and corn salsa, or a few cubes of crispy tofu. You could even add a spoonful of homemade vegan bean chili for a warming and comforting grain bowl. Or, take a trip to Latin America with this Mexican-flavored black bean and rice burrito bowl for a flavorful twist on a classic grain bowl.
Almost any protein-packed leftovers will work great here, so use your imagination to create a one-of-a-kind lunch!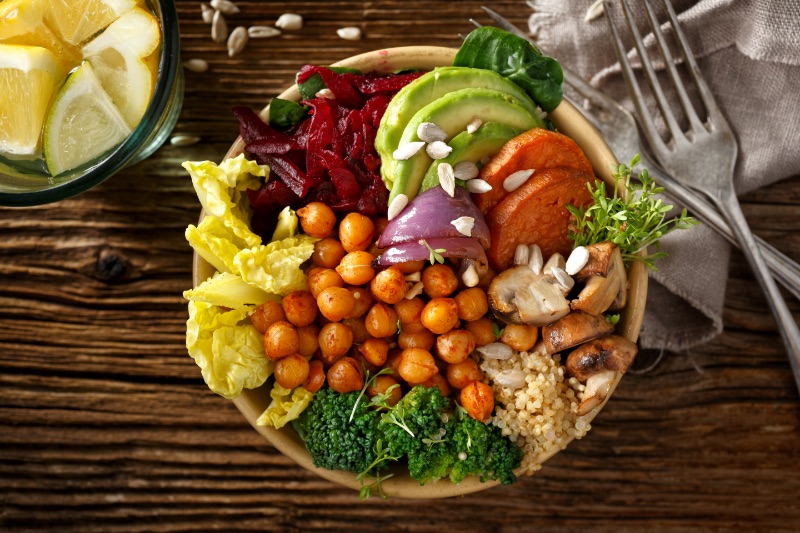 Add Flavor with Vegetables
No grain bowl is complete without veggies, and you'll get the best mix of satisfying crunch and toasty flavor if you use both raw and cooked produce. Whip up a batch of roasted or grilled vegetables, like these roasted garlic or zesty herb varieties, to use in your bowls throughout the week. Then add chopped cucumber, tomato, shredded carrot, crunchy cabbage, creamy avocado or sliced scallion — whatever you're in the mood for! Grain bowls are 100% customizable – so feel free to add in whatever satisfies your taste buds.
If you don't have access to a grill, try cooking your veggies in a cast iron skillet instead. A batch of this vegetable stir fry makes perfect Asian-inspired grain bowls for the week, while corn toasted in oil adds satisfying depth to a Latin American-inspired bowl.
Warm your cooked veggies up before assembling your bowl or add them cold — it's all about experimenting to find what you prefer.
Need inspiration or not up to inventing your own bowls? No problem! Try swapping out the base in these scrumptious rice and noodle recipes for your favorite grain for a quick and easy meal with a twist. Grain bowls are 100% customizable, and the options are endless. Don't be afraid to experiment with different types of protein, vegetables, and bases!