You've got the pumpkins carved, the witchy decorations up, and your place is decked out in orange and black – it's time to prep the Halloween party food! Aside from candy (a staple!), there's no "traditional" Halloween menu. Let your imagination run wild when it comes to creating a boo-tiful spread that you and your guests will love. Try your hand at whipping up some of these Halloween recipes to create the perfect party menu that'll prime your guests for a night of unforgettable trick-or-treating.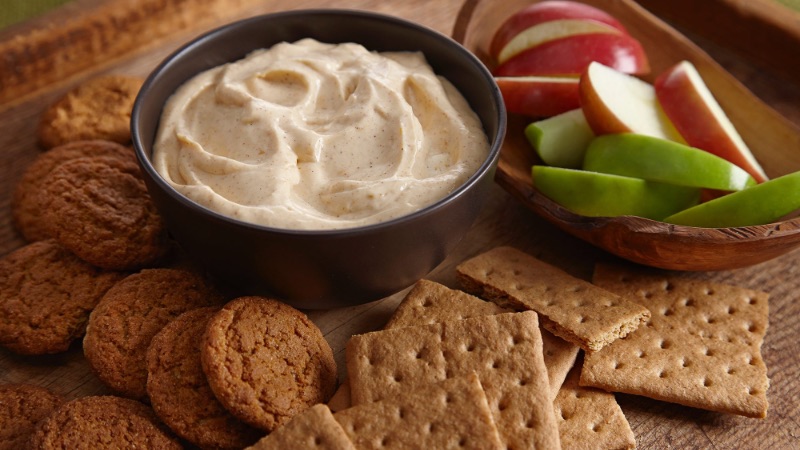 Start with Spooky Halloween Appetizers
Get your ghostly party started strong with creative Halloween appetizers. Use food coloring to turn simple sweetened popcorn into zombie boogers - kid-friendly and fun!
Of course, it's also pumpkin spice season. Use that jack-o-lantern as inspiration for the appetizers. A creamy pumpkin pie spice dip pairs perfectly with seasonal fruit and sweet treats. Set it out with spiced apples, pears, graham crackers and crunchy gingersnap cookies.
If you've been a prolific pumpkin carver this year, lay out an array of differently seasoned pumpkin seeds. Go for smoky pumpkin seeds, which get their depth of flavor from smoked paprika, or try sweet spice-glazed pumpkin seeds featuring allspice, cinnamon, nutmeg and ginger – all of your warming autumn faves. Or make pumpkin pie spiced pumpkin seeds to double up on pumpkin-inspired flavor.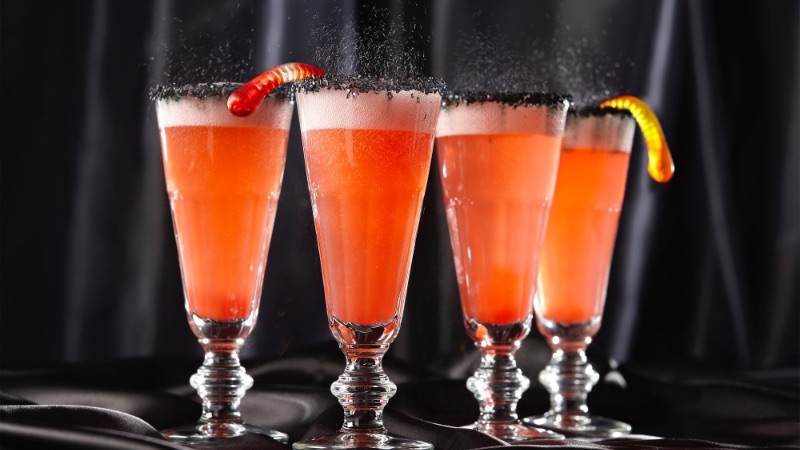 Mix Bewitching Brews
A party isn't a party without beverages – and it's simple to whip up some delicious Halloween-inspired ones. Make any cocktail or mocktail instantly spooky by adding a Halloween drink sugar rim. We love it with this sparkling orange hocus pocus fizz. Or, awaken the vampire within you with this orange-red sugar rim - it's the perfect way to set a spooky mood.
Try your hand at making this ghostly Halloween cocktail featuring marshmallow eyeballs - it's a delicious yet ghoulish drink that's sure to impress your guests.
If you're serving a larger crowd, make a refreshingly creepy Halloween punch, like this green lagoon version that features icy purple hands floating in a neon green punch. Or keep it classic by serving a warming apple drink, like this cinnamon-spiced apple juice or caramel apple cider.
And if you need a little boost of energy before a night of Halloween fun? Cap your meal with a pumpkin pie spice coffee (with a dollop of pumpkin pie spiced whipped cream).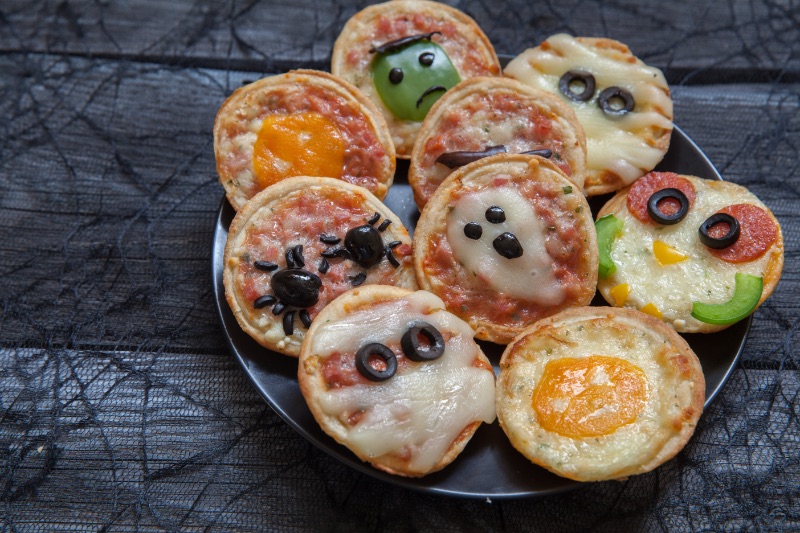 Conjure Up Eerie Entrées
Trick-or-treating can work up an appetite. Create a striking main course with spooky sandwiches, which are painted with food coloring to feature Halloween shapes, like bats, pumpkins and autumn leaves.
Alternatively, give your dishes Halloween-inspired names to make some of your family's favorites more spooky. Make Halloween meatballs with these spaghetti and meatballs (a.k.a "guts and eyeballs") recipes with garlic bread (or "ghostly gravestones") on the side. Make a delicious pizza – like this Italian sausage and pepper pizza or this easy veggie one – and arrange the toppings in Halloween shapes, like a jack-o-lantern, mummy, zombie or owl. Use the photo above for inspo, and let your creativity run wild!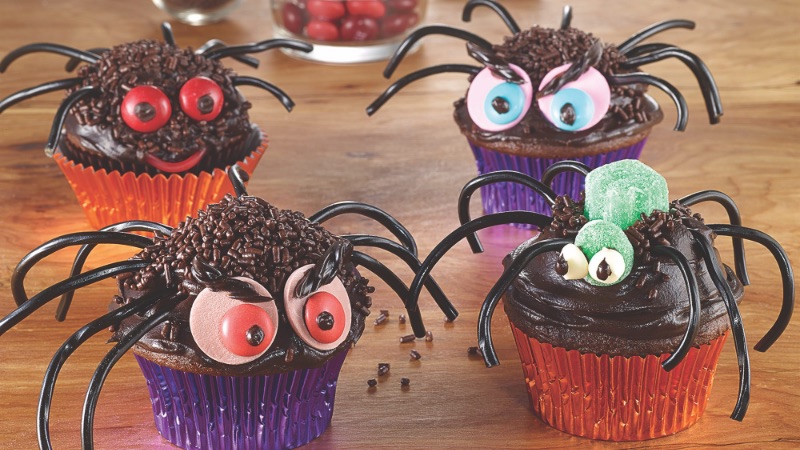 Serve Scary Halloween Treats
Halloween is all about honoring your sweet tooth, so you shouldn't feel guilty about turning all your fave Halloween dessert ideas into reality.
Start with cupcakes: A platter that includes pumpkin cupcakes frosted with "candy corn" buttercream and multi-colored monster cupcakes looks adorably mischievous. Add in red velvet vampire cupcakes and bloodshot eyeball cupcakes – both of which get their "bloody" hue thanks to red food coloring – and you've got a bewitching final course.
Looking for more spooky treats like these creepy spider cupcakes? Check out more McCormick Halloween recipes here.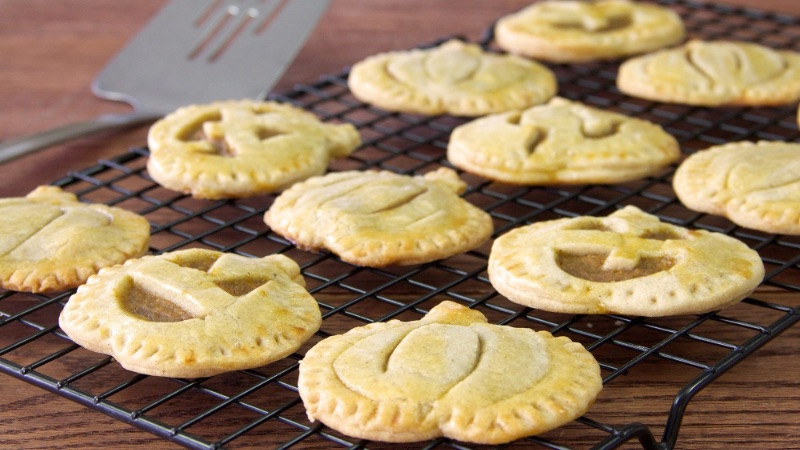 Cookies more your style? These chocolate black cat cookies featuring vanilla extract and black food color and spiced pumpkin pie cookies are sure to please. Serve oatmeal harvest cookies or maple-flavored autumn leaf cookies for more fall-inspired flavor. Decorate your chilling cookie tray with Halloween candy or candy corn fudge, and you're all set!
If you want a Halloween dessert that feels a little fancier, these pumpkin spice salted caramel macarons and perfectly spiced apple and pear crisps, will certainly impress your guests.
Don't Forget the To-Go Treats!
Even if your party isn't an official trick or treat destination, there's no reason for your guests to leave empty-handed. Treat them to a batch of DIY Halloween slime. Use this color and scent mixing guide to create lime slime monsters, pumpkin spice o'lantern and candy corn slime before the 31st.
Want to take your spooky Halloween menu up a notch and really impress your guests? Learn how to carve a pumpkin and try your hand at making your own jack o'lantern for the ultimate Halloween party.