Asian cuisine has a rich variety of cooking styles, and many of us love Chinese, Indian, Korean and Japanese dishes. If you've never taken the time to try Thai cooking, though, you're missing out on a world of taste.
Thai food offers some unique flavor combinations that will light up your palate. Here's our take on some quintessential Thai dishes that will leave your family asking what that incredible taste was and whether there's any more.
Must Try Thai Dishes
Thai Appetizer Recipe  
This Chicken Satay dish is a sure winner, thanks to a tasty marinade featuring coconut milk and Thai Kitchen® Gluten Free Premium Fish Sauce. For such a flavorful meal it requires very little preparation. Just 15 minutes of prep and an hour in the fridge, followed by a few minutes on the grill will get these bites to the table. They'll look amazing, and a bowl of Thai Kitchen® Gluten Free Peanut Satay Sauce for dipping will complement them perfectly.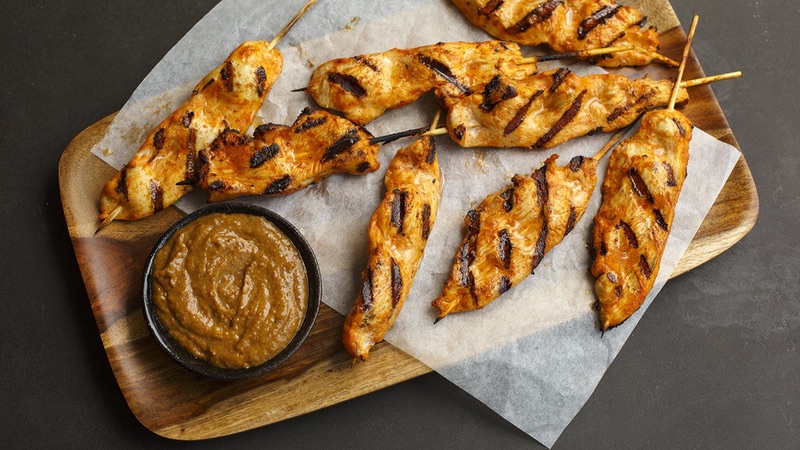 Thai Soup Recipes
Few countries do soup as well as Thailand. Cooks there excel at mixing contrasting flavors. One example is Tom Yum Soup (Hot & Sour Soup), which mixes lime, lemongrass, galangal, and chili paste. Our version of this soup, which you can make with either prawns or chicken, is great in a small bowl for an appetizer, but is also rich enough to make a main course.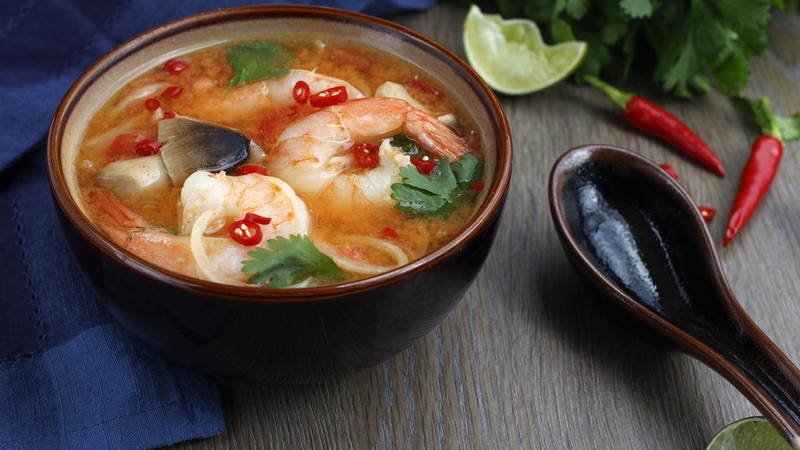 Alternatively, check out this Coconut Chicken Soup. It relies on coconut cream for its texture and color along with fish sauce, ginger, and lime juice for its subtle flavors. Amazingly, you can have it on the table from scratch in around 15 minutes.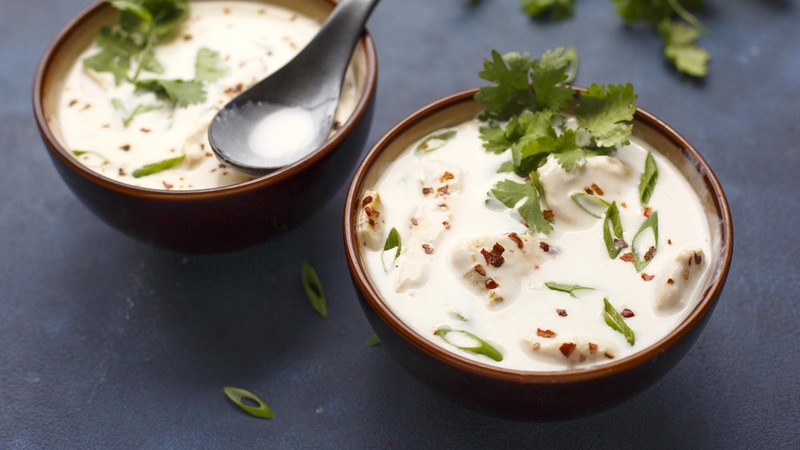 Thai Stir Fry Recipes
Here's another 15-minute wonder: our take on Pad Thai noodles. It mixes Thai Kitchen® Gluten Free Stir Fry Rice Noodles with roasted peanuts, eggs, and veggies in an irresistible one-bowl dish (although don't blame us if you find yourself going back for a second). The basic and the tamarind concentrate add the notes that make Pad Thai so popular.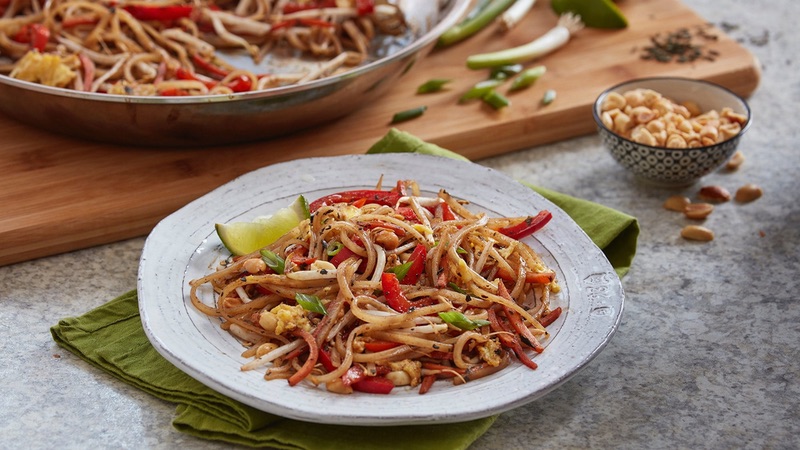 Basil is a common signature herb in Thai cooking, and it features in another of our favorite McCormick Thai-style dishes: Spicy Thai Basil Chicken. This dish, which goes well with rice, blends brown sugar for a little sweetness to temper the heat from spicy crushed red pepper.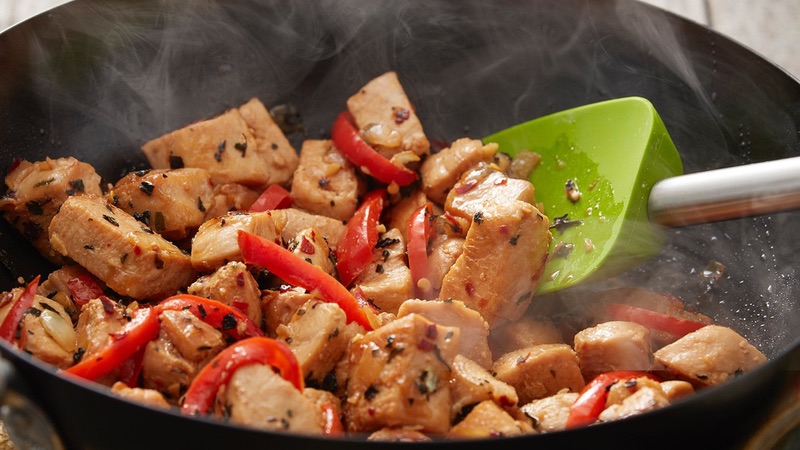 Thai Curry Recipes
Thai curries are far different from many of the curries you'll find in India to the west, relying more heavily on coconut milk and often featuring a thinner soup-like consistency. You'll often find a brighter taste from Thai curries, which typically blend in more citrus-like flavors from ingredients like lime leaves and lemongrass.
Thai curries also generally rely more heavily on pastes rather than dry ingredients. Our Thai Kitchen® Gluten Free Red Curry Paste is a key ingredient in this Red Curry Shrimp and Vegetables dish, which like many other Thai-based recipes in our collection takes minimal prep and cooking time. For a non-seafood option, wow the family with this Red Curry Chicken recipe.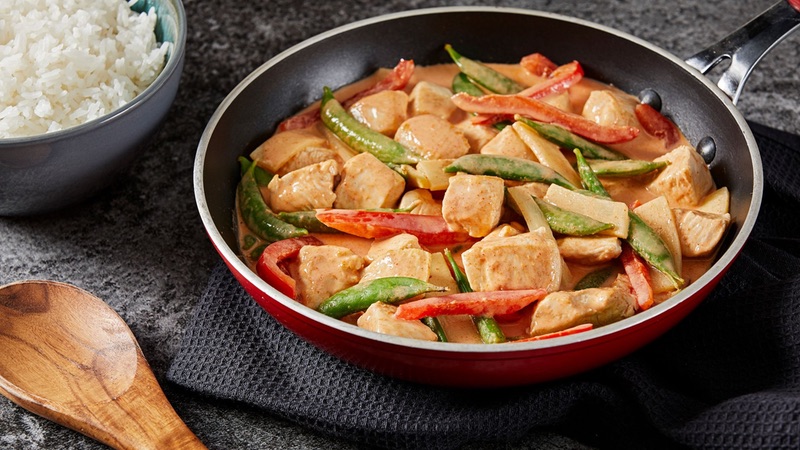 Thai curries also come in green variants, which rely on a different flavor profile featuring cilantro and lime leaves. Basil provides the other component to our Prawns and Basil Green Curry recipe, which relies on our green curry paste as a main component. While seafood features heavily in Thai cuisine, you can also try this Green Curry Beef alternative.
Making great-tasting Thai meals at home is easy using Thai Kitchen pastes, coconut milk and fish sauce. These vibrant flavors will have you longing to book that long-overdue trip to Thailand for the full, life-changing experience. Until then, these Thai recipes will give you a delicious taste of what Thai cuisine has to offer.
More Thai Recipes To Try  
Learn More About Thai Cooking 
Learn About Various Cuisines 
Want to try making more cuisines? Check out these various cuisines to see where inspiration takes you. 
Save your favorite Thai foods, dessert, drink recipes and organize your ingredients with our online meal planner.  You can also make meal prep simple by creating a Flavor Profile, so you can store your favorite recipes and create grocery lists for easy shopping.