Thai-inspired curries have recently become one of my weeknight staples. As long as I have a jar of store-bought curry paste in my fridge and a couple of cans of coconut milk in my pantry, I know I'm just minutes away from a satisfying dinner.
Although you can adapt these curries depending on which protein and veggies you have on hand, my current favorite is this creamy pot filled with plump shrimp, juicy bell peppers and crisp baby bok choy. It's full of spice and oh-so satisfying any night of the week -- no matter the season.
Curry that's better than takeout
For years, I only enjoyed Thai curries when I ordered them from my neighborhood takeout spot. After finally making one myself, I quickly realized how easy they can be -- especially because good Thai curry paste is easy to find in most grocery stores these days. Add a protein, some vegetables and coconut milk, and you have a dish that rivals your favorite takeout dish in next to no time.
Here, I've bumped up the flavor of store-bought curry paste with garlic and fresh ginger, and added a big burst of freshness with lime juice and cilantro, which offsets the richness of the coconut milk. There's lots of sauce here begging to be soaked up with rice, although it's equally as tasty if you just grab a spoon.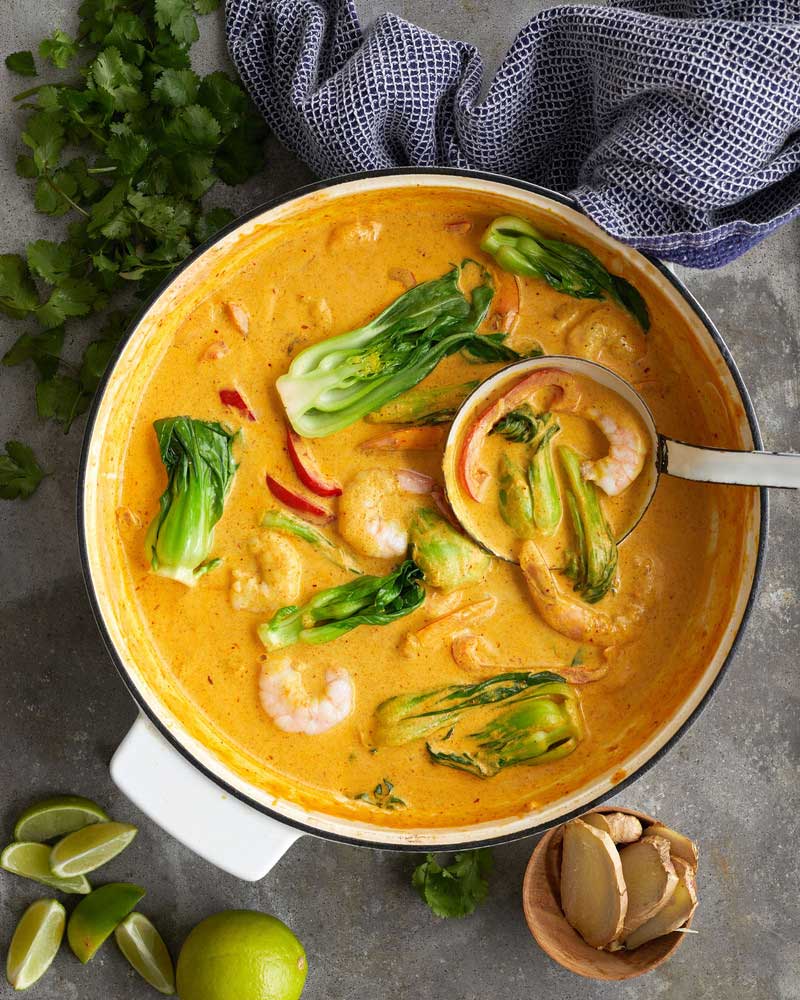 Coconut Curry Shrimp
Serves 4
1 tablespoon vegetable or coconut oil
1 large red bell pepper, stemmed, seeded, and cut into thin strips
1 tablespoon peeled and minced fresh ginger (from a 1-inch piece)
2 cloves garlic, minced
3 tablespoons Thai red curry paste
1 (13- to 14-ounce) can full-fat coconut milk
1/2 cup water
1 teaspoon kosher salt
1/4 teaspoon freshly ground black pepper
1 pound peeled and deveined uncooked medium shrimp
2 heads baby bok choy (about 1 pound total), root end trimmed and leaves cut into 2-inch pieces
Juice from 1 medium lime (about 2 tablespoons)
1/2 cup coarsely chopped cilantro leaves and tender stems
Cooked rice, for serving (optional)
1. Heat the oil in a large, deep skillet over medium heat until shimmering. Add the bell pepper, ginger and garlic; cook, stirring occasionally, until fragrant, about 1 minute.
2. Stir in the curry paste, and saute for 1 minute. Add the coconut milk, water, salt and pepper, and stir to combine.
3. Bring the mixture to a simmer, stir in the shrimp and bok choy, and continue to simmer, stirring occasionally, until the shrimp are pink and opaque, the bell pepper is just tender and the bok choy is wilted, 3 to 4 minutes. Remove from the heat, and stir in the lime juice and cilantro. Serve immediately over rice, if desired.
Recipe notes: Leftovers can be stored in an airtight container in the refrigerator for up to three days.
This article is written by Sheela Prakash from The Kitchn and was legally licensed via the Tribune Content Agency through the NewsCred publisher network. Please direct all licensing questions to legal@newscred.com.