Whether you know this frozen dessert as Thai rolled ice cream, stir-fried ice cream, or even marble-top ice cream, its signature look and flavor are the same: Rolled tubes of sweet, milky, almost-chewy ice cream presented in a small cup with plenty of whipped cream and garnishes.
Places that sell rolled ice cream make it on super-chilled flat tops or marble slabs specifically designed for rapidly chilling an ice cream base. The person making the ice cream will roll and chop the liquid base on the chilled slab until it forms a cream. Then they'll flatten it, add flavorings and roll up each serving to order.
While it sounds complex, it's actually really easy to make rolled ice cream at home -- and incredibly fun, too. Here's how to make any flavor of rolled ice cream you like -- no fancy marble slabs or special equipment required.
2-Ingredient Rolled Ice Cream at Home
Most rolled ice cream vendors -- whether they're street carts or fancy storefronts -- are pretty tight-lipped about their ice cream base. Luckily, rolled ice cream's texture gives a lot away about its contents.
The key to successful rolled ice cream is making a frozen base that is freezable but still pliable enough to roll up when cold (and that tastes delicious, of course). There are two ingredients that can guarantee just that: sweetened condensed milk and heavy cream. Sweetened condensed milk is a brilliant shortcut ingredient because it's already sweetened, so you don't have to bother dissolving sugar in warm milk. Adding cream ensures that the rolled ice cream won't crack when you roll it (whole milk doesn't have enough milk fat), plus it makes the finished frozen dessert extra rich and delicious.
3 Tips for the Best Rolled Ice Cream
1. Make sure you've got space in the freezer. The trickiest part of making rolled ice cream is finding space in the freezer for a rimmed baking sheet (or a few 9- by 13-inch pans) to sit flat. Be sure to make this space before you carry a pan filled with liquid ice cream base around the kitchen, or you'll risk almost certain spillage.
2. Keep the ice cream base thin -- but not too thin. Depending on your freezer and your equipment -- or your flavors -- you may choose to divide the ice cream base into different pans. A rimmed sheet pan works, as do two quarter sheet pans, or two (9- by 13-inch) pans. Just make sure your base is about 1/8 of an inch thick. Too thin and it won't curl; too thick and it will collapse on itself as it rolls.
3. Use a sharp, thin spatula for rolling. I keep a cheap putty knife from the hardware store saved specifically for this task. But really, any tool or spatula -- like the Oxo Lasagna Turner -- will work as long as it's sharp enough to cut sections in the ice cream and thin enough to slide under the sheets of ice cream to get them rolling.
Rolled Ice Cream Flavor Ideas
The best thing about homemade ice cream is that you can make any flavor you want. But with rolled ice cream it's easier -- and you can even create multiple flavors within one batch, if you want. Add-ins and flavorings can be whisked into the base directly in the pan, and toppings can be sprinkled on top just before freezing. Below are some basic ratios for a fruity version, a version with small add-ins like sprinkles and nuts, and one with bulky add-ins like candy bars and crushed cookies.
Serving Rolled Ice Cream
Once in the freezer, the ice cream base needs about two hours to freeze. Once it's cold enough, put one pan on the counter at a time and, working quickly, roll the ice cream by cutting it into sections and then rolling the sections into tight tubes.
Tongs work really well for transferring the finished rolls to small bowls or ramekins. Most rolled ice cream shops serve their rolled ice cream with whipped cream and extra add-ins on top -- after all, half the fun of rolled ice cream is the presentation.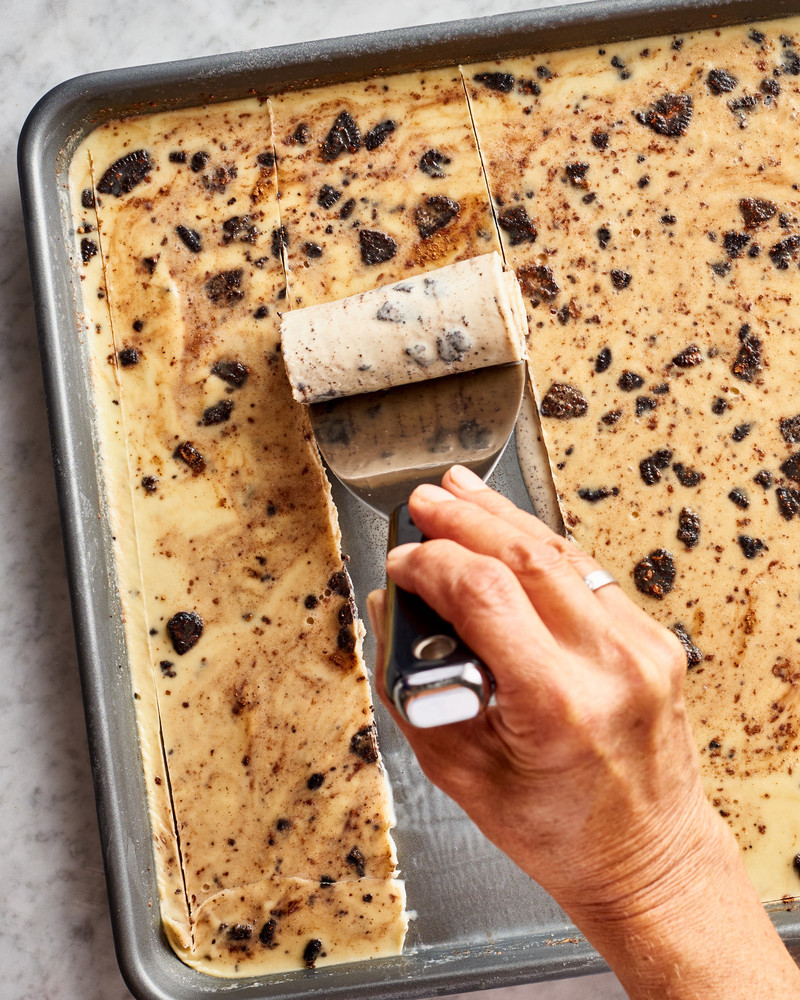 Rolled Ice Cream
Serves 4
Prep time: 10 minutes
For the ice cream base:
2 cups cold heavy cream
1 (14-ounce) can sweetened condensed milk
1/2 teaspoon kosher salt
For strawberry:
1 teaspoon vanilla extract
1/2 cup strawberry preserves, plus sliced fresh strawberries for garnish
For cookies and cream:
1 teaspoon cocoa powder
8 Oreo cookies, crushed, plus more for garnish
For funfetti:
1/2 teaspoon vanilla extract
1/2 teaspoon almond extract
1/4 cup rainbow sprinkles
Before you begin, make sure that you have flat surfaces in your freezer for 2 rimmed baking sheets or 2 (9- by 13-inch) metal baking pans. You want to use metal, not glass or ceramic, or the ice cream won't freeze quickly.
Whisk the cream, sweetened condensed milk and salt together in a medium bowl.
Divide the ice cream base and pour into the baking sheets or pans.
Divide the extracts, jam, or cocoa between the pans and whisk or stir gently to combine. Cookies or sprinkles can be sprinkled onto the base.
Freeze until completely frozen, about 2 hours.
Roll 1 pan of ice cream at a time (keep the other one in the freezer). Position the pan with a long side closer to you. Working quickly from top to bottom, use a flat, sharp edged spatula to cut the ice cream into 3-inch wide strips. Starting at the bottom, use the spatula to scrape up and roll the ice cream strips into rolls. Using tongs, gently pick up the rolled ice cream and stand them up in a cup or small ramekin.
Top the rolled ice cream with whipped cream, sprinkles, crushed cookies, or sliced berries, as desired.
Recipe note: The nutritional data for this recipe is calculated with the strawberry flavoring.
This article is written by Meghan Splawn from The Kitchn and was legally licensed via the Tribune Content Agency through the NewsCred publisher network. Please direct all licensing questions to legal@newscred.com.