These are the must-have tools for re-creating Thai dishes at home. Test 'em out with our favorite Thai recipes, including Red Curry Shrimp and Vegetables and Traditional Pad Thai Noodles.
As home cooks, we rely on our instincts, our knowledge, and our curiosities—but we also have to rely on our tools. Here, we talk about those trusty tools.
Today: Leela Punyaratabandhu of She Simmers and author of Simple Thai Food: Classic Recipes from the Thai Home Kitchen teaches us why Thai food really can be made at home, especially if you have these tools to help you.
Thai home cooking is not as complicated as some may think; it doesn't require a lot of tools, either. Unless you make certain traditional Thai dishes or desserts professionally, you can make most of the classic Thai dishes that people consider "authentic" with the common, everyday kitchen tools you already have. I find it difficult to align myself with those who suggest that you can't make good Thai food just because you don't have some hard-to-find, expensive, and mostly uni-tasking tools. True, some tools are nice to have, but there are ways to achieve the same or similar results without them.
That being said, if you're a Thai-food enthusiast or someone who plans to cook Thai food regularly, having the following essential tools will make things easier for you.
1. Granite mortar and pestle
Paste lies at the heart of Thai cuisine, and even Thai-cooking newbies trying to tackle basic dishes will find themselves making some kind of paste quite often—it's inevitable. By pounding the herbs and spices in a mortar, you extract the flavors and essential oils out of them better than you would by grinding them in a food processor, which can only chop them up into tiny pieces, thereby keeping them from maximizing their potential.
You can certainly make a paste in a food processor or blender, but unless you make a large batch of it at a time, it's not very practical. More often than not, you will have to add water to the food processor bowl to get the blades going and to get tiny things like coriander seeds or cumin thoroughly ground. A mortar, on the other hand, allows you to make a small amount of paste much more efficiently.
The most commonly used types of mortar in Thailand are granite and clay (terracotta). A granite mortar is commonly used for heavy-duty tasks such as grinding curry paste, which usually involves tough, fibrous herbs like galangal or lemongrass. A clay mortar is typically used for light bruising (such as the "pounded" salad, som tam) or grinding a small amount of aromatic paste. It's nice to have both types, and most serious Thai cooks do have both. But if I had to choose only one, I'd choose the granite mortar as it's more versatile.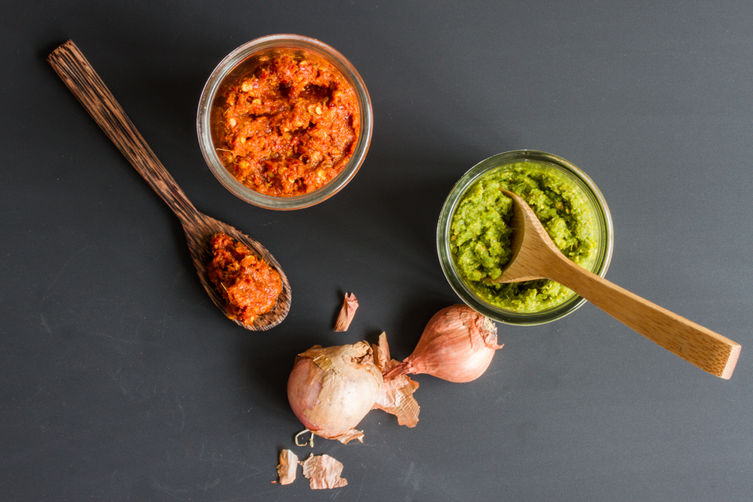 For home use, I recommend a granite mortar with a smooth-surfaced bowl that measures at least 6 inches wide and 6 inches from the rim to the middle point of the bottom (measured with a measuring tape pressed against the surface). Anything smaller than this will have limited use; anything shallower than this will be difficult to use. This is because Thai curry pastes are not muddled; they're pounded with a pestle—pretty hard—with an up-and-down motion (which brings me to another important point: Marble mortars are too fragile for this task; they'll chip or break).
A granite mortar and pestle can be used in non-Thai cooking as well. For example, you can use it to crush dried spices, grind nuts, and make pesto. It's a good investment that will serve you well for a lifetime. I highly recommend it.
2. A rice cooker
Rice is such an important part of Thai eating culture; it is, after all, the main player in a typical family-meal ensemble. And it's safe to say that it's used in every household, food cart, eatery, and restaurant. 
A rice cooker is a practical, efficient, and reliable method of cooking rice. All you have to do is add water to the rice and turn on the switch, and the rice cooker will do the rest for you—some models even keep the cooked rice warm for hours.
If you can afford a fancy, expensive rice cooker with multiple functions, by all means go for it. These days, there are beautiful, sleek cookers that determine the best temperature and time for various types of rice—including unpolished and germinated rice. But a simple model with nothing but an on/off switch is sufficient—heck, I've been using an inexpensive one like that for many years now.
3. A wok/skillet
A good, well-seasoned carbon-steel wok is nice to have in the kitchen. The sloped sides make it perfect both as a stir-frying and deep-frying vessel. Some modern Thai cooks also use it, instead of a pot, to make liquid dishes like a curry. However, strictly for Thai home cooking, you don't really need a wok. A Dutch oven for deep-frying, a large skillet for stir-frying, and a small skillet for toasting spices, deep-frying small amounts of things, and frying a crispy fried egg would be enough.  
4. A stainless-steel, multi-tiered steamer
A steamer is quite essential to Thai cooking; it's a kitchen gadget that's as important as a handheld or stand mixer is to an avid baker. In my opinion, a stainless-steel, multi-tiered steamer with a domed lid is the gold standard. Heat regulation is easier. It also allows you to steam a lot of things at the same time—or big things like a whole fish. The large and deep pot underneath can hold a lot of water, which allows for longer steaming times. This is in stark contrast to a collapsible/expandable steaming basket—the kind with short legs that you place in a saucepan, which is really good only for quick, uncomplicated steaming jobs.
In most cases, there are ways to get around the need for another relatively large piece of cooking equipment if your kitchen doesn't have a lot of space. For example, I find no noticeable difference in quality when I bake a classic Thai curried fish custard, covered, in a water bath as opposed to steaming it in a tiered steamer, so I recommend that people cook it that way.
However, for other things, such as certain steamed desserts, oven-steaming is not going to work and you will need a real steamer. In this case, I highly recommend a good stainless-steel, multi-tiered steamer with a domed lid.
5. A hand grater
This tool is not utterly important, but it's nice to have, especially if you see yourself making a lot of som tam (Thai green papaya salad). A serious Thai cook would usually grate the green papaya with a knife, but that takes a lot of practice and can be tricky when you're first learning. A hand grater helps make that task easier and faster, and it can be used to grate other things besides papaya as well. The fact that it's much easier to clean than a food processor with the shredder attachment is also a big plus.
Kiwi, a Thai brand, makes a julienne shredder that is inexpensive and works well. A premium, all stainless-steel julienne peeler by Cozia or Kuhn Rikon is a bit more expensive, but is also sturdier and more versatile. You can choose whichever works best for you.
6. A handheld citrus juicer
This, too, falls into the category of "not necessary but nice to have" kitchen tools. Lime is one of the main sources of acidity in Thai cooking, and if you cook Thai food, you will be squeezing a lot of fresh limes. A handheld citrus juicer helps make the task much easier.
7. A cleaver and strong, sturdy chopping block
Look inside the kitchen of any serious Thai home cook or on the work counter of a street vendor in Thailand, and you will see a thick—two inches at least—and strong butcher block, an end-grain single piece of wood most often made from the trunk of a tamarind tree. Together with a sturdy cleaver, they form a strong kitchen tool that allows you to hack a pig's trotter or a whole chicken—bone and all—into pieces with ease. It is also useful for hand-chopping boneless meat (or organ meats) to desired coarseness—something Thai cooks do fairly often.
Thai cooks often prefer to cook with bone-in meat as it has more flavor, so they need a cleaver and a strong chopping block for that task. But, again, these are not utterly important and you can certainly do without them.
8. A bamboo-basket sticky rice steamer
This is a uni-tasker—and a pretty large, clunky one at that. A conical bamboo basket and a tall, narrow-mouthed pot (that looks like a spittoon) form a steamer set that Thai people have used to steam glutinous (sticky) rice (not to be confused with short-grain "sticky" rice commonly used in East Asian cuisines) for ages. All you have to do is soak the rice for several hours, up to overnight, drain it, and place it in the bamboo basket that sits on top of the boiling water in the pot (to achieve the kind of sticky rice that you can knead into a ball and eat with your fingers, the Thai cook their sticky rice with steam instead of in boiling water like they do long-grain rice). This steamer combo is the most efficient way of steaming large amounts of sticky rice. Those who cook for a large family use it; street vendors and restaurant cooks also routinely use it.
But if you don't cook large batches of sticky rice, don't have the patience for getting the rice kernels out of the woven bamboo basket  (which needs to be dried thoroughly before storage), or don't have space in your kitchen for it, you don't need it. I cook my sticky rice, covered, on a splatter guard set over a saucepan of boiling water and it comes out just fine—every time. The only downside of that method is that you can't make a huge amount of it at a time.
First and last photos by Austin Bush, second by Phyllis Grant, third by Megan Scott, sixth by Cynthia of Two Red Bowls, and all others by Food52.
This article was written by Leela Punyaratabandhu from Food52 and was legally licensed through the NewsCred publisher network.