Look, we love our high-speed blenders, stand mixers and multi-cookers. But the real workhorse in our kitchen is the humble cast-iron pan.
Why? Well, let us count the ways. Here are four benefits of cast iron pan that guaranteed to make you want to start cooking, ASAP — plus, plenty of recipe inspo to get you started. 

It can go from the stove to the oven (and vice versa)
Cast iron is a workhorse for a reason, and we love it for meals that require cooking on the stovetop and in the oven. It can withstand seriously high temperatures — think 700 degrees F, or higher than standard ovens — so it's oven safe. You can even use a cast iron pan under the broiler for crispy breading and ooey-gooey cheese. 
This Easy Pasta Skillet gets an upgrade with cast iron, since you can place it under the broiler for a minute or two at the end to help the cheese get bubbly and even more delicious. Or make a half-batch of these Sheet Pan Tuna Melts in your cast iron skillet, then pop it under the broiler until the cheese bubbles for an irresistible lunch. 
Cast iron cooking tip:
The handle will be hot! Invest in insulating cast iron handle sleeves to put on your pans once they're out of the oven, so you don't burn your hands on a searing hot handle.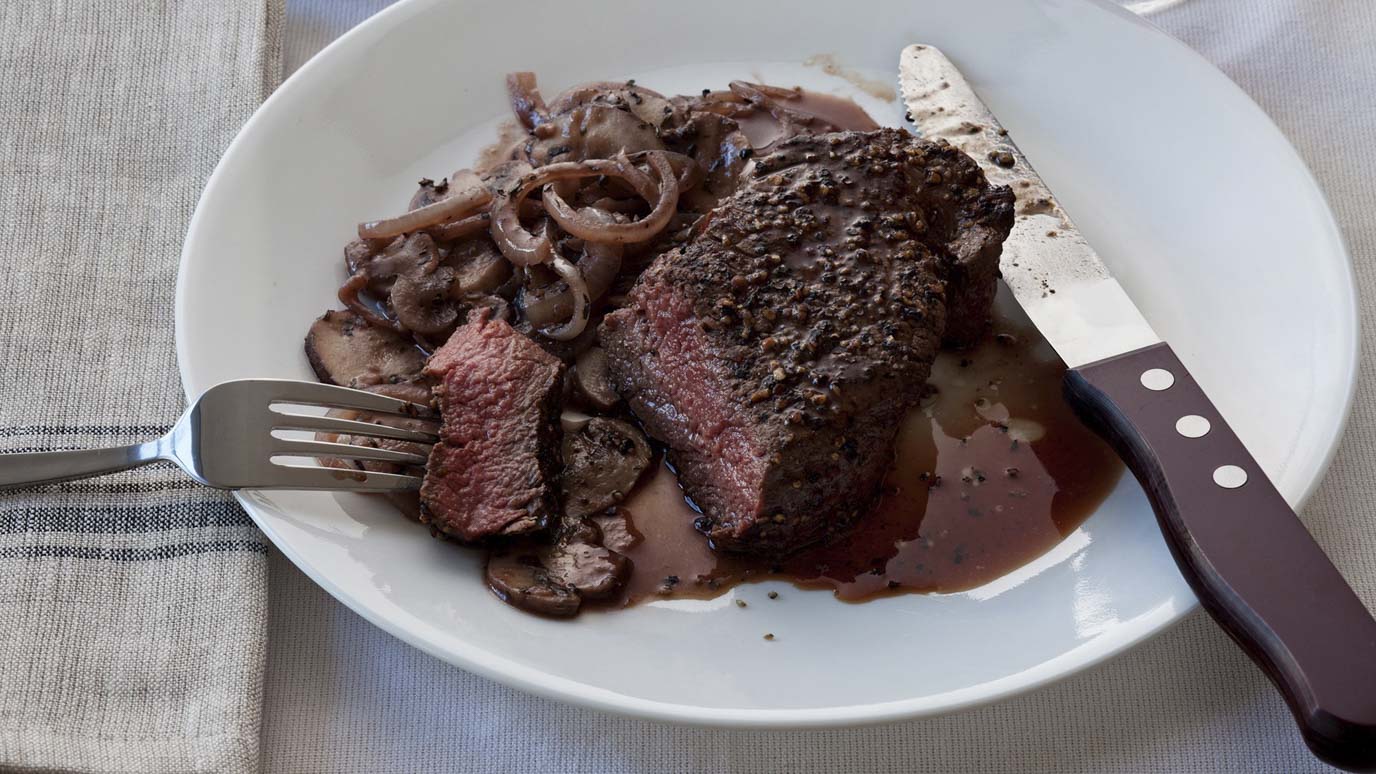 It's excellent at searing meats
If you need the perfect sear on an indoor steak, a cast iron pan is the way to go.  A hot, seasoned cast iron pan is virtually nonstick, so you can sear meat to your heart's content without worrying about sticking. 
This makes it ideal for steak, including this luxe Steak Au Poivre With Mushroom Mushroom Demi-Glace, since you can get the sear you crave and then finish your steak in the oven. But it works just as well for chicken, too. Try these Cast Iron Brown Sugar Bourbon Chicken Thighs with Peaches, or use cast iron to add a sear to Herb Chicken Skillet with Spinach and Tomatoes for even more flavor. 
Cast iron cooking tip:
Although cast iron can withstand high temperatures, sear your meats over medium-high heat to avoid burning or scorching. 

It's ultra-easy to clean
Not only is cast iron versatile, it's also low-maintenance. Searing and cooking with oil all help season your pan, making it more and more nonstick, so minimal cleaning is best. All you need to do to clean your pan is give it a wipedown with a soapy cloth or sponge to remove any excess grease and debris and voila, it's good as new!
Cast iron cooking tip:
Keep your cast iron pan dry to avoid rust. Dry your pan thoroughly immediately after washing, and never let it soak.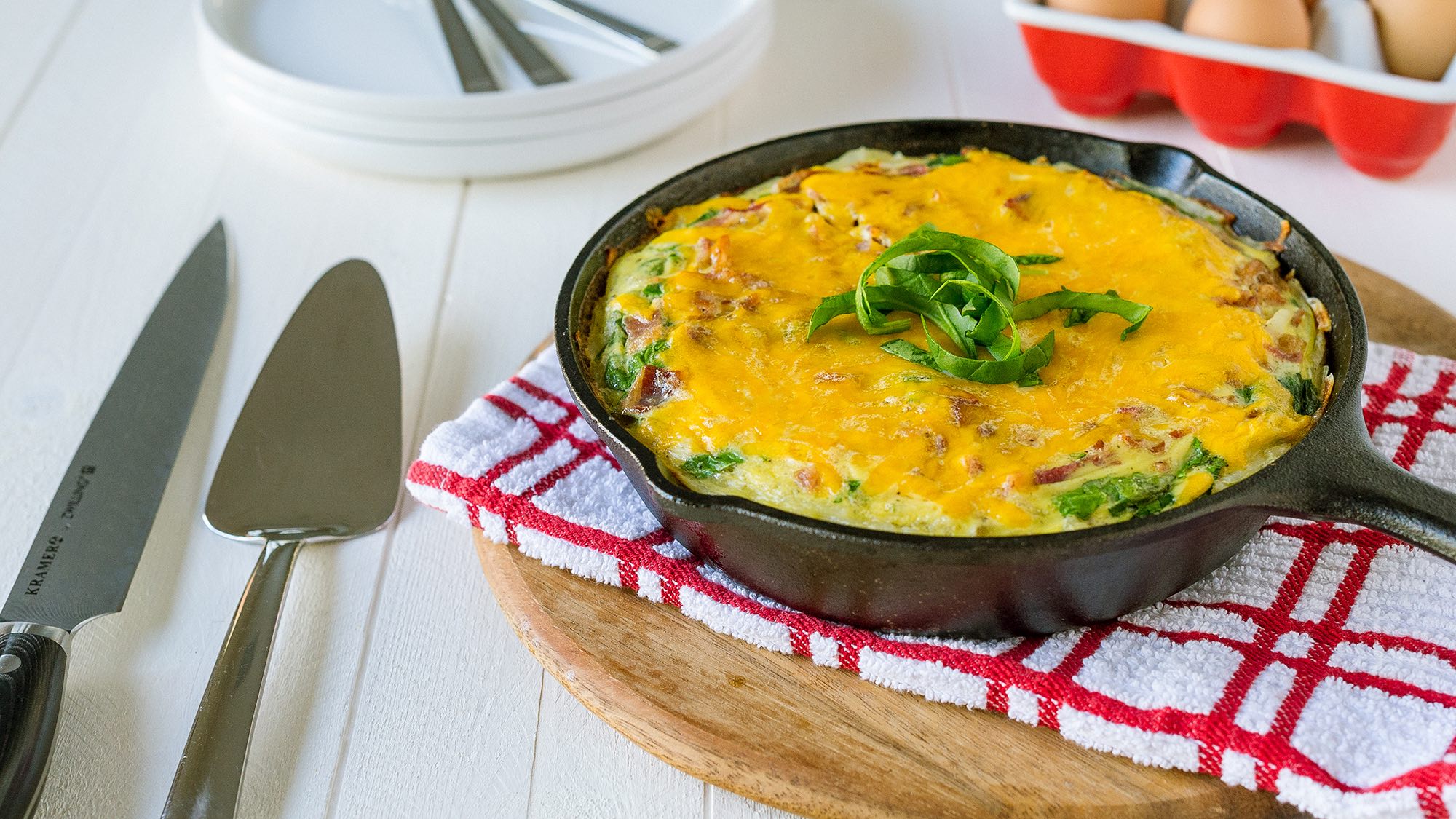 It makes one-pan meals amazing
Of course, cast iron also makes it easy to create delicious one-pan meals. (It wouldn't be our culinary superstar if it didn't.) And one simple skillet can help you create amazing breakfasts, go-back-for-seconds mains and unforgettable desserts. 
Start your day off right with a hearty Spinach and Bacon Skillet Quiche or this cheesy Breakfast Skillet Hash.
Use cast iron to whip up a Greek Style Beef Skillet, impress your guests with Pan Roasted Peruvian Chicken, make a Cast Iron Vegetable Stir Fry your family will love, or whip up oh-so-crispy Grilled and Loaded Smashed Potatoes.
Finally, indulge your sweet tooth with an autumnal Skillet Apple Tart with Brown Butter Caramel or a rich Black Forest Skillet Cake. 
Really, the sky's the limit, so let your creativity run wild to find a new family favorite. 
Cast iron cooking tip: 
Cast iron can cook almost anything, but avoid simmering acidic sauces for long periods of time, since this can wear away the seasoning. If you're making Homemade Tomato Sauce, reach for enameled cast iron instead.
More Cast Iron Recipe Ideas
Other Cast Iron Pan Benefits & Tips
Save your favorite drinks and organize your ingredients with McCormick Meal Planner.  Make meal prep simple by creating a Flavor Profile, so you can store your favorite recipes and create grocery lists for easy shopping.