A good pan is one of the most essential and frequently used tools in the kitchen, whether it's nonstick, scratch-resistant, or made of copper, aluminum or stainless steel. But when it comes to versatility, it's hard to compete with cast iron. 
What is a cast iron?
Made by pouring molten metal into molds, the cast iron is one of the oldest vessels used for cooking, as it can be thrust directly into or over a fire. Its affordability and durability have helped it maintain its popularity for centuries, since neither extreme use nor prolonged neglect can destroy a cast iron pan.
The truth is, even the dirtiest, most rusted-out cast iron crock can be brought back from the dead, with a bit of TLC. So whether your pan is in sorry state, or you're just trying to keep it in fighting form, it's crucial to learn how to season cast iron. And no, we're not talking about parsley, sage, rosemary and thyme.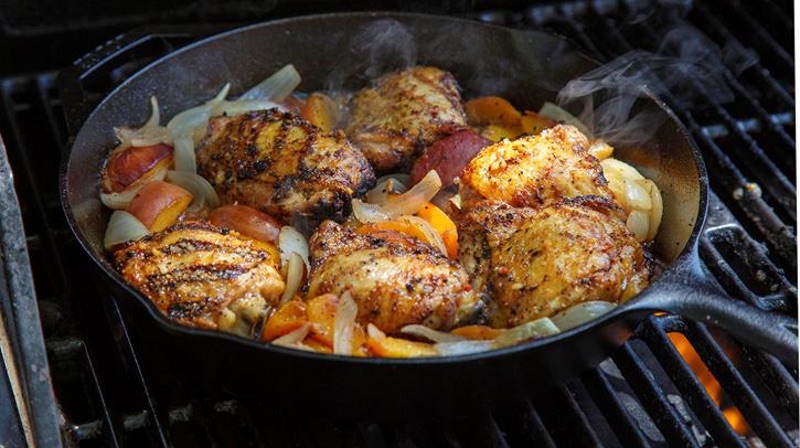 How to Season A Cast Iron
To "season," your cast iron, in order to assure the surfaces remain smooth, shiny and non-stick, you need to:
1. Start with a clean and dry pan.
2. Pour a tablespoon or two of vegetable oil or shortening into it, and use a paper towel or cloth to rub it thoroughly and evenly over both the inside and outside of the skillet.
3. Bake it upside down in a 375F oven for 1 hour, with a piece of aluminum foil on the lowest rack to catch any drips.
4. Let cool before using, and repeat the seasoning process any time you see your pan starting to dull or rust.
Now, when it comes to how to use cast iron, the opportunities are endless. You can place it on the stovetop, bake with it in the oven, or set it directly over a grill. You can sauté, sear, deep-fry, or even make a cake.
Looking for specific ideas? Try one of these terrific cast iron skillet recipes!
Cast Iron Skillet Recipes
Cast Iron Breakfast Recipes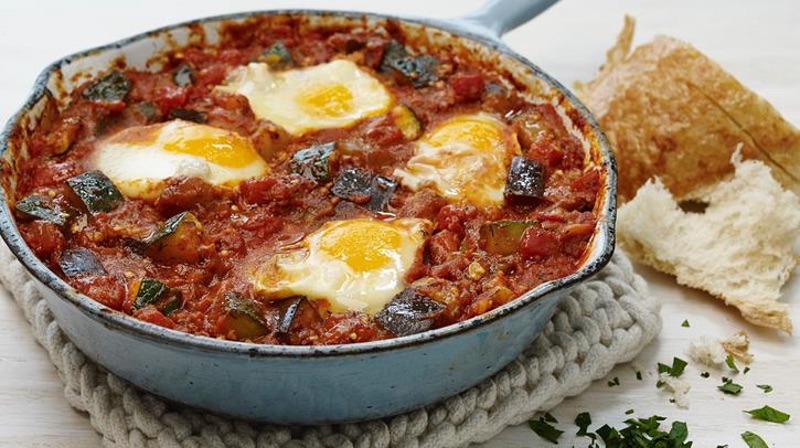 Cast iron is key to creating this one-pan Mediterranean breakfast favorite. Vegetables like eggplant, zucchini, tomato and onions are cooked down until tender, then served as a saucy base for eggs.
One of the great things about the cast iron is it allows you to cook ingredients you otherwise couldn't directly on the grill, like eggs! Use your pan to whip up a smoky scramble, before ladling it over a pizza crust piled high with bacon.
Ditch the pastry and use hash browns to create a cast iron-crisped crust, for this decadent stovetop quiche.
Cast Iron Side Dish Recipes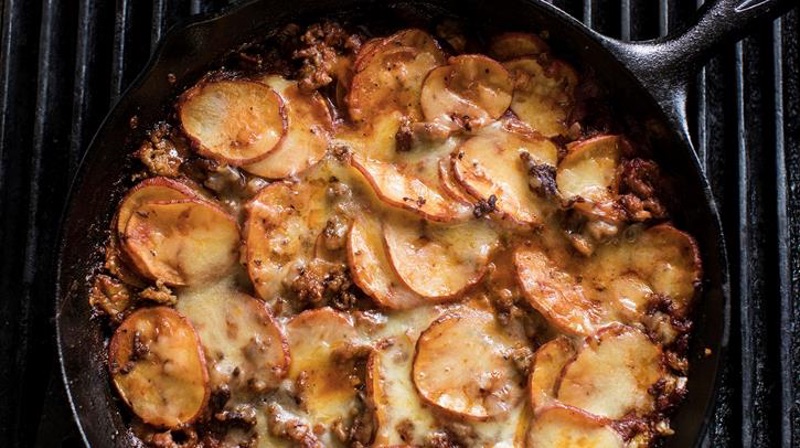 Thanks to the cast iron, you can cook your meat and potatoes on the grill! We know you'll go nuts for these sausage-y spuds, simmered slowly in vegetable stock, then cloaked in a blanket of cheese.
Covered with cashews, smothered in McCormick® Grill Mates® 7 Spice Teriyaki Marinade, and featuring fresh veggies such as green beans, carrots, bell pepper and shitakes, this can either serve as a side, or a delicious meat-free dinner.
Believe it or not, salad is one of our favorite cast iron recipes! Frizzled shallots and crispy applewood bacon already take this hearty wedge over the top.
But the creamy dressing pushes it well into the stratosphere of salads, thanks to the addition of black pepper, that gets smoked over mesquite chips in a cast iron pan.
Cast Iron Main Dish Recipes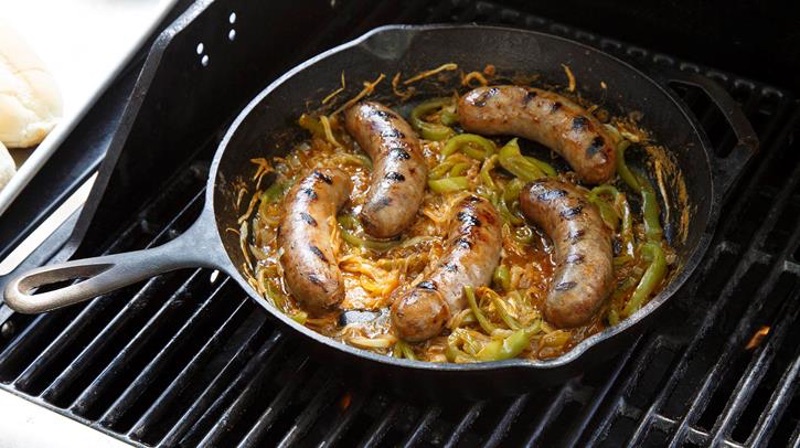 Ideal for backyard barbecues or rowdy tailgate parties, the cast iron allows brats to cook in a bath of onions, peppers and beer.
Only one pan is needed to whip up an entire dinner, of juicy chicken thighs glazed with McCormick® Grill Mates® Brown Sugar Bourbon Seasoning, and paired with succulent summer peaches.
There's no better vessel for searing off steak, served with a sauce of reduced red wine.
Cast Iron Dessert Recipes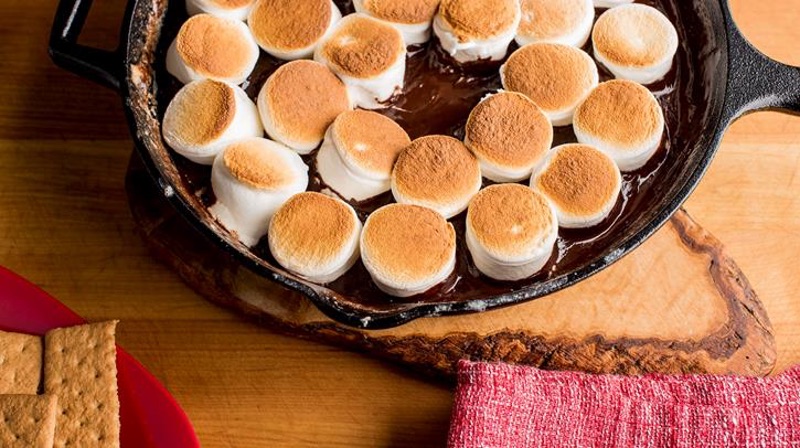 This campfire classic gets a really fun makeover courtesy of cast iron. When you melt chocolate and bacon-chipotle seasoning in a pan, and top it with toasted marshmallows, it makes a rich and melty dip for graham crackers!
It doesn't get more rustic than this caramelized apple tart, infused with savory sage and sporting a buttery puff pastry crust.
Cake on a grill-top? Absolutely, thanks to cast iron! And then there's the recipe itself, which packs a world of flavor, including cherries, almonds, sour cream, folded into a chile pepper-spiked devil's food base.