Even during the coldest and darkest days of winter, there's nothing quite like a pineapple to transport you to the tropics! Native to Paraguay and Southern Brazil, the sunshine-colored fruit made its way to South and Central America followed by the Philippines, before landing in the Americas by way of Hawaii — which remains a primary stateside producer — in the 16th century.
When Is Pineapple Season?
Although widely available year-round, peak pineapple season lasts from March until July. This is when you'll find the sweetest, juiciest fruit.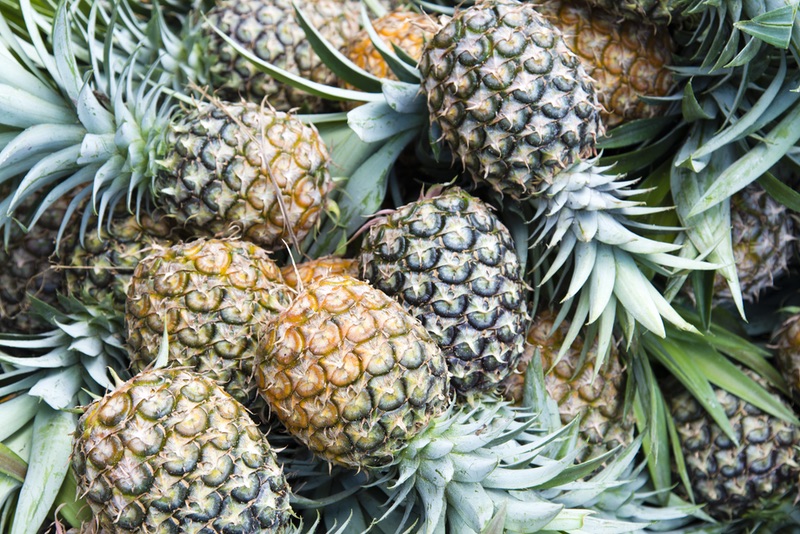 Types of Pineapple
The two main American-grown varieties of pineapple are the tall and cylindrical Cayenne, which has sugary golden-yellow flesh, long, spear-shaped leaves, and is generally cultivated in Hawaii, and the shorter and plumper Red Spanish, which has golden-brown flesh and leaves that radiate from multiple tufts, and hails from Florida and Puerto Rico. While not commonly available in the U.S., other pineapple cultivars include the small and crisp Queen, the Singapore Spanish, which is often used for canning, and the supersized Sugarloaf, with white flesh and an edible core. 
How To Pick A Pineapple
When it comes to picking a ripe pineapple, you'll want to select a specimen that feels heavy for its size, and has a noticeably sweet aroma on the stem side. It should be easy to pluck out a leaf, and the "eyes" on the skin should be flat, shiny and bright. Avoid any that have soft spots or bruises, yellowed leaves, dark eyes, or withered skin. 
How To Prepare Pineapple
Position the pineapple on a steady surface, and use a sharp serrated knife to cut off the crown and base.
Using downward vertical cuts, slice off the skin in strips, going as deep as needed to remove the eyes.
You can follow up afterwards with a smaller paring knife or peeler, to cut away any remaining skin or eyes.
Slice the pineapple into wedges or rings, using your knife to cut away the woody core before using in recipes or eating as is!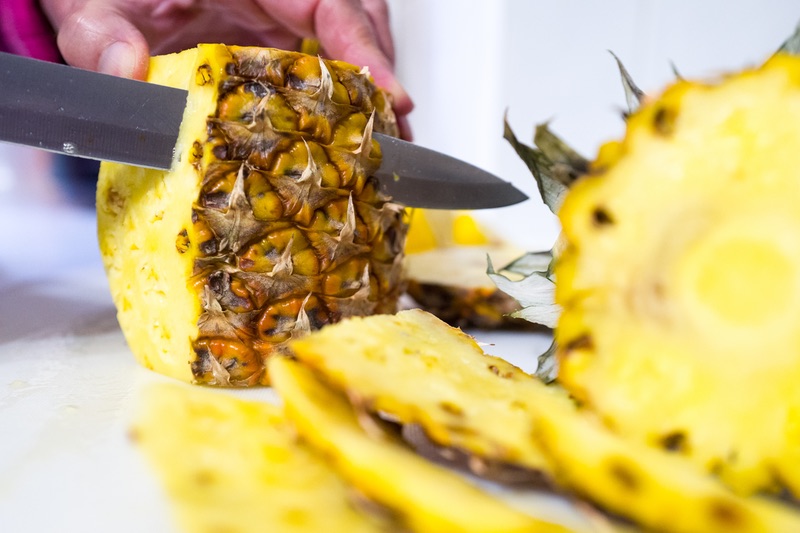 How To Store Pineapple
A whole, fresh, uncut pineapple can be kept at room temperature for up to two days, or in a plastic bag in the refrigerator for up to four days. Trimmed and cut pineapple can be stored in an airtight container in the refrigerator for no more than three days. Chunks can also be flash frozen and stored in an airtight bag or container in the freezer indefinitely. 
Fresh Pineapple Recipes
While you can certainly use canned fruit (available in tidbits, chunks, or rings), there's nothing quite like the succulent sweetness of a fresh pineapple, enjoyed in one of the following pineapple recipes!
Spiced Sweet Potato and Pineapple Casserole: Say hello to your new favorite holiday side dish. Instead of marshmallows, fluffy sweet potato mash gets topped with clouds of crushed pineapple, and handfuls of spiced and toasted nuts.
Thai Pineapple Shrimp Fried Rice: The most delicious possible use for plain white rice (even leftover takeout rice!), this dish gets a bright, summery vibrancy from shrimp, pineapple chunks,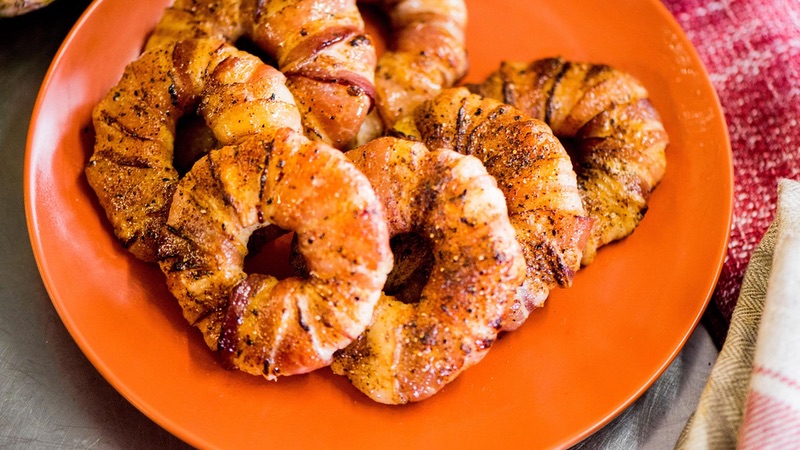 Spiced Bacon-Wrapped Pineapple: Get the party started with this awesome appetizer of juicy pineapple rings, wrapped in salty and meaty bacon and broiled.
Pineapple Steaks with Toasted Coconut: Let pineapple take center stage, by cutting it into thick "steaks," marinating it in spiced coconut milk, and grilling it for an exceedingly smoky and savory effect.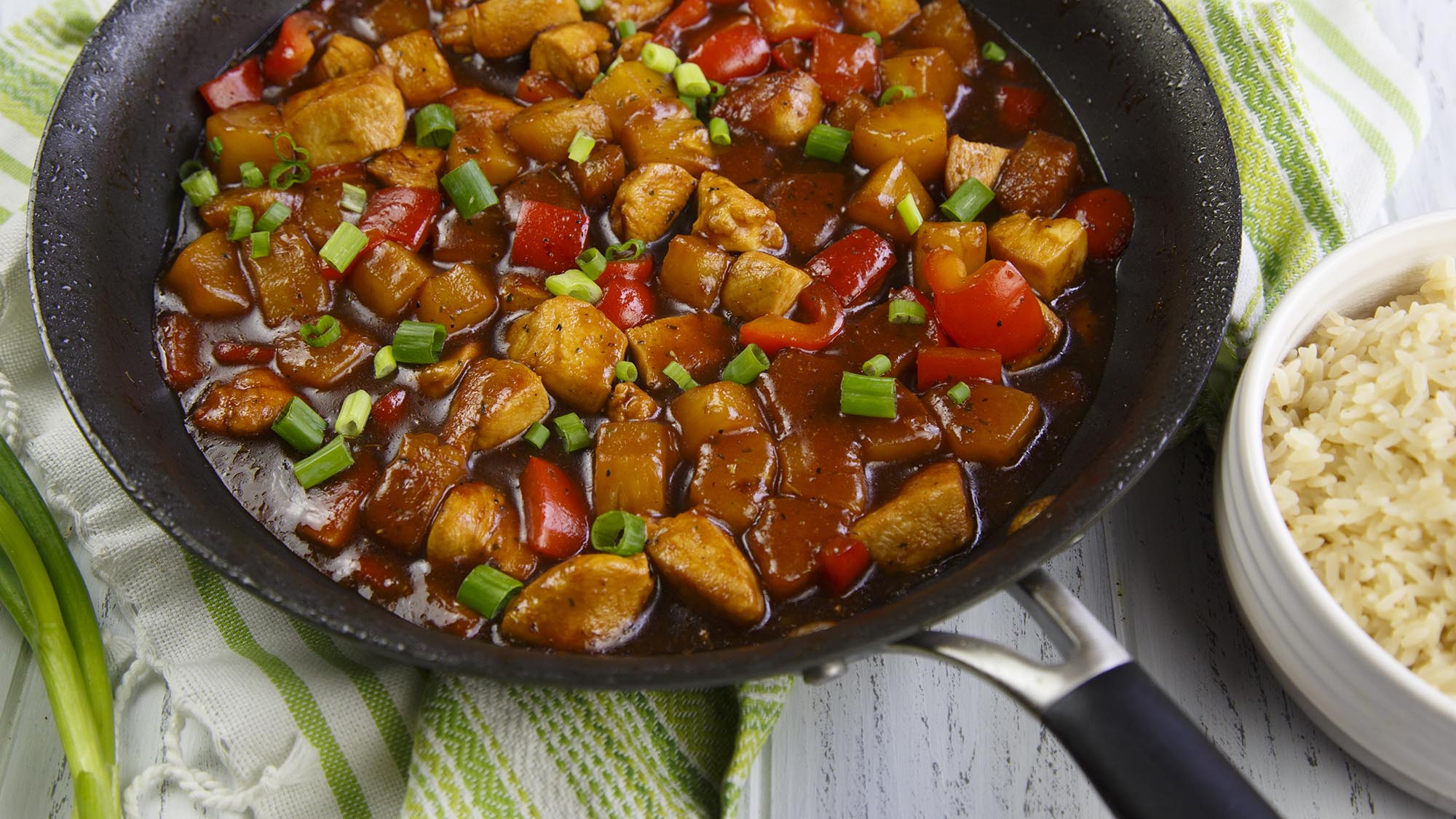 Grilled Hawaiian Pineapple Chicken: Elevate every day chicken breasts by infusing them with pure Aloha flavor, thanks to pineapple rings, peppers, and Lawry's® Hawaiian with Tropical Fruit Juices Marinade.
Pineapple Carrot "Cake" Shaved Ice: This uniquely refreshing treat takes the flavors of carrot cake (including pineapple, cream cheese, sweet spices and carrots), and turns them into an icy and slushy dessert.
More Pineapple Recipes To Try 
Learn More About Cooking With Pineapple
Other Delicious Fruits You Should Try In Your Recipes
Save your favorite pineapple dinner and drink recipes and organize your ingredients with McCormick Meal Planner.  Make meal prep simple by creating a Flavor Profile, so you can store your favorite recipes and create grocery lists for easy shopping.