Black-eyed peas are undoubtedly my favorite beans. When I was growing up, my family often used black-eyed peas as a substitute for honey beans, a type of bean found in Nigeria (a topic I've touched on in my recipe for akara, which are fried bean cakes popular in Nigeria and other parts of the African diaspora). As a result, I ate them quite often, and have come to enjoy them in a variety of different preparations.
With summer finally here, my mind has been almost singularly fixated on all of the delicious seasonal treats that are beginning to call my name. Spring and summer produce make being in the kitchen feel new again, as we welcome in a herd of crops that are largely unavailable to many of us for most of the year. This black-eyed pea salad is a celebration of all the wonderful eats that summertime brings our way.
Here, earthy, savory black-eyed peas are the star of this dish, but the seasonal produce – avocado, cherry tomatoes, corn, and cucumbers – in addition to the fresh cilantro, are what really brings this bright summer salad to life. And it comes together with a punchy lime vinaigrette. This summer salad goes with practically everything, from grilled salmon to tender chicken kebabs. It also makes for a chill-yet-impressive summer potluck addition. Personally, my favorite way to enjoy this salad is as a dip for plantain chips with a few extra splashes of hot sauce, of course.
If you're making it the night before, I like to toss everything but the avocado together, let it chill in the fridge overnight, and then before heading out toss the diced avocado in. I love to make a batch and eat it throughout the week, as the flavors meld more with a bit of time in the fridge. It's the ultimate make-ahead meal and the definition of a summer staple.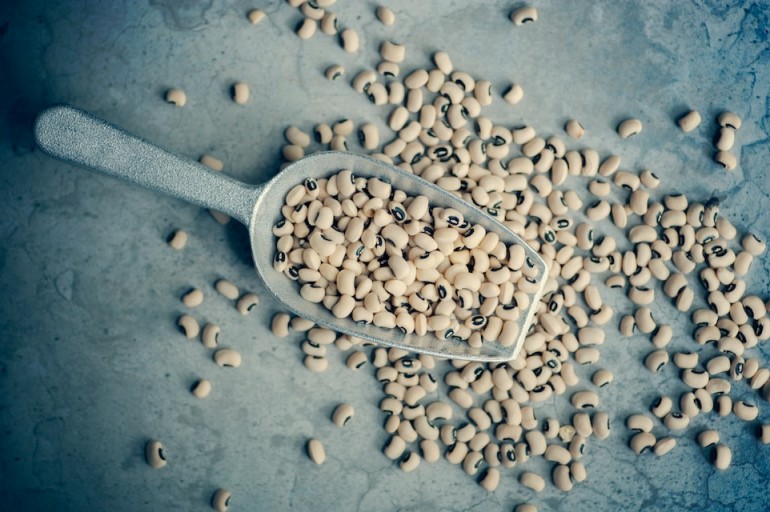 Photo by Jasmine Waheed
Black-Eyed Pea Summer Salad
Serves 6 to 8; makes 8 cups
2 ears fresh corn, or 1 1/2 cups frozen corn kernels
2 tablespoons unsalted butter
2 medium limes
2 tablespoons olive oil
2 teaspoons honey
2 teaspoons hot sauce
1 teaspoon kosher salt
1/2 teaspoon freshly ground black pepper
2 (about 15-ounce) cans black-eyed peas
1 pint cherry tomatoes (about 11 ounces)
2 large ripe but firm avocados (about 1 pound total)
1 medium English cucumber
1/4 small bunch cilantro leaves and tender stems
1. If using fresh corn, shuck 2 ears corn and cut the kernels from the cobs. Melt 2 tablespoons unsalted butter in a 10-inch skillet over medium-high heat. Add the fresh corn kernels or 1 1/2 cups frozen corn kernels. Sauté, stirring occasionally, until the kernels begin to char just slightly, 7 to 9 minutes. Remove the pan from the heat and let cool to room temperature.
2. Meanwhile, juice 2 medium limes into a large bowl until you have 1/4 cup. Add 2 tablespoons olive oil, 2 teaspoons honey, 2 teaspoons hot sauce, 1 teaspoon kosher salt, and 1/2 teaspoon black pepper. Whisk until combined.
3. Prepare the following, adding each to the bowl of dressing as it is completed: Drain and rinse 2 (about 15-ounce) cans black-eyed peas. Halve 1 pint cherry tomatoes. Halve, seed, and peel 2 large ripe but firm avocados, then dice (about 1 1/2 cups). (If refrigerating overnight, wait until just before serving to add the avocado.) Dice 1 medium English cucumber (about 2 cups). Finely chop the leaves and tender stems of 1/4 small bunch fresh cilantro until you have 1/4 cup.
4. Add the cooled corn to the black-eyed pea mixture and toss until the entire salad is fully coated. Refrigerate until chilled, at least 1 hour or up to overnight.
Recipe note: This salad can be refrigerated in an airtight container for up to four days (the avocado may begin to brown).
Nicole Rufus is an assistant food editor for TheKitchn.com, a nationally known blog for people who love food and home cooking.
This article is written by Nicole Rufus and TheKitchn.com from Tribune Content Agency and was legally licensed via the Tribune Content Agency through the Industry Dive Content Marketplace. Please direct all licensing questions to legal@industrydive.com.