If you've gone your whole life without eating a prickly pear, it's time to change that. This food is both exotic and readily available across the US, even growing in many states. Its most intriguing property is that it isn't a pear at all; it's a cactus.
Where do prickly pears grow?
The opuntia cactus (known as nopale cactus) that bears the prickly pear comes from the Americas, especially the central and western regions of Mexico, but can also be found in the south-western United States and along the east coast.
Can you eat cactus?
There are actually two edible parts of the cactus plant. The first is the pear-shaped sweet fruit, also known as cactus fig, that grows on the paddle-shaped leaf of the cactus. The second is the leaf itself, which some also call nopale. This tastes more like asparagus or green beans, and is perfect for salads. Both the nopale leaf and the prickly pear are versatile foods. What does prickly pear taste like? The fruit tastes sweet, especially when it turns from green to a rich red color and even beyond to purple.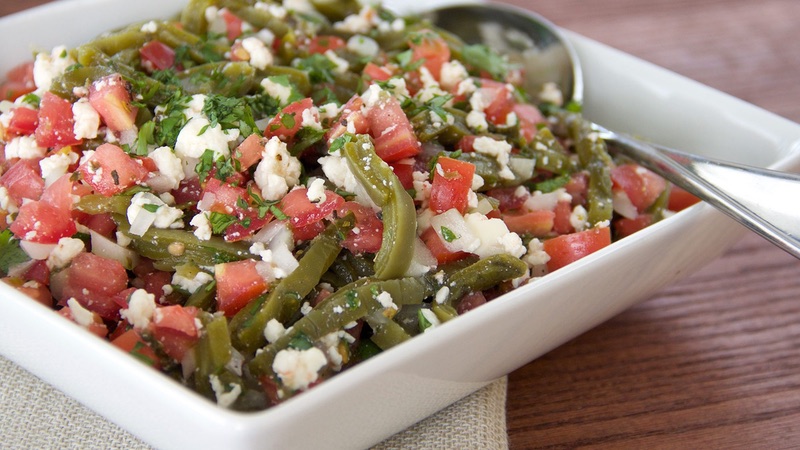 How to prepare prickly pear
Before eating it, you must de-prickle it, pulling out its small spines. Use a towel rather than handling it directly to save your skin. Then, slice a small piece from the end and use your knife to remove the quarter-inch layer of peel from the top down. Slice it and discard the seeds. Eat it raw or put into any of many prickly pear recipes that have become part of Mexico's diet.
Prickly pear has made its way into all kinds of foods in Mexico, including soups, desserts, drinks, and even bread. The prickly pear cactus is such a big part of the country's culture that it even made its way onto the country's coat of arms.
How to eat cactus leaf
The leaf of the nopale cactus has also become popular. It's flat, green, and tastes like green beans or asparagus. Go to many Tex-Mex restaurants in the southern US and you'll be able to buy cactus fries, which are nopales cut into strips and battered. You can slice the leaf, saute it, and eat it with onions, tomatoes, and scrambled eggs.
You can buy these fruits in Latin American or specialty product markets. They're in season from late summer through to early winter in Mexico, or September to December in the northern hemisphere.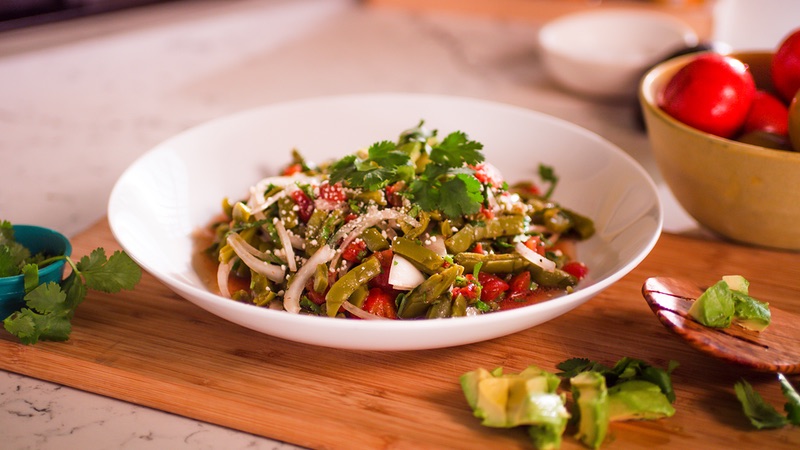 Prickly pear cactus recipes to try
One of the most popular ways to eat the nopale leaf is in salads. Try a prickly pear recipe that combines lime, cilantro and salty white Mexican queso panela cheese in this Tender Cactus Salad. For an extra kick, consider this alternative Ensalada de Nopales, which adds a serrano pepper.
You can serve nopale cactus leaf salads like these in tortillas to turn them into more of a hand-held snack, but they also go well as a side with grilled meat. For example, this Mexican Style Chipotle Chicken takes just 19 minutes to prepare and cook, making it a perfect main to throw on the barbecue while you whip up the salad. Alternatively, throw together this convenient Mexican Chipotle Shrimp Skewers Recipe which cooks in even less time. Seafood is a perfect complement for a prickly pear cactus salad.
While you're preparing your salad or skewers, substitute prickly pear juice for orange juice in this Pepita and Chile Salsa. Pair with grilled meat or enjoy as a dip for tortillas and nachos with some extra bite.
Prickly pear juice is a versatile ingredient for drinks, too. It easily replaces the cranberry component in this Gingered Margarita to take your evening cocktail south of the border. For the kids, prickly pear fruit juice is refreshing and tasty all on its own, further proving this versatile plant has so many different uses!