Flavor Profile
Imagine the cutest gingerbread man cookie, with white icing eyes, nose and mouth. Now breathe in the aroma. It's sweet, peppery and a bit floral, with a hint of citrus. There are lots of spices in gingerbread, but ground ginger plays the headlining role. And baked goods aren't its only claim to fame. Ginger is one of the few spices that can walk the fine line between savory and sweet. We love it in pumpkin pie and quick breads, spice cookies and ice cream. Yet it's also an essential ingredient in savory dishes, such as Chinese stir-fries, Indian curries and Moroccan spiced kebabs. You'll know your ground ginger is McCormick if it tickles your nose, like the sweet fizz of ginger ale.
Usage
Zesty and aromatic, ginger is a natural for all kinds of sweets. Ginger snaps, spice cake, fruit tarts, pumpkin pie, blueberry muffins—you name it! The sugar in the recipe tempers ginger's sharp flavor, leaving mellow warmth in its place. Ginger is a key member of the spice cabinet for Indian cooks. You'll find it in rubs for grilled meats, seasoning blends for vegetable curries, even in the richly spiced tea called chai. We love the flavor of ginger in the classic chana masala, or chickpeas cooked in a spicy tomato-based sauce. It's a surprisingly easy—and delicious—Tuesday night meal.
Caribbean kitchens are no strangers to the gentle fire and spice of ginger. You'll find it in everything from drinks made with ginger beer to meat and sweet potato stews. Its pungent aroma is one of the reasons Jamaican jerk seasoning smells so enticing on and off the grill.
Perfect Partners
Ginger has a natural affinity for pumpkin, sweet potatoes and winter squash. These starchy vegetables provide the perfect canvas for ginger's spicy, floral heat. Add ginger, along with gratings of nutmeg and black pepper, to any recipe for sweet potato casserole. Who needs marshmallows when you have this much flavor?
Is it time to give your cheesecake recipe a complete makeover? How about going tropical? Flavor the batter with ground ginger and substitute lime juice and zest for the lemon. We suggest using ginger snaps for the crust. They'll intensify the flavor.
Lemon is a delicious partner for ginger. We like to spike our classic lemon bar recipe with ground ginger. Ginger is also a tasty way to switch up lemon cookies and any basic pound cake recipe.
Substitutes
Q: If I don't have ground ginger on hand, what makes a good substitute?
A: The answer depends on whether you're using ginger for a savory or sweet recipe. If it's savory, such as a stir-fry or curry, then fresh ginger will do the trick. Use a tablespoon of fresh ginger for each teaspoon of dried. If the recipe is sweet, as in spice cake or ginger snap cookies, use fresh ginger or ground allspice, cinnamon, mace or nutmeg.
Popular Recipe Recommendations
Hot Tempered Baby Back Ribs with Sweet Guava Glaze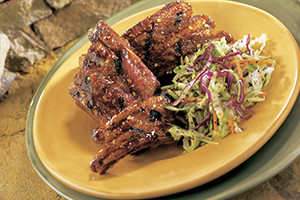 Peach Cobbler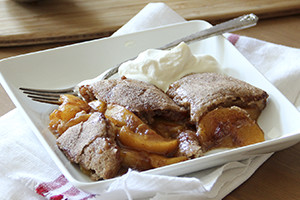 Lemon Thyme Bars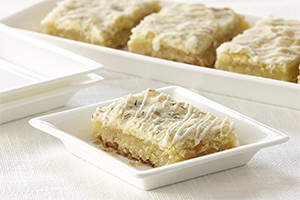 Gingerbread Bars with Cream Cheese Frosting