Sweet potatoes and yams make a welcome appearance during the holidays. Most markets sell two sweet potato varieties: moist and dry. The moist sweet potato variety, a reddish brown moist sweet potato, is often labeled a yam. I usually prefer this variety for holiday cooking to the drier, light brown-yellow skin and pale flesh sweet potato, which is decidedly less sweet. In this recipe we use some of each.
During the holidays people seem to gravitate toward the familiar no matter how adventurous they are in their eating habits during the rest of the year. I find myself at odds with my family each year as I try to suggest an updated version of sweet potatoes with marshmallows. This dish has been a great success. If this recipe yields too much, feel free to cut it in half for a smaller dinner. Leftovers won't be a problem!
This taste combination is bound to surprise and please your guests. I first tasted a version of this at Spago in Maui and loved it so much that when I got home, I developed my own recipe. This is an interesting mix of tropical flavor and the old-fashioned taste of sweet potato. You can use one variety, but I like to combine the white and orange types. Make sure to get unsweetened coconut milk so the dish isn't too sweet. Serve it plain or add the gingersnap and coconut topping. This goes beautifully with roast pork, chicken or turkey.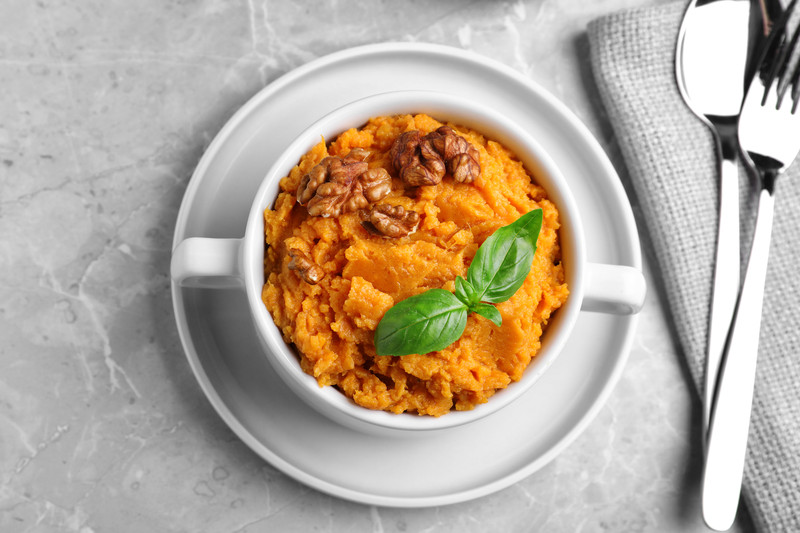 Hawaiian Sweet Potato Puree with Coconut Milk
Serves 8 to 12
For the casserole:
3 pounds sweet potatoes, half orange and half white, unpeeled
1 1/4 cups unsweetened coconut milk
2 tablespoons dark brown sugar
Salt
Freshly ground white pepper
Mint sprigs, for garnish
For the gingersnap and coconut topping (optional):
1/2 cup unsweetened coconut
1/2 cup crushed gingersnaps
1/4 cup chopped pecans
2 tablespoons unsalted butter, chopped
1. Preheat the oven to 425 F. Put the potatoes on a baking sheet. Bake for 1 hour, or until very soft. Let sit until cool enough to handle. Remove the skin, using a serrated peeler for ease in peeling, and put the potatoes through a potato ricer or food mill and into a large bowl.
2. Add the coconut milk, brown sugar and salt and pepper; mix to combine. Taste for seasoning. You may need to adjust the sugar because the potatoes vary in sweetness.
3. Put the pureed potato mixture into a greased 9-inch round or square ovenproof baking dish.
4. When ready to serve, preheat the oven to 350 F. To make the topping, if using, combine the ingredients in a small bowl and sprinkle over the sweet potato puree.
5. Bake the sweet potato puree for about 20 to 25 minutes, or until the top is golden brown and the potatoes are heated through. If the topping starts to get too dark, cover loosely with aluminum foil. If there is no topping, garnish with mint or anything else you desire.
Advance preparation: This may be prepared through Step 3 up to two days ahead, covered and refrigerated. Remove from the refrigerator 1 hour before baking.
This article is written by Diane Rossen Worthington from Seriously Simple and was legally licensed via the Tribune Content Agency through the Industry Dive publisher network. Please direct all licensing questions to legal@industrydive.com.