1. Spices, spices, spices.
This will come as no surprise to some of you, but an Indian kitchen bereft of spice is like an Indian woman wearing no color at all: It's just not going to happen! I mean, you can still start plenty of Indian dishes with some ginger, garlic, and green chile and call it a day. But why stop there when you can bask in the splendor of golden, loamy-fragranced turmeric? And nutty, smoky cumin? And the spicy romance of garam masala? 
Many people ask me which spices they should have on hand when dipping their toes into the vibrant swirl of Indian cooking. The good news is, you probably have many of them in your kitchen already. Start with turmeric, cumin, and paprika (or Indian-style red chili powder). And some garam masala. In Hindi, garam masala means "warm spice mix" because it's often a blend of warm spices like cinnamon, cloves, cardamom, and black pepper. It can have other spices in it, as there's no one recipe -- my mum's is just cinnamon and clove -- but these are my favorite. The mixture is almost like pumpkin pie spice, but so much richer. 
When it comes to where to purchase your spices, I cannot recommend Spice House more highly. Their spices are freshly ground, and you can order small amounts. Plus, their premade garam masala is the only one I'd ever purchase. Most others on the market are packed with cheaper filler spices like cumin and coriander, which results in a muddy, heavy garam masala that turns your food brown. When you're ready to branch out, add cumin seeds, coriander seeds, black or brown mustard seeds, and cardamom to your roster. Now you're packing heat, sistah!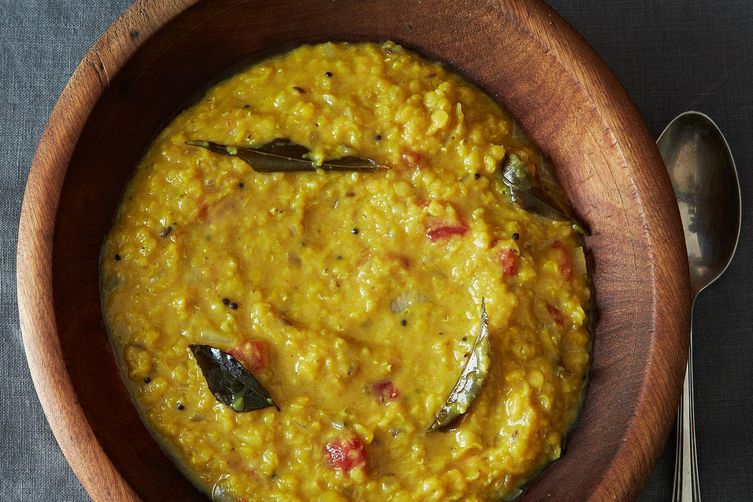 2. A masala dabba or other spice storage
A masala dabba (mah-SAH-lah DUB-ah) is a round, usually stainless steel spice tin. Pop the lid open, and you'll find seven (usually) small cups arranged in a circle. This little contraption is a MUST. This way, you can have your essential spices (I call them the sacred seven: turmeric, paprika, garam masala, cumin seeds, coriander seeds ground into powder, black or brown mustard seeds, and green cardamom pods) at your fingertips. No rummaging in the back of the cupboard for you! I like the dabbas you can find on ishopindian. They are affordable enough that you can even have one for every cuisine you cook! Imagine: a Mediterranean one with dried thyme, herbes de provence, smoked paprika, dried basil, and dried oregano; a Moroccan one with ground cinnamon, ground ginger, turmeric, cayenne pepper, and dried mint; and so on.
Of course, the spice world can be a bit addicting, and once you start, seven spice cups isn't going to cut it. That's why my husband and his uncle built me a spice wall! It's simply a portion of the wall painted with both blackboard and magnetic paint, upon which they set up a couple dozen more magnetic spice tins. I picked a spot that sits away from direct sunlight and direct heat, in order to elongate the spices' life span. Here I keep everything from juniper berries to nigella seeds to ajwain (carom) seeds. And I get to write Bible verses to keep me encouraged when I've retreated to my kitchen to make sense of life inevitable struggles. This is my favorite thing about my kitchen!
3. Mortar and pestle and/or an old coffee grinder
I have both of these in my kitchen. I use the mortar and pestle when I'm bashing up some fresh ginger and garlic to make a rollicking paste to add to vegetables or meat. And when I'm feeling kinda old-fashioned, I'll bash out my aggressions by grinding cardamom seeds into a fine, flowery-scented dust. But to make fine spice blends (masalas) for curries and such, I'll more often use an old coffee grinder that my friend, Laura, gave me when I was unemployed and couldn't afford to buy one. It has never failed me and is tinged red from whizzing up everything from dried red chiles to fenugreek seeds in there. Clean it out by grinding some rice to capture all the spice oils, then wiping it out with a damp paper towel. Good as new!
4. Good basmati rice
Perhaps it's because I come from a long line of rice farmers, but my family is a bit snobby about our rice! Good basmati rice should bear a gentle, earthy fragrance, and when cooked, should stretch itself out into almost impossibly long, elegant grains. They always remind me of the way the Moghuls depicted ladies' fingernails in their paintings: long, narrow, delicate….made to caress a Moghul king's beard!
Indian basmati (and by the way it's pronounced BUS-muth-ee) is aged at least a year, which intensifies its aroma and dries it out so that you get those lovely long grains I was talking about earlier. If you can, seek out Indian or Persian brands. My favorite is called Daawat. Make the effort and your pulaos (India's version of pilafs) will wow you!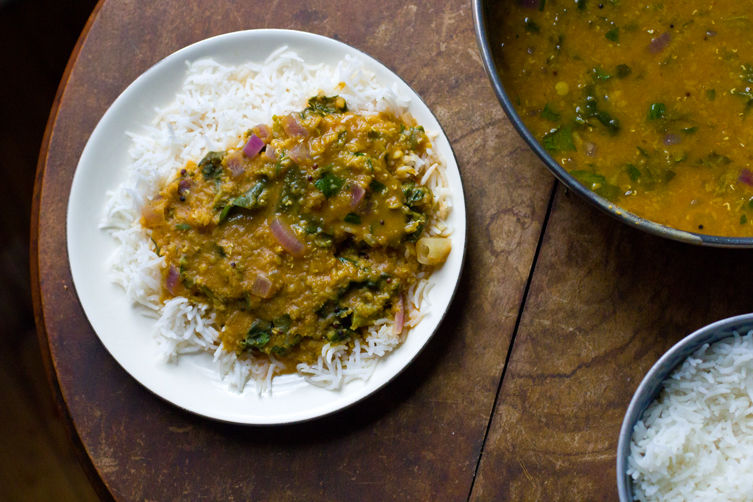 5. The soundtrack
I watch YouTube videos of Indian mummies cooking in their kitchens as much for the soundtrack as I do for the cooking. The thing about India is that she challenges all your senses. She is larger than life in all ways: the vibrant shades of saris in the shop windows, the tummy-rumbling aromas of snacks cooked on the street corners, the humidity that clings to you like its life depends on it, the tangy black salt that garnishes most street snacks that turns your tastebuds on their head, and the sounds! Oh, the sounds! My mum's own kitchen soundtrack of hymns blasting out of her boombox is punctuated by everything from the beeeeee of auto-rickshaws to the birds of prey crying to the heavens from the tall Ashoka trees outside their window. It's probably why I can't cook in silence.
I either listen to the various playlists I created whilst testing all 101 recipes in my cookbook, or to my favorite podcast, Pop Culture Happy Hour, or true blue old-school Bollywood music. The kind where you can understand the romance even if you don't understand the words -- the strings make the point clearer than any spoken language can! One of my favorite songs is an oldie from the 70s called "Aaj Mausum," sung by the legendary Mohammed Rafi, which you can find on this great album called "Selfie with Mohammed Rafi." This is the kind of Hindi music I grew up with, and it will forever set the mood when I walk into my kitchen and reach for my masala dabba, and for a little slice of home.
Final photo by Chitra Agrawal; all others by James Ransom
This article was written by Aarti Sequeira from Food52 and was legally licensed through the NewsCred publisher network. Please direct all licensing questions to legal@newscred.com.