Between work and taking care of our families, sometimes all we want is to make a quick, easy meal the whole family will enjoy, without dealing with a ton of dirty dishes afterwards. That is where one-pot pasta meals come in, saving you time and energy so that you can spend less time in the kitchen and more time with loved ones!
You probably have most of the ingredients for these meals in your pantry or your fridge already. Below, we present eight one-pot meals that can be whipped up in one pot with pasta. Some of these one-pot pasta recipes can be whipped up in 30 minutes, making them ideal for busy weeknights! 
Must Try One Pot Pasta Recipes 
Transform penne pasta, shrimp, and heavy cream with OLD BAY Bloody Mary Mix for a new twist on the traditional cream sauce. In just 30 minutes, you'll have a savory and delicious one-pot pasta meal (with a little of that famous OLD BAY flavor your whole family will love!). Garnish with some chopped fresh parsley, and you'll have a meal that will wow the most discerning family members.
Here's another one-pot pasta dish that can be whipped up in 30 minutes. This easy weeknight meal has smoky sausage and shrimp, with a bit of welcoming heat from Zatarain's® Creole Seasoning. If you're looking for all the flavors of a New Orleans jambalaya but with pasta instead of rice, this is the recipe for you!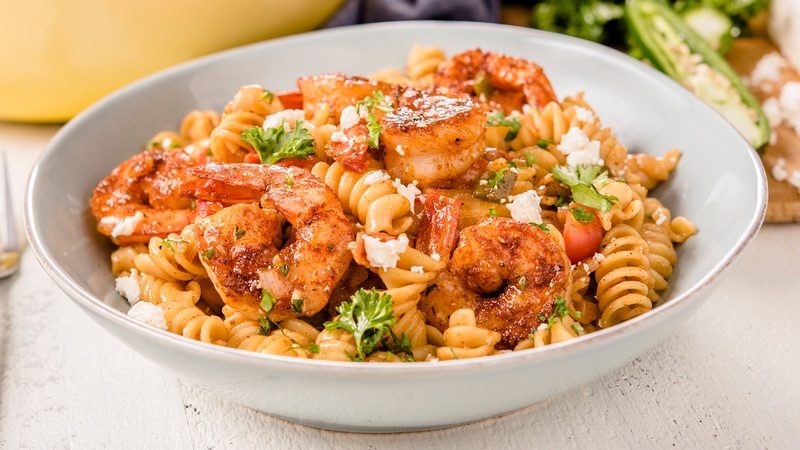 Looking to shake up the classic shrimp and pasta pairing? Look no further than this one-pot Berbere Shrimp Pasta, with a North African twist. Our organic Gourmet Berbere Seasoning adds a bit of warm, fragrant heat to the shrimp. The heat of the berbere spice works beautifully when tossed with the butter sauce you'll make for the pasta, along with plump cherry tomatoes and salty feta crumbles. Trust us, this dish will be a favorite addition to your one-pot recipe rotation.
With a prep time of only 10 minutes, this one-pot Creamy Cajun Pasta comes together with Italian sausage, cream cheese, vegetables, and a hint of our Tasty Seasoning Kit to create a comforting one-pot meal.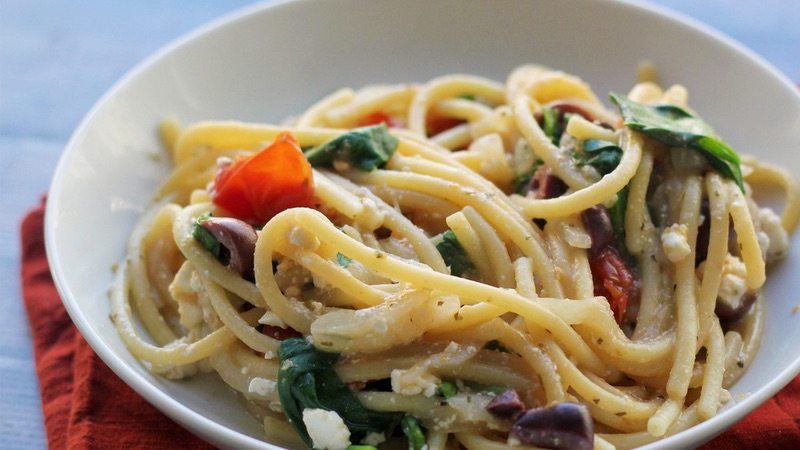 This one-pot vegetarian pasta meal is a bit unique because the pasta requires no draining after it's cooked. Fragrant thyme, fennel, and oregano are added to the cooking water, building the foundation for the sauce. This one-pot wonder is then finished with feta cheese and Kalamata olives. 
Create this beefy, cheesy one-pot ziti pasta that's sure to become a family favorite--in 30 minutes. Simply brown ground beef and add spaghetti and sauce to a pan, and season with McCormick® Garlic, Basil, and Oregano. Sprinkle with mozzarella and grated Parmesan for a cheesy, melty conclusion. 
Create a comforting meal without sacrificing flavor with this Creole Chicken Pasta Gumbo Soup. Our hearty soup recipe features chicken, vegetables and pasta, and is seasoned with Zatarain's Big & Zesty Blackened Creole Seasoning for an easy and quick recipe the whole family will enjoy.
Looking for new ways to use shrimp at dinner? Our Creamy Chili Shrimp and Corn Pasta is made with just nine ingredients! Take fresh sweet corn and add French's® Chili-O with Onion Seasoning Mix, then add pasta. Finished with cheddar and cream cheese and tender shrimp, this easy meal is creamy and filling!
More One Pot Pasta Recipes To Try 
See all of our skillet recipes
Learn More About Making Pasta
Ready To Make One Pot Pasta Meals?
Save your favorite one pot pasta recipes and organize your ingredients with our online meal planner.  You can also make meal prep simple by creating a Flavor Profile, so you can store your favorite recipes and create grocery lists for easy shopping.