We have a lot to thank Italy for. It brought us some of history's finest art and the world's best food. When you first taste lasagna, you may quickly realize that food and art can indeed be the same thing. The layers of meat sauce between delicious sheets of pasta are the key to a lasagna recipe, which may have started in Italy, but it has become an American staple.
The word 'lasagna' actually refers to the flat sheets used to make the dish. The lasagna layers go back to at least Roman times, although cooks didn't begin boiling it to make modern-looking pasta until the Middle Ages. Lasagna recipes took on new ingredients over the years, acquiring tomatoes in Naples late last century when people began adding bolognese sauce to the lasagna layers.
Today, there are various versions of this dish in its native Italy – traditionally served in small portions as appetizers – but Italian immigrants bought the Neapolitan Lasagna Imbottite (Stuffed Lasagna) to the US, which converted it to a main course. Most recipes you'll find in commonplace use here in the States stem from this oven-baked dish.
To get close to the original import, you can try this Classic Lasagna recipe which features ricotta, mozzarella, and parmesan cheeses.
A Modern Approach to Lasagna Recipes
North America has made the lasagna recipe its own, creating new variants on a theme to suit every palette, from seafood lasagna to cauliflower lasagna. With such a rich variety of cultures, there's a lasagna dish for every palate. For example, a little Mexican cheese and some McCormick® Chili Powder makes this Mexican Lasagna sing with heat and flavor. It also calls for salsa. For extra points, try making your own with this Charred Tomato Salsa recipe.
Traditional and Easy Lasagna Recipes
Traditional lasagna recipes took hours to cook, but modern families with busy lives don't always have that time. They can still enjoy lasagna's fabulous taste by innovating with ingredients, techniques, and format. A jarred marinara sauce and no-boil lasagna noodles in our Easy Cheese Lasagna cuts down the cooking time to an hour, winning back time without sacrificing any of the flavor. Alternatively, combine traditional American skillet cooking with Italian cuisine in this Skillet Lasagna. It doesn't need pre-cooked noodles and there's no baking time in the oven, meaning that it can be ready in just 40 minutes.
A Fast and Quick Lasagna Recipe
One of our favorite lasagna dishes happens to be the fastest of all, and it's also one of the most innovative. This Lasagna Soup combines all the best things about a lasagna dish but in a bowl. You can get it to the table in just 25 minutes and leave the family talking about it for hours.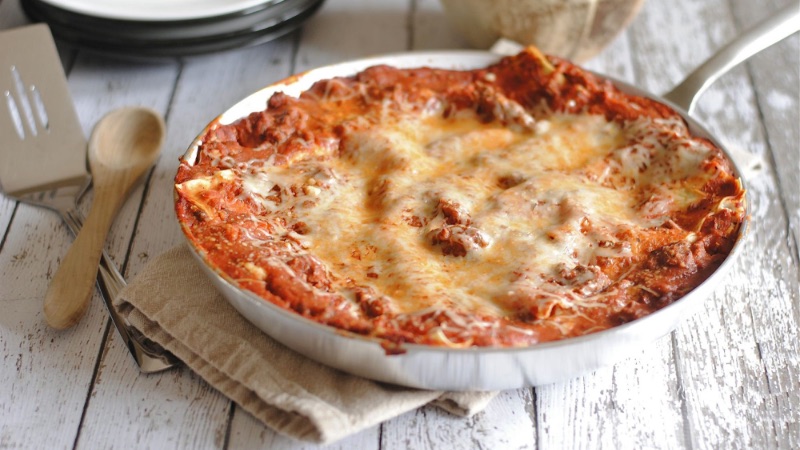 Vegetarian Lasagna Recipe Options
The original lasagna dish that came to America used layered meat sauce, but modern cooks turning to vegetarian options can still enjoy a meat-free variation of this classic dish. A Spinach Lasagna replaces the meat sauce with this healthy vegetable. It uses frozen spinach, making it easy to buy ahead for and cook on a rainy day.
There's even a healthy, veggie lasagna version for vegetarians who also want to skip the gluten. Replace the noodles with roasted veggies in this Gluten-Free Eggplant Lasagna. It's a low carb lasagna option, at under 200 per slice.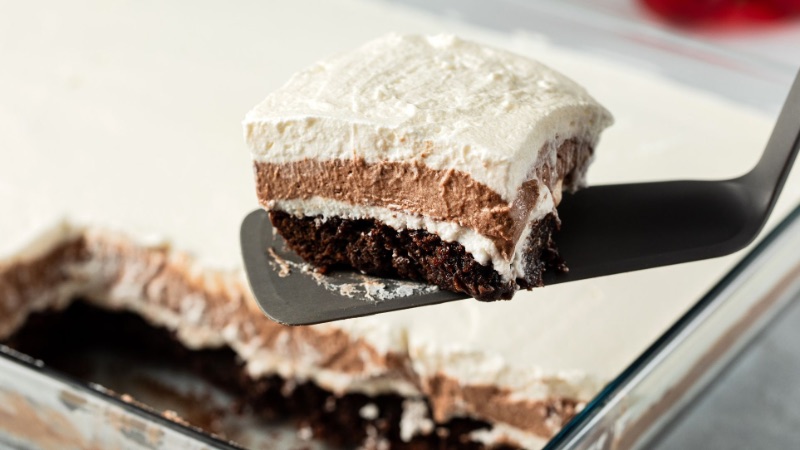 Chocolate Lasagna For Dessert?
Now that we've embraced lasagna as a main course, what should we serve as an appetizer to follow our Italian theme? Consider this Cheesy Pull-Apart Garlic Bread, which is a classic complement for lasagna. Yes, it brings along some extra carbs, but what happens in the kitchen stays in the kitchen. We won't tell.
If you'd prefer to leave the lasagna theme until dessert, we have you covered. Try this Peppermint Chocolate Lasagna that layers fudge brownie, bittersweet chocolate mousse, and a light peppermint cream together.
Traditional cooks in the old country spent hours preparing lasagna dishes, making it a dish for special occasions. Modern innovations such as dried pasta sheets and a wide variety of cooking techniques have made it easier to enjoy this venerable meal more often. Flavorings such as McCormick® Basil and Oregano, Garlic and Sea Salt All Purpose Seasoning make it easier to bring a taste of Italy to the table. Buon appetito!