There are very few dishes as closely tied to a holiday celebration, such as Hanukkah, as latkes. Get ready for Hanukkah with this step by step guide on how to make latkes. But first, a bit of history:
What are Latkes?
Essentially, they're fried potato pancakes, typically prepared by combining grated potatoes with eggs. Latkes have been around for centuries, and have become a staple of the Jewish holiday. Symbolic of the olive oil that miraculously lasted eight days, potato latkes are generally eaten on every night of the celebration.
Which means you'll need a steady supply this holiday season. Below is a failsafe, step-by-step method for how to make your own crispy and delicious potato latkes. Or, watch this video for easy instructions on how to make classic latkes and homemade applesauce:
Step 1: Shred Potatoes
Using a food processor or hand grater, start by shredding 6 large potatoes (or 2 ½ pounds).
Be sure to choose starchy spuds, such as Idahos or russets, instead of waxy varieties like new potatoes.
In addition to producing pancakes that are crispy instead of cakey, the potato starch will serve as an ideal binder, so your latkes don't fall apart in the pan.
Quick Tip: Want to save time on shredding? One of our favorite, classic latkes recipes uses store-bought hash browns instead!
Step 2: Dry Potato Shreds
Dry your potato shreds by pressing them in a colander, squeezing them in a large kitchen towel, or in a paper towel.
No one likes a sopping-wet potato latke! Draw out as much moisture as you can to help prevent hot oil spatters later.
Step 3: Combine Potatoes with Spices
Place your potatoes into a big bowl, along with 1 chopped onion, 2 lightly beaten large eggs, and 3 tablespoons of flour or matzoh meal.
Add in flavorings of your choice — we especially like Lawry's® Garlic Salt with Parsley, and Seasoned Pepper as seasonings in these savory potato pancakes.
Stir well to combine.
Or, combine matzo meal, your shredded potato mix, Lawry's Seasoned Salt for another latke recipe.
Step 4: Flatten Potato Mixture
Heat ½ cup of vegetable oil in a large nonstick skillet over medium-high heat.
Place heaping spoonfuls of the potato mixture into the skillet, leaving at least ½-inch of room between each pancake.
Flatten each of them slightly with the back of your spoon.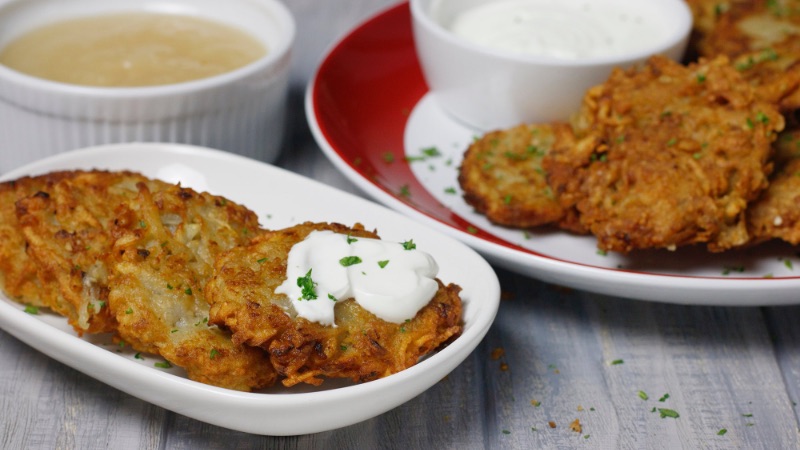 Step 5: Fry Your Potato Latkes
Cook 3 to 4 minutes or until golden brown on one side.
Flip carefully, and cook until golden brown on the other side (3 minutes more).
Remove latkes to paper towels to drain.
Repeat with remaining potato mixture, adding additional oil if needed.
You can also pan fry your latkes, bake them, or use a cast-iron pot when making these golden brown delights.
Step 6: Serve Latkes with Sour Cream and More
Serve with your choice of latkes sauces: Sour cream and applesauce are traditional. Yes, you can buy a jar, but why not get into the celebratory holiday spirit with our homemade applesauce recipe instead? Especially since you're officially a potato pancake expert!
Learn more about Hanukkah recipes and traditions, and explore more Hanukkah food here!