Dreaming of homemade French fries, crispy on the outside, with a creamy interior that melts in your mouth with every bite? Thanks to the air fryer, you can have fresh, hot and crisp fries for the devouring, in less than 20 minutes. By trading in the deep fryer for the air fryer, you'll also have fries with potentially fewer calories and excess fat. Once you see how easy it is to make fresh, frozen, and even reheat leftover fries, we're pretty sure the air fryer will quickly find a permanent home on your kitchen counter. (If it hasn't already!)
How to Make French Fries
A combination of air and heat, plus one or two teaspoons of oil, are all you need to have perfect homemade fries. Start by preheating your air fryer at 380°F. For a classic French fry flavor, cut russet or Yukon gold potatoes into ¼ inch slices and rinse well with cold water. Drain and pat dry. Toss the fries with the oil and sprinkle with salt and other seasonings, if desired. Working in batches, put the fries in a single layer in the air fryer basket, leaving a little space between each one. The space allows the hot air to touch all sides of the fries. If too crowded, the potatoes will steam inside the air fryer, preventing them from becoming crispy. Cooking time will vary based on your air fryer but aim for a range of 12 to 16 minutes. Shake the basket halfway to help the fries cook evenly. Once the fries are cooked, toss them all back into the air fryer for an additional 1 to 2 minutes to warm and crisp up the earlier batches.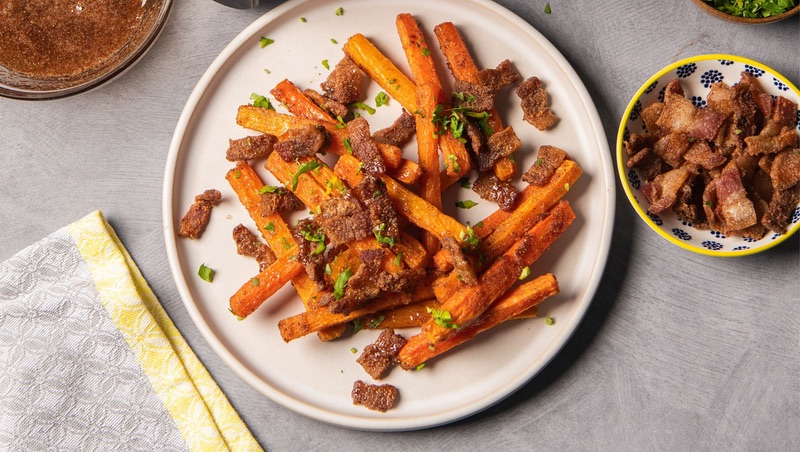 Making fries with the air fryer isn't just limited to potatoes. Try Air Fryer Maple Glazed Carrot Fries with bacon for a sweet and savory side dish. Cut the carrots into ½ inch thick sticks and the bacon into ½ inch pieces and cook them together in single-layer batches until the carrots are tender and lightly brown and the bacon crispy.
How to Cook Frozen French Fries
To make frozen French fries, cook at 400°F for about 10 to 15 minutes. You do not need to defrost the fries before cooking them in the air fryer or add any extra oil.
How to Reheat Fries
With an air fryer, you can even revive leftover fries! Preheat the air fryer at 350°F or 375 °F for a few minutes. Place the fries in the basket and cook between 3 to 6 minutes. Reheat in batches. No oil is needed to reheat the fries.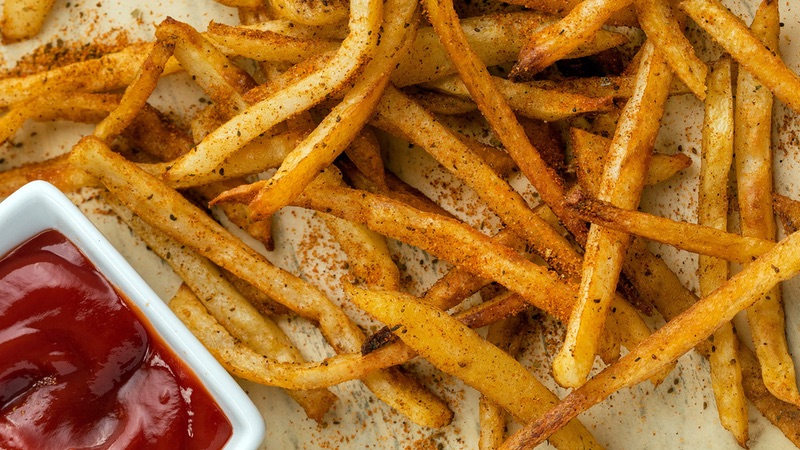 How to Convert Oven Fries
You can adapt your favorite oven-baked fries recipes for the air fryer by reducing the suggested temperature by 25 or 50 degrees and cut the cooking time by about 20 percent. That means there's no limit to the types of fries you can make! After finishing in the air fryer, put some spice on your fries by adding a tablespoon of Old Bay Seasoning for Old Bay Crispy Oven Fries or Lawry's Seasoned Salt for Spicy Oven Fries.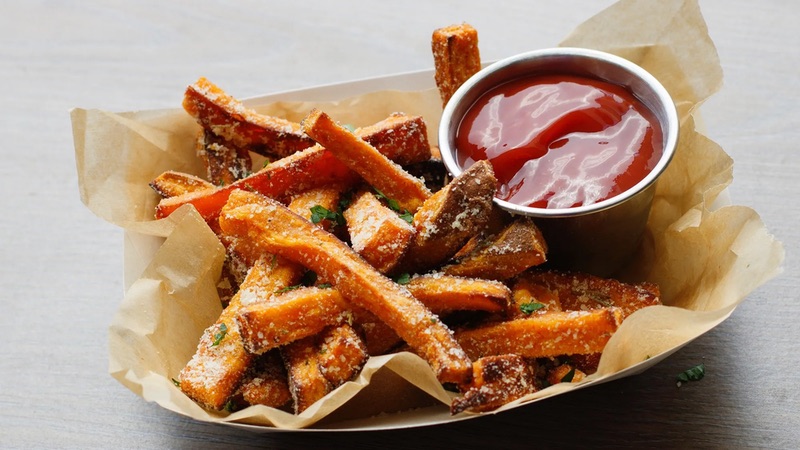 A better-for-you choice to the conventional French fry, sweet potatoes are also easy to make in the air fryer, like these Baked Sweet Potato Fries with Honey Spice Dip. For Oven Roasted Sweet Potato Wedges, coat the wedges in a mixture of egg white and Lawry's Seasoned Salt and use one or two teaspoons of coconut oil for a sweet, crispy finish. If you're in the mood for savory fries, sprinkle a mix of Parmesan cheese, salt, and rosemary for Parmesan Rosemary Sweet Potato Fries, which make for a great side dish or appetizer.
More French Fry Recipes 
Learn More About Cooking French Fries 
Save your favorite French fry recipes and organize your ingredients with our online meal planner.  You can also make meal prep simple by creating a Flavor Profile, so you can store your favorite recipes and create grocery lists for easy shopping.