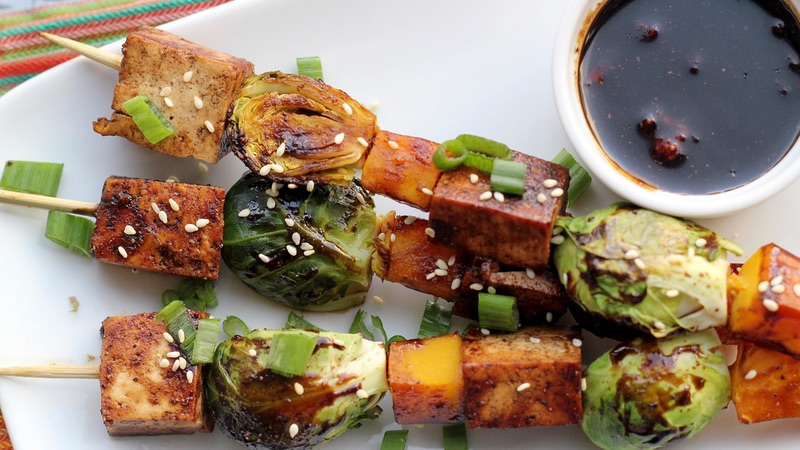 When you don't eat animal products, meals definitely require a bit more careful planning. You can't simply sear off a chicken breast or slow roast a beef stew, for instance, or pull off family-pleasing tricks like smothering everything in cheese. But that doesn't mean vegan dinner recipes can't be every bit as varied and delicious!
In fact, it's especially important that you mix things up when it comes to ingredients, in order to get the same nutrients that often come from meat and dairy. Beans, tofu, quinoa, lentils, and chickpeas make excellent sources of protein and fiber.
Certain nuts and oils offer a fish-free way to get your omega-3's. Soy and almond milk supply the vitamin D often found in fortified dairy, and leafy greens will really pump up your iron (while vitamin C-rich foods, like citrus fruits, aid in its absorption).
You know that saying, "eat the rainbow?" When it comes to constructing a nutritionally balanced vegan dinner, it's never rung truer.
And you don't need to dine like a rabbit, just because you've gone vegan. While vegetables will undoubtedly play a starring role in your dishes, it's important to feel satisfied and full. So complementing your produce with whole grains like brown rice, wheat pasta, and seeded breads will go a long way towards lining your tummy.
There's certainly a lot to consider when it comes to vegan cooking. But that doesn't mean you need to spend any extra time in the kitchen! Not only are these vegan dinner ideas nutritionally balanced, but each can also be pulled off in around 30 minutes or less. And we promise, no one will miss the meat!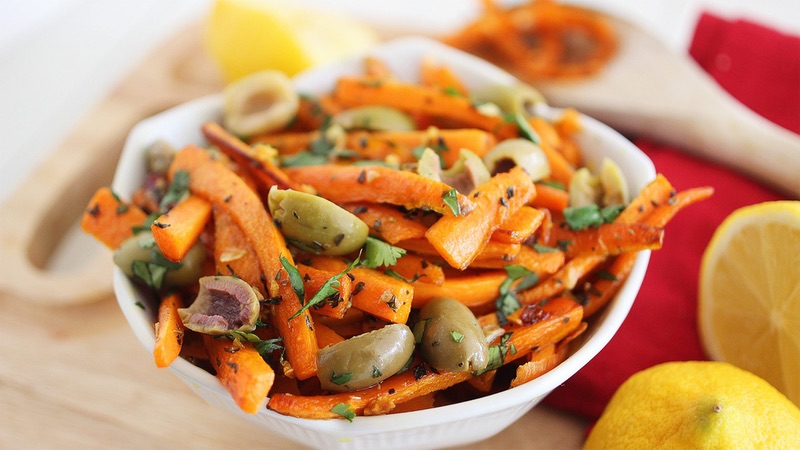 Vegan Side Dishes
While any of these easy vegan recipes could easily serve as main courses, they also make excellent dinner companions, to more substantial dishes.
• Quinoa bulks out a Salad with Agave Mint Dressing
• Bread replaces lettuce in Tuscan Panzanella, which sops up the juice of heirloom tomatoes, cucumbers, red wine vinegar, and extra virgin olive oil in Tuscan seasoning
Raise your veggie game with recipes like:
• Toasted Sesame Balsamic Asparagus with a dash of crushed red pepper
• Barbecue Seasoned Mushrooms with Grill Mates Barbecue Seasoning
• Moroccan Carrots sprinkled with green olives and ras el hanout
And be sure to try these Tofu, Butternut Squash, and Brussels Sprouts Skewers…as welcome on your dinner table as they would at a festive party!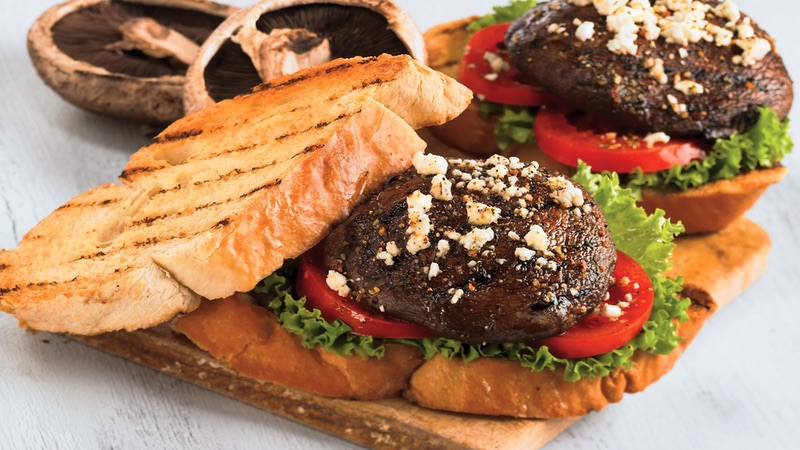 Vegan Main Dishes & Entrees
Since they're so alike in flavor and texture, it's no wonder mushrooms have become a go-to meat substitute. So how about these vegetarian dinner ideas?
• Stage a soup and sandwich night with Grilled Portobello Mushroom Panini (top with vegan feta cheese if desired)
• Pair with Vegetable Minestrone, thick with protein-packed chickpeas and vibrant with fava beans and mint
• Or, throw a Taco Tuesday featuring Jackfruit — which has really been giving fungi a run for its money as a trendy protein replacement
While mushrooms are similar to steak, the starchy, tropical pods are frequently compared to pork. Which is why "pulled" strands of jackfruit make an excellent filling for tortillas, flavored with coconut sugar and smoked paprika, and topped with cilantro, onions and (dairy free!) sour cream.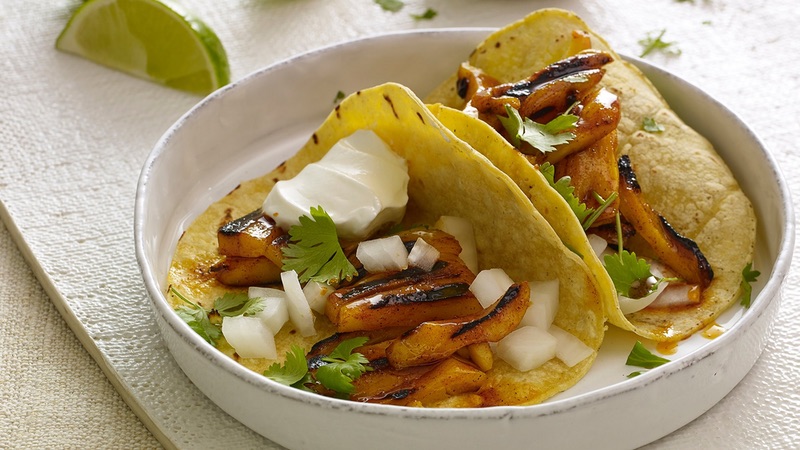 And if you thought vegetarian dinner recipes couldn't be filling, check out this Jambalaya — as spicy and zesty as the New Orleans original (thanks to ZATARAIN's Jambalaya Mix), but chock full of broccoli, zucchini, and carrots, instead of chicken and sausage.
Another classic rice dish gone vegan is Korean Bibimbap, which features garlic, ginger, and sesame-seasoned grains, topped with a cornucopia of soy sauce-sautéed produce.
And you can't go wrong with staples like Vegetarian Chili (butternut squash replaces beef), or good old Spaghetti, tossed with an extra chunky tomato sauce flavored by Perfect Pinch Italian Seasoning, garlic, and onion salt.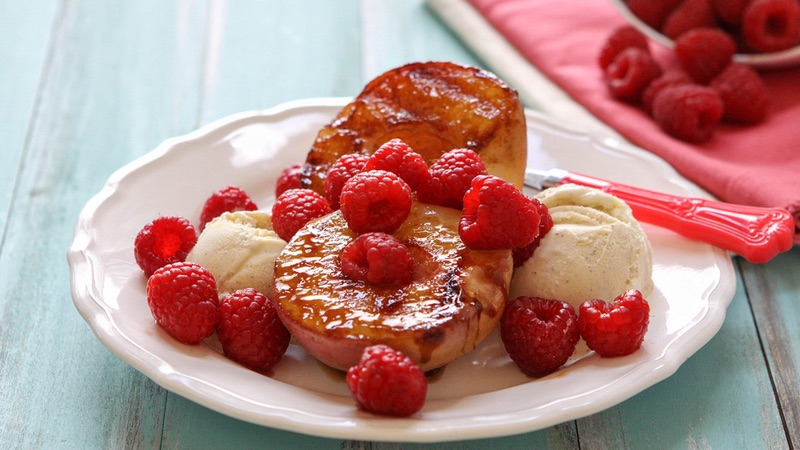 Vegan Desserts
We're not gonna lie, vegan baking is a serious skill. But you can still turn out something sweet in a short amount of time, and with a bare minimum of know-how.
In fact, you only need to operate a microwave in order to melt white and semisweet vegan chocolate chips into cinnamon-spiced and almond-studded chocolate bark.
And only a grill (or grill pan) is required to make this twist on Peach Melba, topped with ginger and vanilla flavored raspberries (and if you desire, dairy-free ice cream). As for soup, well, you don't need to save it for supper.
Add this sweet puree to your list of easy vegan meals, made with Chilled Papaya and Watermelon, blended with coconut water, lime juice, coriander, sugar, and jalapeno.
Want to learn more about going vegan? Check out our guide on how to go vegan this year plus learn about other diets like paleo and keto with our 2019 diet guide.