Thanksgiving might be the unofficial holiday of the turkey, but let's be honest, it's the squash, sweet potatoes and pumpkin pies that we really look forward to. Whether you're hosting an an entirely plant-based feast, or simply serving a few vegan or vegetarian guests, you have plenty of options to choose from when it comes to creating an unforgettable meal. Try these vegan and vegetarian Thanksgiving recipes to create new holiday traditions your guests will look forward to year-round: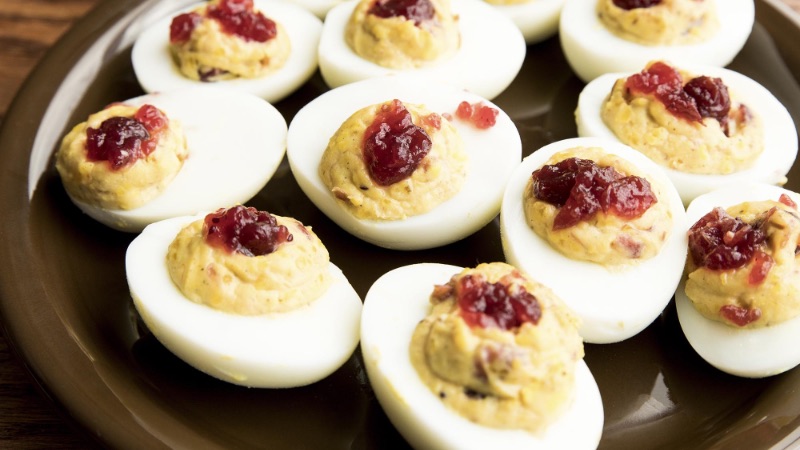 Deviled eggs are the perfect vegetarian Thanksgiving starter, because they work equally well as a finger food for your guests to nibble on as they mingle before the feast, or as a sit-down appetizer served at the table. In this version, a mini-dollop of cranberry sauce with ground mustard and rubbed sage seasoned eggs adds a festive Thanksgiving twist, making this starter creamy, savory and sweet – score!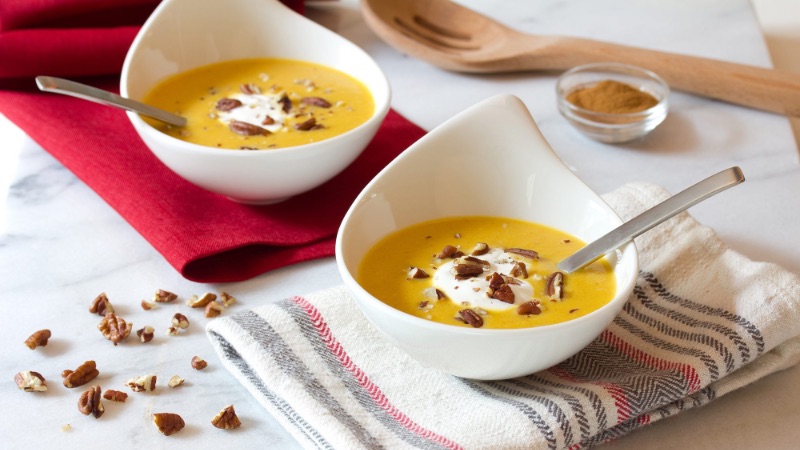 Alternatively, get your vegan Thanksgiving dinner party started with a bowl of hearty soup, featuring fresh seasonal flavors. Sour cream gives this butternut squash soup an extra level of creaminess. It's pleasantly sweet and tart, thanks to a surprise ingredient: granny smith apples! A few teaspoons of ground cinnamon and ground ginger add a warm sweetness. Use reduced-sodium vegetable stock (this unsalted vegetable stock will do the trick) in place of chicken stock to make it vegetarian, and sub in vegan sour cream for vegan guests.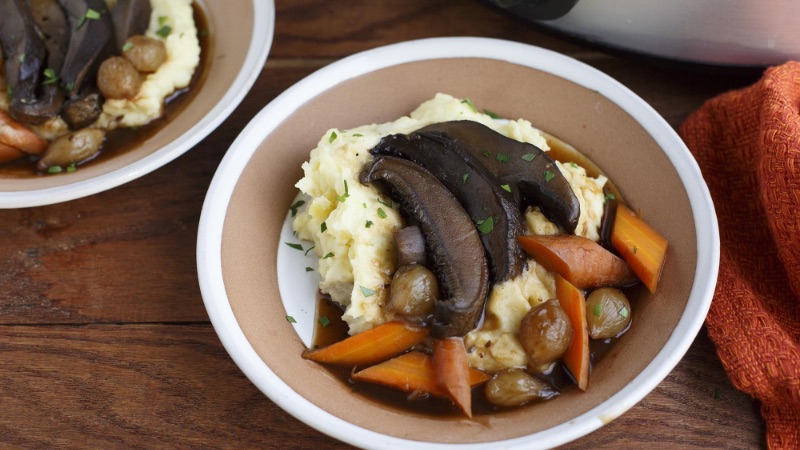 Vegan thanksgiving entrees can be a bit daunting. Sure, you could pick up a vegan turkey substitute at the store – but it doesn't take long to create a memorable main course at home. Meaty mushrooms slow-cooked with red wine, vegetable stock, and the perfect blend of rosemary and thyme make this "pot roast" intensely flavorful. And, as a bonus, it's both vegan and gluten-free. Serve it on a bed of vegan mashed potatoes and top with vegan gravy for even more flavor.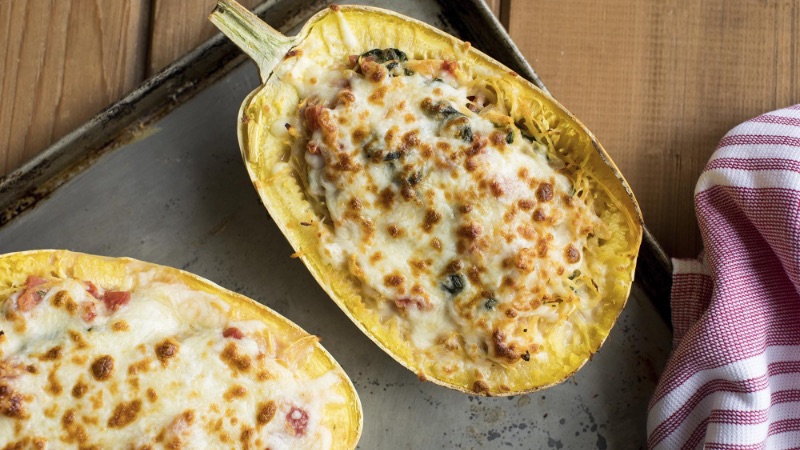 Thanksgiving is the time to indulge – and these stuffed spaghetti squashes, with their Alfredo-seasoned filling and mozzarella cheese topping, are the way to do it. Using an Alfredo sauce seasoning means you'll get complex flavor without having to measure out multiple ingredients. Besides being simple to make, this main is also insanely delicious – don't be surprised if your friends ask for the recipe! Sub out the eggs and milk for the vegans at the table.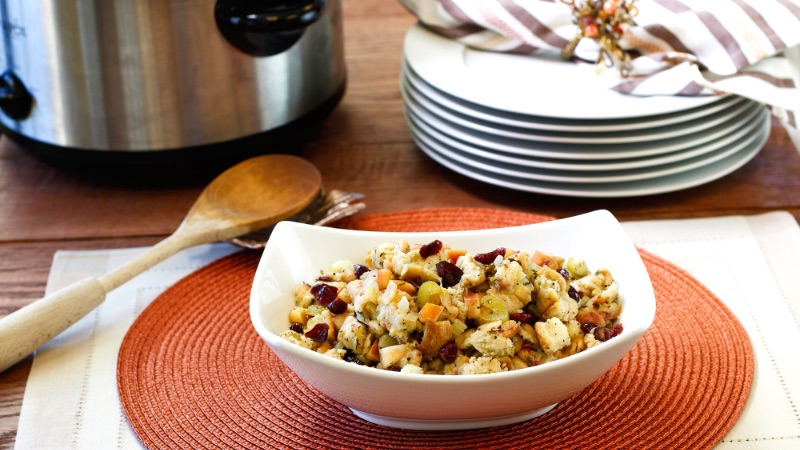 It's just not Thanksgiving without stuffing. While a classic herb stuffing is a great way to go, why not add a new twist this year? Cranberries and chopped granny smith apples add just the right amount of sweetness, while thyme, sage, parsley flakes, garlic salt and poultry seasoning add the savory flavors you love. Best of all, this stuffing cooks in the slow cooker, which means you can prep it a few hours ahead of time to lower the stress of entertaining. Just use vegetable stock in place of chicken stock to make it vegetarian, and a butter alternative in place of butter to make it vegan.
Veggies are a key component of any Thanksgiving menu but, with turkey off the table, they can easily steal the show in a vegetarian or vegan feast. Make the most of your seasonings, and let a mix of rosemary and thyme help green beans burst with flavor. Round out your vegetable course with other seasoned veggies, like ginger glazed carrots or garlic roasted broccoli.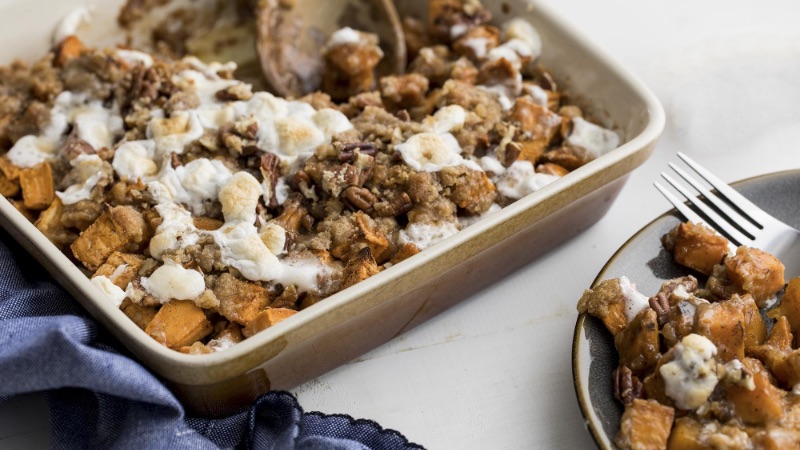 Marshmallows? Pecans? Pumpkin pie spice? Yes, please! This sweet potato casserole blurs the line between dinner and dessert – and your guests will love this crunchy burst of sweetness as part of your main course. Already vegetarian, you can make it vegan by using vegan marshmallows and subbing in margarine or coconut oil for butter.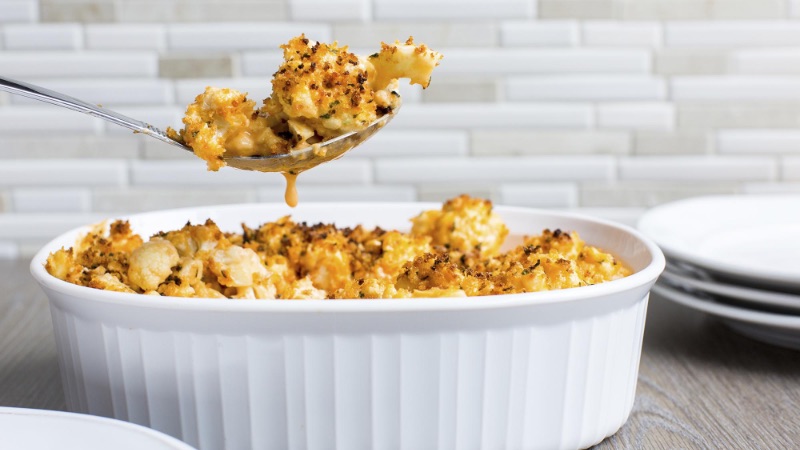 Creamy, comforting macaroni and cheese is a classic vegetarian Thanksgiving recipe. If seems a bit heavy (especially after your second helping of spaghetti squash!) try making it with cauliflower instead. Cauliflower mac and cheese has all the flavors you love – melted cheddar rounded out with garlic powder, paprika and mustard topped with a teaspoon of flat leaf parsley without tasting so rich you won't have room for dessert. Simply substitute vegetable stock in place of chicken for a vegetarian side you'll want to make all year long.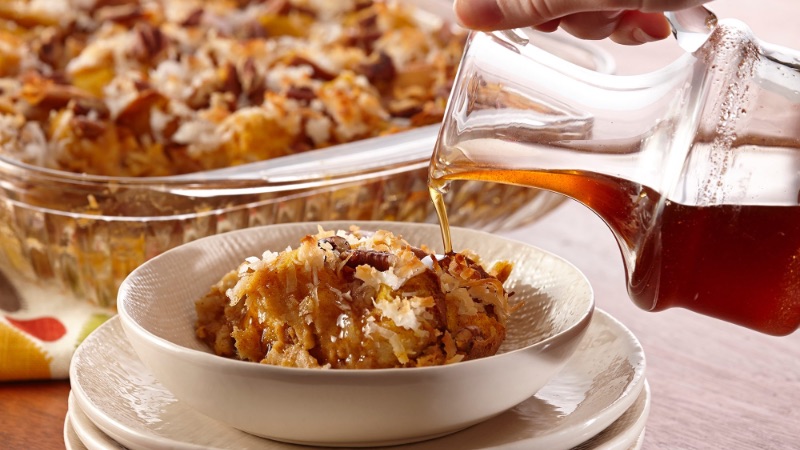 Speaking of dessert, use the unofficial flavor of the season – pumpkin – to create an unforgettable final course. Pumpkin pie spice, coconut milk and cinnamon raisin bread combine to make an irresistible creamy pudding. Toasted coconut and spiced pecans sprinkled on top add just the right amount of crunch. This recipe is already vegetarian and gluten-free. Make it vegan by using egg replacement instead of real eggs.
Though not your typical Thanksgiving meal, this barbecue pulled jackfruit recipe is a fun way to add some spice and variety, vegan style, into your Thanksgiving rotation. It's easy to get BBQ taste without the meat - smoked paprika with unsalted vegetable stock and chipotle chile pepper is the trick here. Slow cook this tropical fruit with molasses, brown sugar and a few other ingredients - and serve the juicy, tender meat piled high onto Thanksgiving dinner rolls.