During every season, I find reasons why I like that season the best. In summer, it is the easiest to declare summer is the best! Complicated cooking is out the window and replaced with dishes that are barbecued, salads that require little or no cooking, and raw fruits and vegetables that are sweet and succulent. Tomatoes are brightly colored in oranges, yellows and many shades of red, and summer squash lends itself to grilling or roasting. In other words, summer meal planning is Seriously Simple.
Recently I came upon this salad recipe from the California Wine Institute that sings the praises of summer's best produce. I've reinterpreted this first course (or main course, depending upon how hungry you are and what you might be serving alongside it). Stone fruit like peaches or nectarines get better when grilled, bringing out their inherent sweetness.
Be sure to ask your produce person if the peaches or nectarines are freestone or clingstone. You want freestone so the pit comes out easily.
Feel free to change up the almonds with toasted walnuts, pine nuts or even pistachios. The easiest way to toast nuts is to put them in a nonstick pan on medium heat and lightly toast them; move the nuts around the pan until they are lightly browned and aromatic. Then cool. You can skip cooking the corn and toss in raw corn kernels if you prefer.
This is a summer salad that you can put your own signature on, for example, by using baby gems instead of arugula, apricots or plums instead of peaches, cooked bacon or pancetta instead of prosciutto and fresh mozzarella instead of goat or feta cheese. Have fun with this summer salad. To drink? How about a chilled glass of California rose or chardonnay?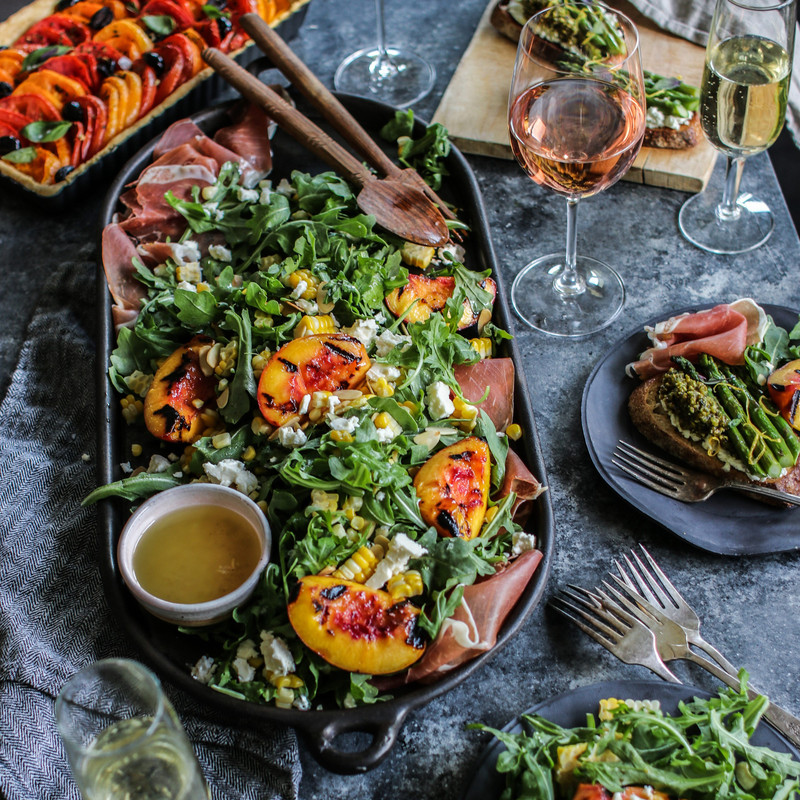 Grilled Peach Salad with Prosciutto, Corn and Toasted Almonds
Serves 4
For the dressing:
1 tablespoon fresh lemon juice
1 tablespoon finely minced shallot
3 tablespoons extra virgin olive oil
Sea salt
Freshly ground black pepper
For the salad:
1 large ear of corn, husked
2 large peaches or nectarines, ripe but firm
Extra-virgin olive oil
4 large, thin slices prosciutto
4 handfuls of baby arugula, about 4 ounces
1/4 cup sliced almonds, toasted
1/4 cup crumbled goat or feta cheese
1. Prepare the dressing: In a small bowl, combine the lemon juice and shallot. Whisk in the olive oil, then season to taste with salt and pepper.
2. Bring a pot of unsalted water to a boil over high heat. Add the corn, cover, and remove from the heat. Let stand 5 minutes. With tongs, transfer the corn to a cutting board. When cool enough to handle, cut the kernels off the cob with a sharp knife. Reserve.
3. Prepare a grill for medium-high grilling. Halve and pit the peaches. Cut each half in half again. Brush all over with olive oil. Grill on the cut sides until the fruit is lightly charred and slightly softened, about 5 minutes.
4. Drape a slice of prosciutto on each of four salad plates (or put all four slices on one platter, if serving family style). In a bowl, combine the arugula and corn kernels and toss with just enough dressing to coat lightly. Divide among the salad plates. Top with the warm nectarine wedges. Sprinkle with almonds and with feta. Serve immediately.
This article is written by Diane Rossen Worthington from Seriously Simple and was legally licensed via the Tribune Content Agency through the Industry Dive publisher network. Please direct all licensing questions to legal@industrydive.com.