Gone are the days when kids' meals meant chicken fingers, stovetop macaroni and cheese, frozen fish sticks, and pizza (which we all still love). Though it can be tricky to come up with kid-friendly dishes that are simple, nutritious, and satisfies the pickiest of eaters, all hope is not lost. By introducing variety, shapes, and colors to the plate, you'll have meals that little ones can enjoy without all the additives in take-out and frozen food - a win-win for both parents and children. Looking to enrich your child's food selections? Here are some ideas for an upgraded kid-friendly menu.
Try Making These Kids Meals At Home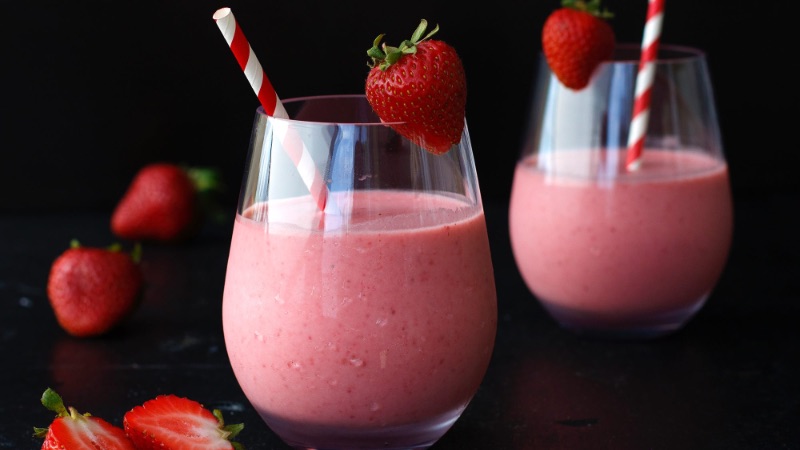 Drink Recipes For Kids
Smoothies and juices are a great choice for little ones as it's a simple way to ensure they get their daily serving of fruits and vegetables. If your child is a fan of strawberries, make this Strawberry Coconut Milk Smoothie, a great gluten-free and dairy substitute. Add some vanilla extract for a boost of flavor. For fruit juices, be sure it's 100 percent and, for a fun twist, dress it up with some spices. Try Cinnamon Spiced Apple Juice by adding a stick of cinnamon and some anise. Serve warm in a mug or chilled in a glass.


Snack Recipes For Kids
Speaking of spice, use them to turn seemingly boring kids food ideas like nuts and popcorn into small bites that your little ones won't be able to resist. Make a Spiced Nuts blend with almonds, cashews, peanuts, and pecans with seasonings such as cinnamon, allspice, and salt for an afternoon snack. If your child has a nut allergy, Mediterranean Spiced Popcorn is a great alternative. To include some fermented foods into your child's food intake, add Spiced Yogurt Dip next to a bowl of fresh-cut fruit.
Dinner Recipes For Kids
Dinnertime can sometimes be a struggle with picky little ones, but some tweaks to classic favorites may do the trick. Instead of frozen pizza, make Pizza Pot Pie, an irresistible combination of mozzarella cheese, spaghetti sauce, and wagon wheel pasta that's sure to delight kids and adults. For another kids food idea, try Chicken and Pasta Primavera, a simple one-dish meal that's not only kid-friendly, but parents will love it too for easy prep in only 10 minutes.
Another kids meal winner that's flavorful and comforting is Dump-And-Bake Sausage Red Beans and Rice Casserole, a convenient choice for busy weeknights. Any dish that gets kids to eat more vegetables should be a regular on the weekly menu, like Confetti Meat Loaf. Your little ones will have no idea that you snuck in some grated carrot and zucchini!
And for a new spin on fish sticks, make salmon fish sticks instead! Start by cutting salmon into 1.5-inch to 2-inch wide strips. Prepare the coating in two separate bowls – one for beaten eggs and the other with panko breadcrumbs (or you can use alternative flour like almond meal) mixed with seasonings like salt, black pepper, garlic powder, and thyme. Dredge each salmon piece with the egg and coating and place on a prepared baking sheet. Bake at 400 degrees, between 16-18 minutes, or until the salmon is cooked through. Flip halfway through baking.
Kid Friendly Side Dish Recipes
Want your child to eat more vegetables? Turn them into fun shapes like with these Asparagus Cauliflower Veggie Tots. A lighter spin on the classic potato tot, prep these in the food processor, blending the asparagus, carrots, cauliflower, and ¼ cup of panko breadcrumbs. Shape the mixture into balls and form a "tot" shape and bake for 30 minutes at 425 degrees until golden brown and crisp. Serve with yogurt ranch dip.
Add some fermented foods to your child's food intake with these Asian Style Pickled Vegetables. Cut up English cucumber, radishes, and carrots and make a quick-pickling brine with mixed pickling spice, sugar, rice vinegar, and salt.  Set the vegetables and the brine in the refrigerator and let sit for a couple of days to allow the flavors the blend.
Dessert Recipe For Kids
For a sweet note, turn pineapple slices into a juicy, decadent treat with Spiced Baked Pineapple Rings. Place pineapple rings in a single layer on a baking pan and brush with a mixture of butter, brown sugar, and allspice. Bake for 25 minutes or until tender.
Other Food Recipes For Kids To Try 
More Tips On Kids Menu Ideas
Save your favorite food recipes for  kids and organize your ingredients with our online meal planner.  You can also make meal prep simple by creating a Flavor Profile, so you can store your favorite recipes and create grocery lists for easy shopping.