Flavor Profile
Talk about a power player in the kitchen! Peppery, sweet, zesty allspice hints of many spice-cupboard favorites, including cloves, cinnamon and nutmeg. You can use it in place of any of those spices, and then some. But don't let its name (or its flavor) fool you: Allspice is actually the pea-sized berry of an evergreen tree, native to the Caribbean and Central America. We love how it goes from sweet to savory, as in pumpkin pie, spice cake, spicing for sausage and glazes for ham. It's a key flavor in Jamaican jerk seasoning, the fiery blend of herbs and spices that turns chicken or pork into an instant party. Use whole berries rather than ground allspice for slow-cooked stews, braises, mulling and pickles. The aroma of crushed allspice berries will immediately bring to mind the sunny warmth of the Caribbean.
Usage
European cooks use allspice to flavor grilled sausages, grinding the whole berries with a bevy of spices, salt and pepper. Whole allspice is also stewed with sauerkraut to provide a sweet, aromatic note to the tartness of fermented cabbage.
The pickling of anything and everything—cucumbers, beets, onions, cauliflower, green beans—is ideal for whole allspice. One of our favorite pickling brines is allspice berries simmered in cider vinegar with mustard seed, bay leaves, black peppercorns and salt. Throw in a dried chili if you'd like a little heat.
Jamaican jerk seasoning is a classic use for allspice. This zippy blend includes allspice, cloves, cinnamon, nutmeg, thyme, garlic, ginger, brown sugar and salt. Rub the mixture on pork or chicken and fire up the grill.
Perfect Partners
Whole allspice can set the tone for a cozy evening of hot rum toddies, spiced red wine or mulled apple cider. Simmer it gently in your beverage of choice. Add cinnamon sticks and fresh orange slices for a festive twist.
Tomatoes and beef double down on flavor when allspice and ground cinnamon join the mix. Together, these four ingredients form the base for Cincinnati chili. Serve it "two-way" with spaghetti or go wild and dish it up "five-way" with spaghetti, grated cheddar cheese, chopped onions and cooked beans.
Brining brings flavor and juiciness to larger cuts of meat, like pork roasts and whole chickens. Use allspice, plus bay leaves, thyme and crushed red pepper to spice any recipe for brining liquid. Pat the meat dry before roasting or grilling—we find that helps the surface brown more evenly.
Substitutes
Q: If I don't have whole allspice on hand, what makes a good substitute?
A: If you have ground allspice on hand, you're in luck! It's stronger than whole allspice, so use just a pinch or two for each 1/2 teaspoon of whole allspice in slow-cooked stews and pickles. Whole cloves are another good stand-in. You can use them in equal measure.
Popular Recipe Recommendations
Apple Cider Mulling Spice Sachets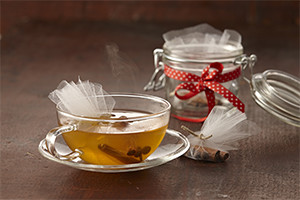 Harvest Pork with Apples and Sauerkraut