Winter is here! That means one of the biggest games of the year is right around the corner. It's a time to come together with friends and family to enjoy the action while snacking on treats and finger foods. If you're hosting a party, get ready to up your own game with vegan party snacks and dishes that will please all of your vegan guests.
Below, our game plan takes a twist on a Mediterranean theme, as the cuisine lends itself well to filling, hearty dishes that are just as enjoyable without any animal products.
Check out our top vegan game day recipes below:
Game Day Drinks
Every gathering should kick off with flavorful beverages. A great host puts a good deal of thought into the drink menu, so we're serving up two vegan drink recipes to choose from, one alcoholic and one alcohol-free.
• Who says sangria must be a summer-only offering? This summer sangria with grilled fruit uses the best of winter fruits—citrus—and adds a punch of flavor with a toss on the grill before they're added to the pitcher.

• Fill a glass and toast to warmer months, or just cool off the hot action transpiring out on the game field.
• Provide a counterbalance to the fizzy, cool summer-inspired cocktail with a simmering pot of spiced hot apple cider. Keep it alcohol-free for the kids, or add a splash of rum for the grownups

• Simmered with bay leaves, Saigon cinnamon sticks, ground nutmeg, ground ginger, and lemon peel, this cider is equally tasty over ice if you find yourself in warmer weather for the big game (Just don't skip the simmering part, to make sure the flavors are mixed and mingled).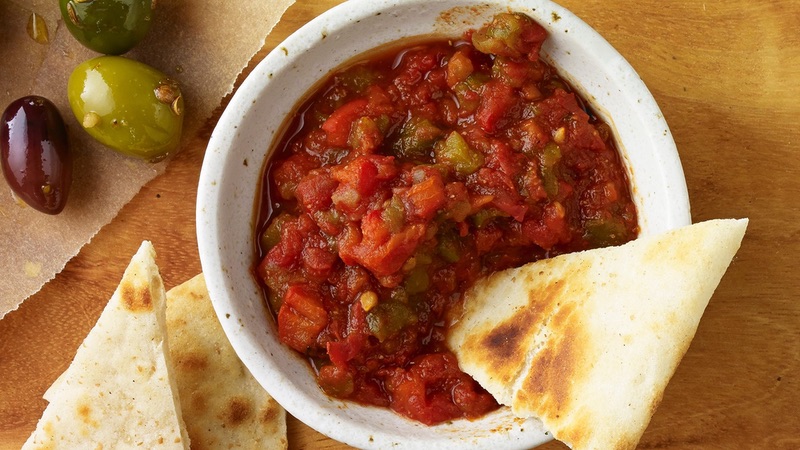 Game Day Appetizers & Starters
Starters are good for more than killing time before the big event. They help get guests settled in, comfortable, and sociable as everyone prepares for the show to start.

It doesn't matter if the "show" to you is the game, the commercials, or just the whole atmosphere of a relaxed gathering free from holiday stresses. Most can be made ahead and set out for easy grazing.

Check out these vegan game day appetizers below:
Nuts and Mixes
• Have a big bowl or little dishes filled with these wonderfully sweet and spicy nuts flavored with Lawry's Seasoned Salt and ground allspice to greet folks at the door or as they begin to mingle.

• Omit the egg white, and toss the nuts in 1-2 tablespoons of oil before coating with the seasoning and baking in the oven to make the recipe vegan-friendly.
Spreads and Dips
• Bread with a savory spread is a party staple: go all-out vegan with this naturally gluten-free socca flatbread, full of tenderness and oh-so-easy to make yourself.

• Many non-vegan dips rely on sour cream or cheese to give them heft, but olive oil and eggplant come together in this roasted eggplant dip (baba ganoush) recipe, as good on flatbread as it is as a side dish for a larger meal.

• In a groove? Offer up another vegan dip. This tomato and roasted red pepper spread complements anything from bread to beans. Take the heat up a notch by including ground and crushed red pepper flakes in this flavorful spread that's perfect as a vegetable dip.
Quesadillas
Quesadillas as part of a vegan menu? Of course, when the options for plant-based cheeses have come a long way in the last few years.
• Just swap the Monterey Jack for a flavorful vegan cheese of your choice and this recipe is good to go.

• Bridging the gap between hors-d'oeuvres and full-on appetizer, these easy cheesy vegetable quesadillas can be cut to any size, depending on the size of the crowd. All you need is a tablespoon of Perfect Pinch Vegetable Seasoning for perfectly seasoned vegetables - think peppers of all colors, zucchini, onions and more.
Game Day Main Dishes
Sometimes the least stressful way to put out party food is to offer up a main course, one that guests can serve themselves as they mingle and move from room to room.
BBQ
Yes, barbecue for vegans. Remember that vegan main dishes can do just fine without tofu or processed meat substitutes. 
• Consider the jackfruit: a tender yet toothy fruit that takes well to bold spices (think: chipotle chile pepper and smoked paprika) and a savory cooking method.

• Serve this vegan BBQ pulled jackfruit with tender buns of your choice (make sure they're made without butter or animal fat), and a dish of zesty chili and lime coleslaw for extra crunch in each bite.
• Not much goes better with a bbq sandwich than beans, and thankfully slow cooker vegetarian baked beans with French's Tomato Ketchup, chipotle chile pepper and garlic powder are both wonderfully hearty and vegan by default.

• No need for a pork hock to flavor your pot of beans. These are perfectly seasoned and fit for a crowd. Use pinto as specified, or switch it up with garbanzos for a Mediterranean vibe.

Game Day Desserts
Whether part of the main spread or served later as the food is winding down, a sweet treat is always nice to have ready for folks to nosh on or even take home at the end of the night.

Most cakes and such include eggs and butter, but there are amazing options if you expand your window beyond the traditional dessert rules, such as "eat on a plate" or "must be super rich."
• Keep things cool and simple with cinnamon chocolate bark, easy to have just a bite after the feast, and even easier to take home if the mood strikes. 

• Take your game day vegan desserts the tropical route and snack on these BBQ fruit skewers. A dash of red pepper with vanilla extract, ginger, and cinnamon add a bit of savory spice and sweetness to papayas, bananas, kiwi, starfruit - you name it! The options are endless.
Not hosting, but attending a get-together with your besties? Most of these recipes are portable so you can contribute as your host needs. Reach out and make yourself deliciously useful! Not a vegan but looking for more game day recipe inspiration? Check out our top 10 game day finger food ideas here!
Find More Game Day Foods & Recipes
Need more game day food ideas? Don't fumble the ball at your tailgate party with these helpful game day recipes.
• Game Day Grub Has Never Been Easier
• How To Host The Best Tailgate Party
• 7 Avocado-Packed Super Bowl Snacks
• Top 10 Vegan BBQ And Grilling Recipes
• Who Said Tacos Need Meat? Try These Tasty Plant-Based Alternatives
• Carrot Bacon Is The Vegan Side Dish Of Your Dreams
Need help planning your weekly meals and want to try new vegan recipes? Save your favorite food, dessert, drink recipes and organize your ingredients with McCormick Meal Planner.