Socca is easy to love, as I learned several summers ago when a friend made a big batch as an appetizer for a backyard party. The crispy-edged and pancake-thin slices have that sweet and nutty flavor of chickpeas, but they're also a little smoky from some time under the broiler. Since the recipe is naturally gluten-free and vegan, it's a winner for any dinner party crowd.
Socca is a traditional dish from Nice, France, and, as with many traditional dishes, there are a dozen different ways you can make it. I like to roast it under the broiler until the top is charred and crisp. You can also bake the socca and then quickly run it under the broiler at the end, or make it right on the stove top.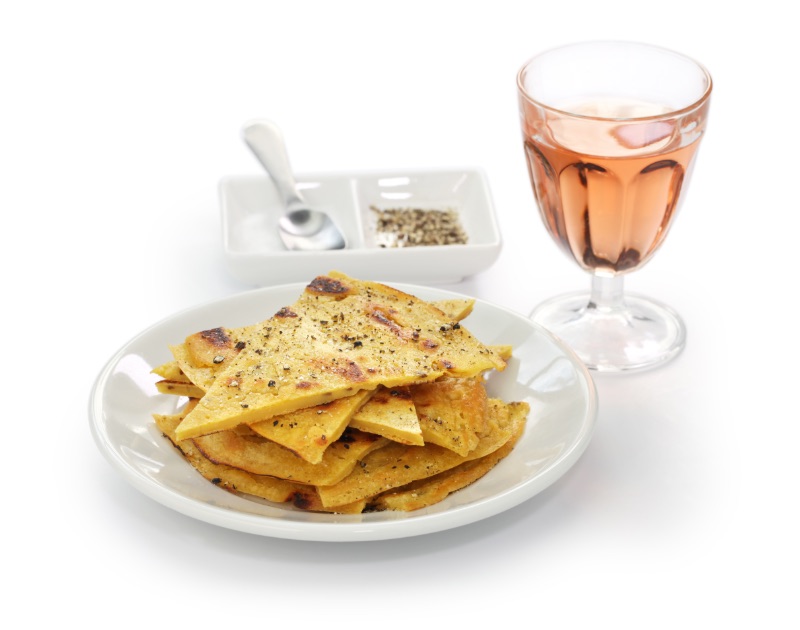 However you make it, the recipe itself is nearly universal. It is equal parts chickpea flour and water, mixed with a tablespoon or so of olive oil and a pinch of salt. You can use more water to make a thinner crepe-like socca or less water to make it thicker. You can also add minced herbs or a few pinches of spices to the batter for some extra pizzazz.
Socca is pretty addictive all on its own. Serve it warm from the oven with some cheeses and cured olives as an easy appetizer. For something a little different, I also love to pile it with salad greens and cut it into wedges.
Thinking beyond the dinner party, socca has a lot of potential for quick weeknight dinners. It would make an easy gluten-free pizza crust, but it's also flexible enough to be wrapped up like a burrito. You could also use it like pita to fold around grilled meats and vegetables, or like naan to scoop up spicy curries.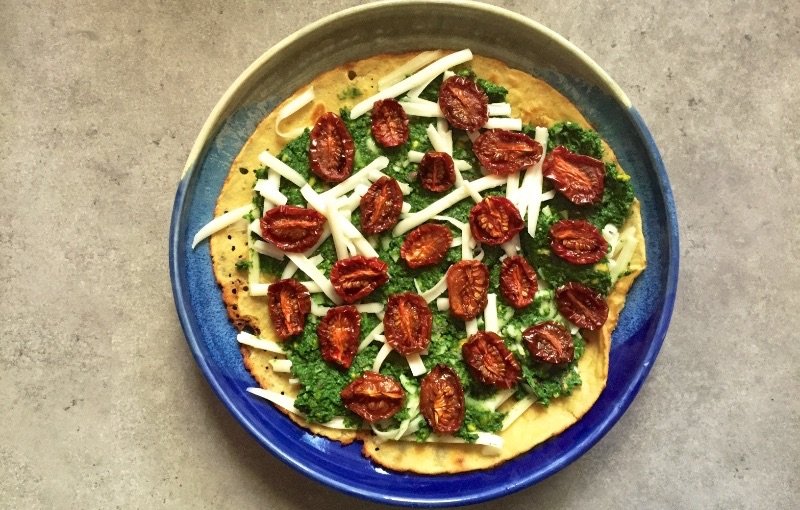 Socca
Makes 1 thick 10-inch pancake or 2 thin 10-inch pancakes (recipe can be multiplied)
1 cup (4 1/2 ounces) chickpea flour
1 cup (8 ounces) water
1 1/2 tablespoons extra-virgin olive oil, plus more for the pan
1/2 teaspoon salt
Optional seasonings: 1 tablespoon chopped fresh herbs (rosemary, thyme, oregano), 1-2 cloves minced garlic, 1/8-1/2 teaspoon spice (chili powder, cumin, smoked paprika, za'atar)
Equipment:
10-inch cast-iron skillet, pie tin or other metal baking dish
Spatula
Knife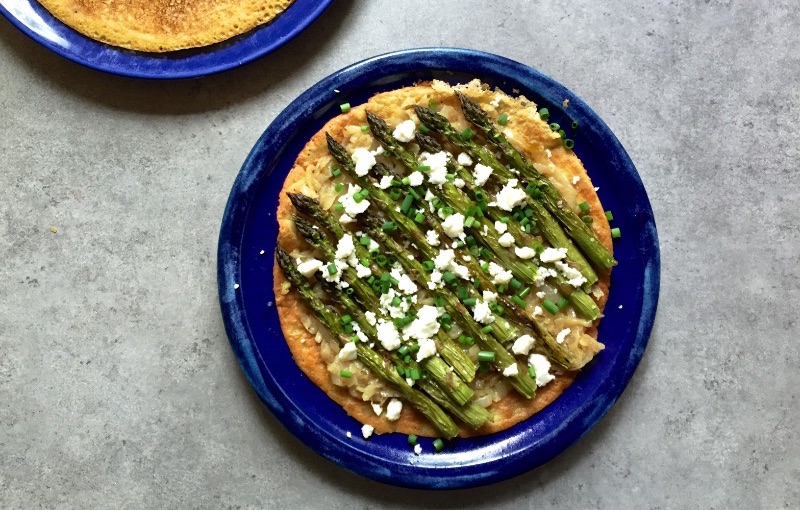 1. Prepare the chickpea batter. Whisk together the chickpea flour, water, olive oil and salt in a small bowl. Let rest for 1/2 hour to 2 hours to give the flour time to absorb the water.
2. Set an oven rack six inches below your oven's broiler and turn on the broiler. Set a cast iron skillet or other baking dish on the rack to warm for five minutes.
3. Remove the skillet from the oven using oven mitts. Add a teaspoon or so of olive oil and swirl to coat the bottom of the pan. Whisk the chickpea batter quickly and then pour half into the hot skillet (or all if making a thicker pancake). Tilt the pan so the batter coats the entire surface of the pan.
4. Broil for 3 to 5 minutes, until you see the top of the socca begin to blister and brown. If you find the top browning before the batter is fully set, move the skillet to a lower oven rack until done. The socca should be fairly flexible in the middle but crispy on the edges.
5. Use a spatula to work your way under the socca and ease it from the pan. Slice it into wedges or squares, sprinkle with salt and pepper, and drizzle with a little good olive oil. Repeat with any remaining batter.
Socca is best if eaten immediately after baking, while still warm, but it can be refrigerated and re-toasted for up to a week.
Additional Notes:
--To bake in the oven: Heat the oven to 450 F and pre-heat the baking dish for 5 minutes. Bake the socca for 8-10 minutes, until it's cooked through, then run it under the broiler to blister the top.
--To bake on the stovetop: Film a pan with oil and set over medium-high heat. Pour in the socca batter. After about 3 minutes when the edges are firm, gently lift the pancake and flip it. Cook on the other side for another 2 to 3 minutes, until both surfaces are dry and beginning to brown.
--Finding chickpea flour: You can find chickpea flour in the bulk bins at Whole Foods and other natural foods stores. Bob's Red Mill also sells it in packages. Look for it under the name "garbanzo bean flour" if you're having trouble finding it. They are the same product.
This article is written by Emma Christensen and TheKitchn.com from The Kitchn and was legally licensed via the Tribune Content Agency through the NewsCred publisher network. Please direct all licensing questions to legal@newscred.com.