Dads + steak + dinner = the ultimate Father's Day. Whether you're whipping up a sizzling hot piece of beef to show your appreciation or just passing along new recipe inspiration, steak lovers will rejoice with this list of 10+ of our top smokin' hot, unbelievably delicious steak dinners:
Steak Dinner Recipes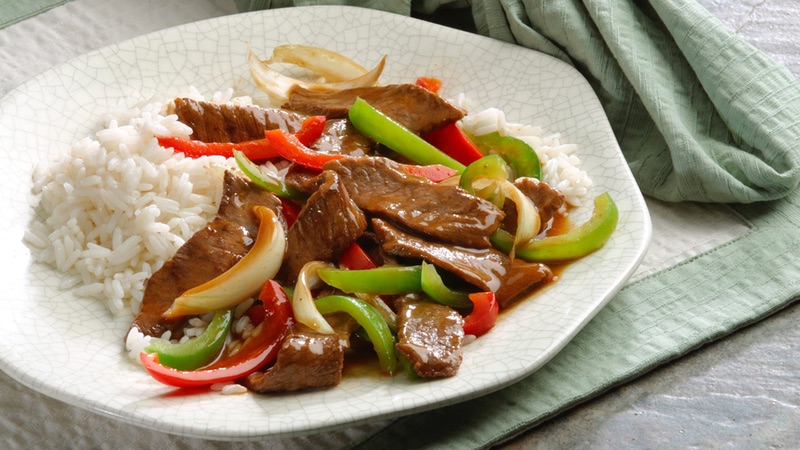 Brown gravy and ground ginger turn the flavor up a notch in this easy steak recipe.
Made with thinly sliced sirloin tossed in soy sauce, this quick pepper steak is the perfect Father's Day dinner for maximum flavor in a minimum amount of time.
Try this easy pepper steak recipe for on-demand Asian-inspired steak flavor now!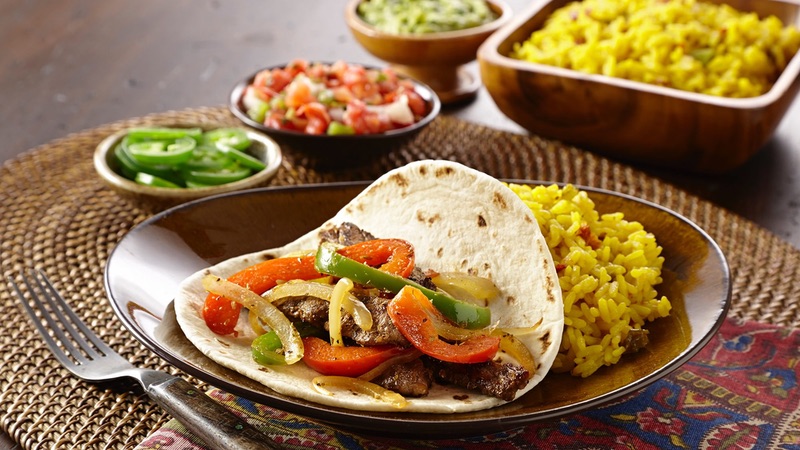 What dad doesn't love fajitas?
Juicy, crunchy red and green bell peppers along with thinly sliced steak seasoned with Perfect Pinch Steak Seasoning and oregano leaves make this easy steak dinner not only great to whip up on Father's Day, but on any night of the week, too.
Start the fiesta early with these irresistibly delicious steak fajitas right here!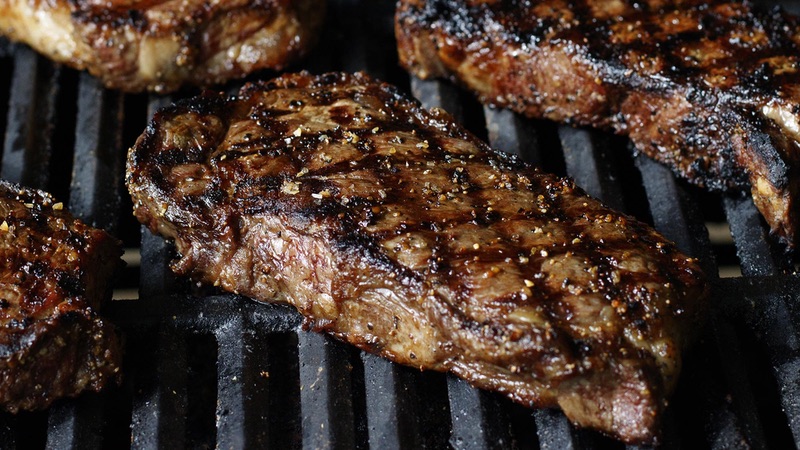 Boldly flavored strip steak is inevitable with the peppery, garlicky goodness of McCormick Montreal Steak Seasoning.
This easy strip steak recipe (swap out for sirloin if you prefer) goes great with all of Dad's favorite sides: mashed potatoes, asparagus, caramelized onions, white rice – you name it.
Rule the grill with this meaty Montreal steak recipe jam-packed with hearty flavor now!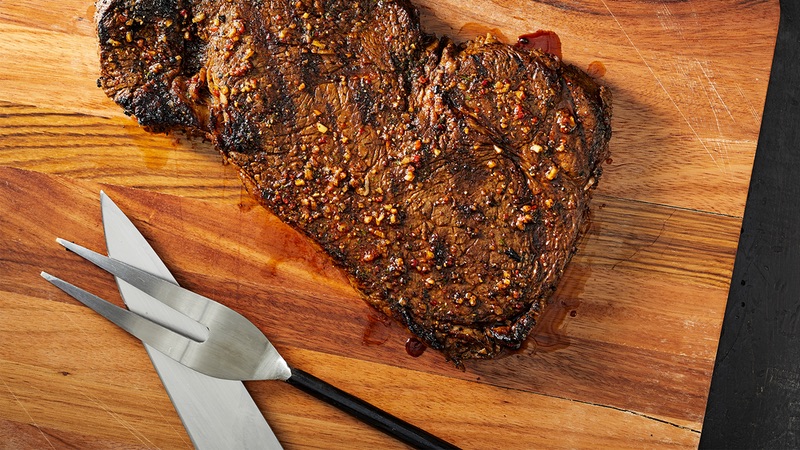 Dad's favorite flavors have officially arrived with this Father's Day grilled steak recipe: say hello to a smoky yet sweet brown sugar bourbon steak.
This boneless beef sirloin steak enjoys a myriad of flavors thanks to McCormick Grill Mates Brown Sugar Bourbon Seasoning – from sweet, wholesome brown sugar and molasses to zesty garlic, spicy paprika, and red pepper.
Turn on the grill, slap on this enticing marinade and grill this brown sugar and bourbon steak to perfection today!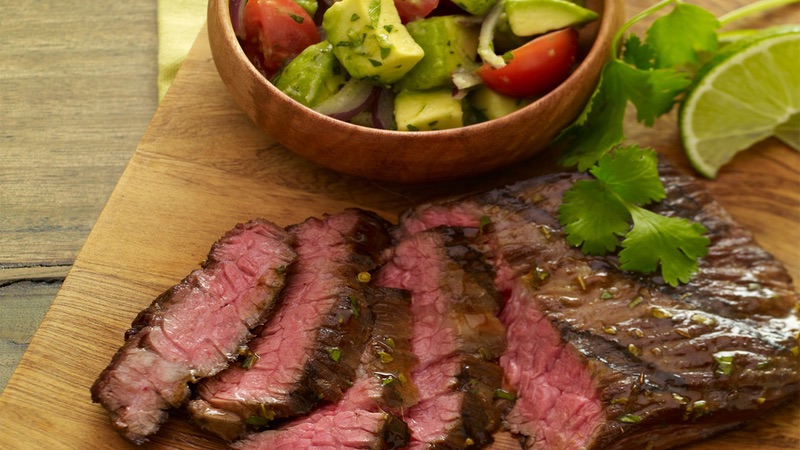 https://www.mccormick.com/lawrys/recipes/main-dishes/tequila-lime-steak-with-avocado-chopped-salad
This mouthwatering steak recipe is sure to be a hit at the dinner table (and score you major brownie points with Dad).
Marinated in the Latin-inspired flavors of Lawry's Santa Fe Chili Marinade with Lime and Garlic, tequila, chopped fresh cilantro and oregano leaves, this steak is so tender and juicy you won't be going back for seconds in no time.
Top it off with a garlic and lime juice flavored chopped avocado salad with sliced red onion and cherry tomatoes for a Father's Day dinner Dad will never forget.
Spice up your Father's Day cookout menu with this tequila lime steak recipe here!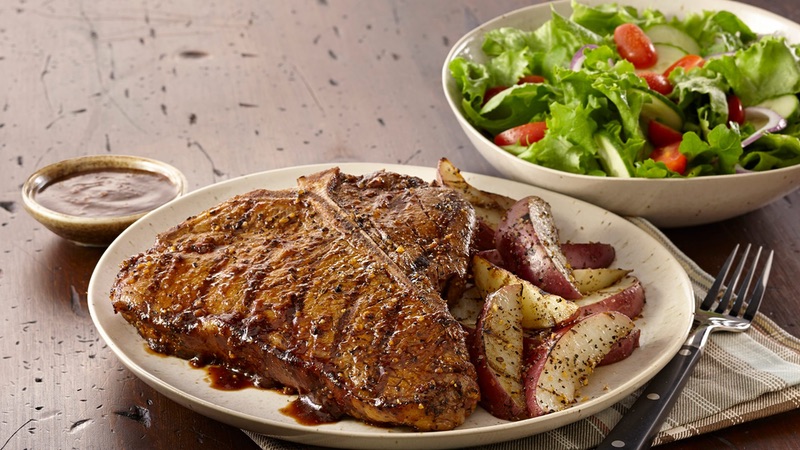 Nothing says a steakhouse classic more than steak and potatoes – the ultimate Father's Day steak dinner and this steak recipe with Montreal seasoning is no exception.
Flavored by a double whammy of Montreal seasoning and served with hearty, grilled red potatoes, this T-bone steak and potatoes recipe will be ready to impress Dad in just 30 minutes.
Ready for good ol' meaty flavor? Dig into this quick and easy steak and potatoes recipe.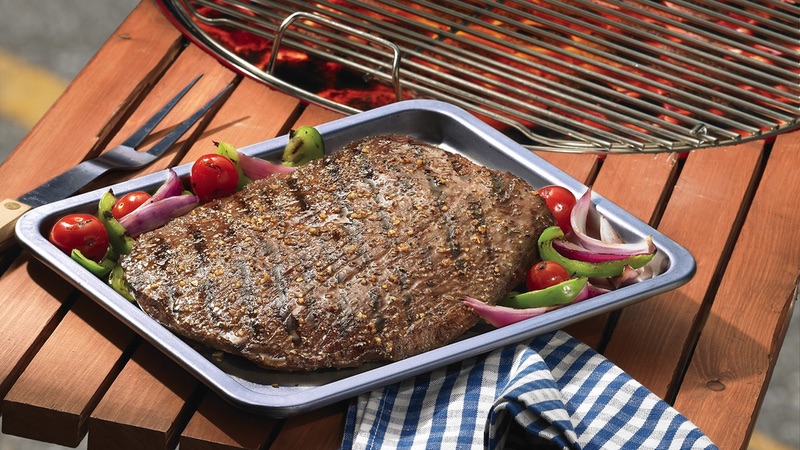 Transport your taste buds to the Southwest in just about 20 minutes with this smoky steak recipe. With McCormick Grill Mates Mesquite Marinade, achieving backyard-style, Mesquite flavor is easy.
Just mix the marinade with oil and water, pop it in the fridge and grill when ready for juicy, flavorful beef at your Father's Day backyard BBQ.
Try your hand at Southwest flavor with this Mesquite flavored steak now!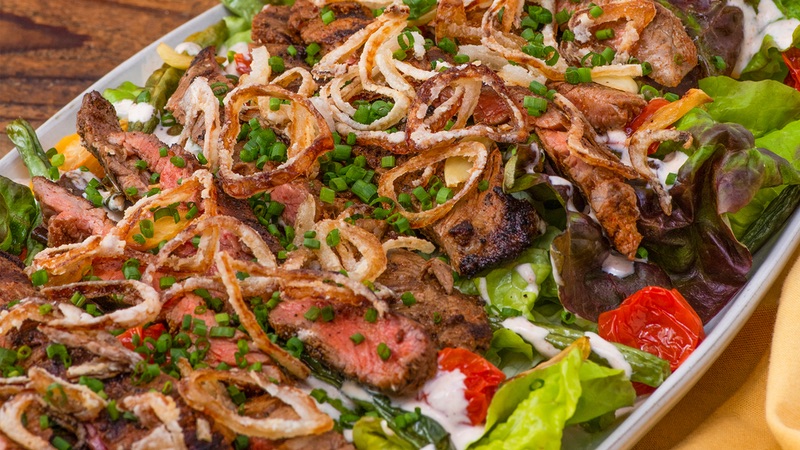 Love a good steak salad recipe…but want to give it a little pizzazz?
Then you'll love this skirt steak recipe topped with a rich Greek yogurt dressing made with sour cream, Dijon mustard and fresh lemon juice.
The kicker? Throw a dash or two of McCormick's new Jazzy Seasoning from the Tasty™ Seasoning Kit for a zesty kick of cayenne, paprika, garlic, and more.
With lettuce, shallots, bell peppers, tomatoes, green beans, and more – this salad is cool and crisp yet spicy and hearty all at the same time.
Jazz up Father's Day dinner with this tasty steak salad today!
Bring out the natural flavor of skirt steak with the savory blend of onion, garlic, paprika, oregano, and parsley that is McCormick Total Seasoning for Beef.
The skillet is no match for the burst of flavor in this steak and onions recipe. This juicy steak with crunchy white onions is so savory, Dad will be asking for the recipe in no time.
Learn how to make steak and onions with this easy steak recipe!
Meet one of the tastiest, most seasoned steak recipes you'll ever come across with this pan-seared steak dish.
With rosemary, sea salt, black pepper, and garlic pepper in the driver's seat (don't forget – or skimp on the red wine!), this New York strip steak is sure to be the centerpiece of any Father's Day celebration.
Serve with asparagus – or mushrooms and onions – with a hearty serving of red wine sauce.
Fire up the pan for an unforgettably tasty steak with red wine sauce right here!
Whether you're celebrating Father's Day – or are just looking for a new take on this classic dinnertime favorite, we've got a steak recipe for you.
Can't get enough steak? Check out more delicious steak recipes.