What are you planning to do for dad this Father's Day? How about grilling up a reasonably priced flank steak and serving it with oven-roasted potatoes or even a simple potato salad? If you are having a crowd, you can double or triple the recipe and maybe have enough for a steak sandwich the next day. (To be honest, I always make extra for a few steak sandwiches on toasted rolls with this sauce.)
When I lived in Paris, I was partial to the cut of beef known as bavette. Similar to our flank steak, bavette was usually seared on high heat and served rare accompanied by thin, crisp fries. This crowd-pleasing recipe calls for grilling the steak, similar enough to the French method but with the added benefit of grill marks and a slightly smoky flavor from barbecue. If the weather dictates indoor cooking, use a grill pan instead.
Flank steaks need to be tenderized by marinating. Plan the night before so you can marinate the steak overnight, which will infuse the meat with a depth of flavor without changing its texture. It's best to grill the steak until just medium rare; over cooking will toughen the meat. Make sure to cut the steak on the diagonal against the grain so that the slices are very tender. Serve this with oven-baked French fries and sautéed green beans or grilled asparagus. Try a Cotes du Rhone or Zinfandel to accompany this. Dad will thank you.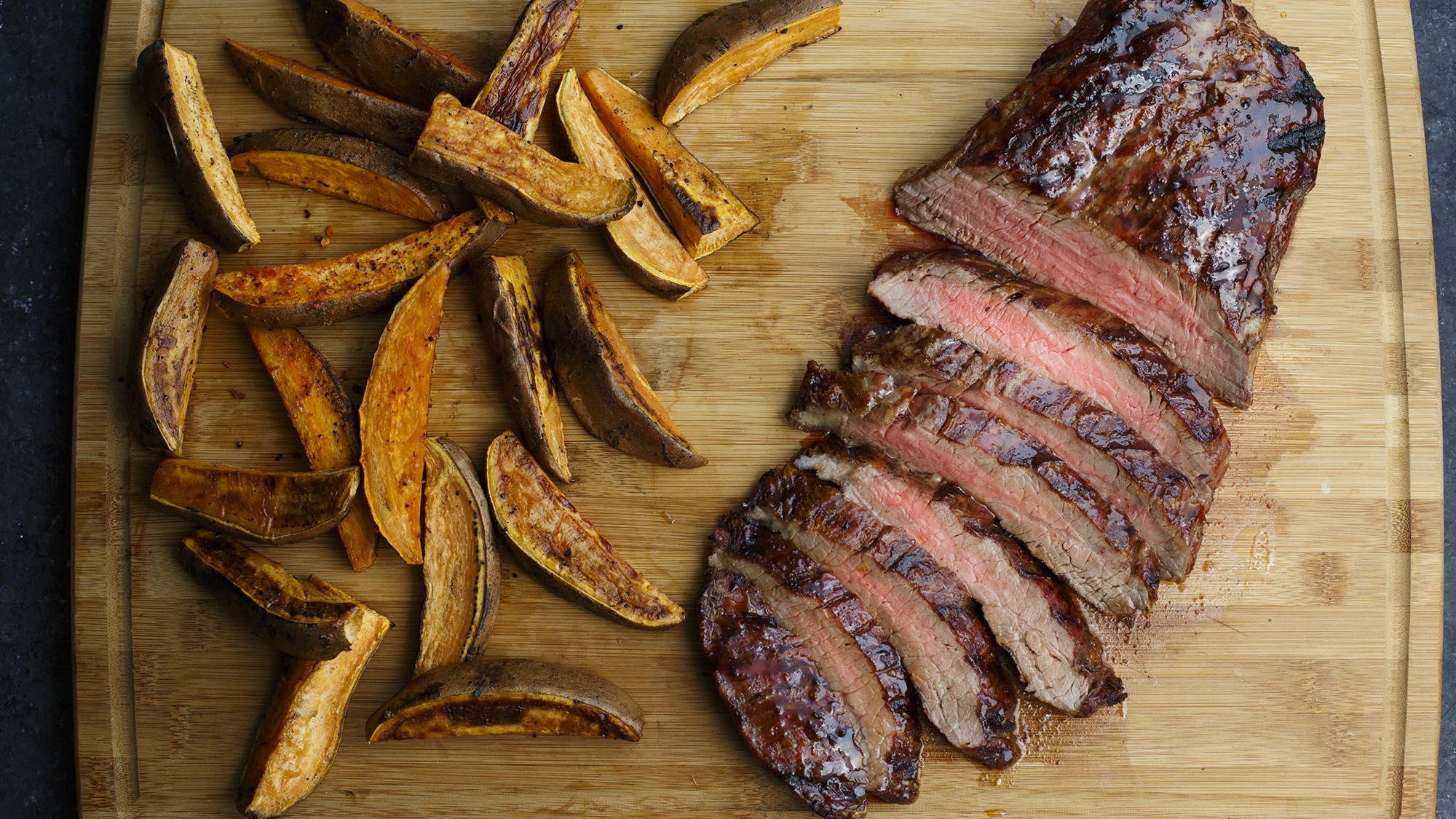 Marinated Flank Steak with Horseradish Sauce
Serves 4-6.
Marinade:
1 large shallot, minced
2 garlic cloves, minced
3 tablespoons soy sauce
3 tablespoons olive oil
1 tablespoon finely chopped fresh thyme or 1 teaspoon dried
Seasoning salt
Freshly ground black pepper
1 flank steak, 2 to 2 1/2 pounds, trimmed
Sauce:
1/4 cup sour cream or crème fraiche
2 teaspoons cream style prepared horseradish
Salt and white pepper
1 tablespoon chopped chives or scallions
1. Combine all of the marinade ingredients in a small bowl and mix to combine. Place the flank steak in a zip-lock bag and pour in the marinade. Make sure the marinade is evenly distributed. Zip the bag and refrigerate for a minimum of 2 hours and up to overnight. The longer it marinates the more flavorful it will have.
2. Combine the sour cream, horseradish, salt and pepper and chives in a small serving bowl and mix to combine. Taste for seasoning. Cover and refrigerate until serving.
3. Prepare barbecue or a grill pan for medium-high heat grilling. Remove steak from marinade and grill 3-inches from the flame, about 5-7 minutes per side, for medium rare.
4. Place on carving platter and let rest for a few minutes. Thinly slice the meat against the grain and place on a serving platter. Serve with the sauce.
Advance Preparation: This can be prepared one day ahead through step 2, covered and refrigerated.
This article is written by Diane Rossen Worthington from Seriously Simple and was legally licensed via the Tribune Content Agency through the NewsCred publisher network. Please direct all licensing questions to legal@newscred.com.