Making a multi-course Thanksgiving meal can definitely be intimidating. Unless, that is, everyone pitches in! Whether you're seeking Thanksgiving potluck ideas for home, work, or Friendsgiving, we've pulled together 10 easy Thanksgiving potluck recipes - from appetizers to desserts - that are portable and guaranteed to please a crowd.
What To Bring To A Thanksgiving Potluck
When it comes to a menu item for a Thanksgiving potluck, the options are endless. Discuss with your friends or family members on what they plan to bring to help narrow down your dish for the potluck. Decide on if you want to make a large sharing dish like a casserole or small appetizer plate like stuffed mashed potato tots. You could bring classic sides like glazed Brussel sprouts, rosemary and thyme green beans or ginger spiced mashed sweet potatoes. Consider the amount of time you have to cook and planning for ingredients. It is really up to you on what you contribute to the Thanksgiving menu. Just remember to have fun!
Thanksgiving Potluck Ideas For Work
An office Thanksgiving potluck or "Worksgiving" is a great way to create office engagement and a chance to thank the team on all their hard work throughout the year. We recommend creating a signup sheet with a list of general Thanksgiving potluck food ideas for coworkers to bring like an appetizer, side dish, beverage or dessert. Managers or team leads can handle the turkey or ham. This will help organize the Thanksgiving menu and so that no one is bringing the same dish or beverage. Similar for all Thanksgiving potlucks, try to be creative and make enough for everyone to sample.
Easy Thanksgiving Potluck Ideas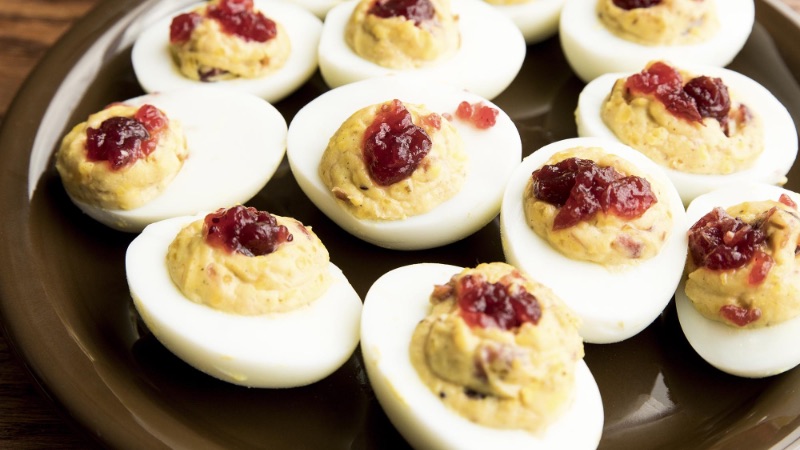 This party favorite isn't only for Easter or summer. Deviled eggs actually make for one of our favorite easy Thanksgiving potluck ideas, especially when seasoned with ground mustard and fragrant sage and topped with festive dollops of cranberry sauce. Not sure where to start? Check out how to make the perfect boiled egg plus three ways to make deviled eggs below:
It's easy to make, super tasty and a low-hassle way to contribute to a Thanksgiving potluck at work. Just pop in the refrigerator until they're ready to serve.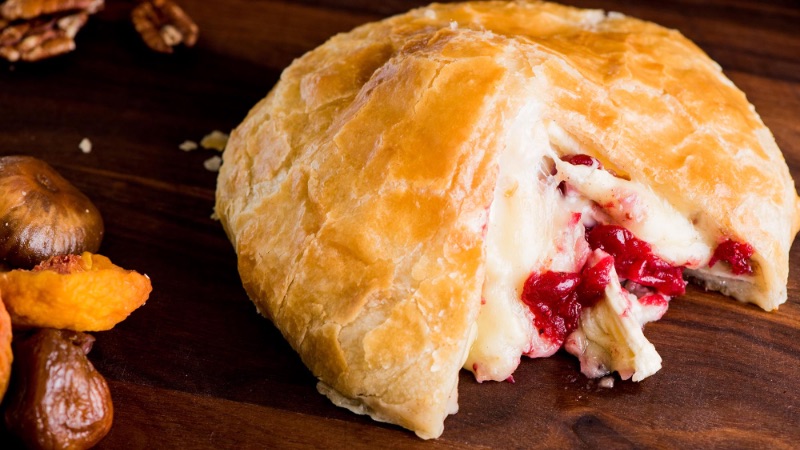 Instead of putting out your basic cheese board, be the star of your Thanksgiving potluck with this ooey-gooey potluck appetizer: a wheel of spicy berry-crowned baked brie, baked until melted in a pillowy puff pastry. 
Seasoned with ground cinnamon, ginger, and cloves and served with your favorite fruit or crackers, this sweet yet tart delight is a potluck treat that'll delight your guests.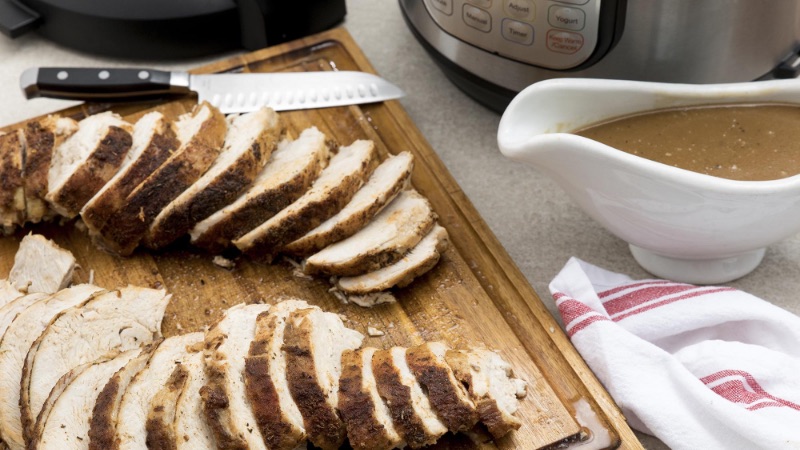 In charge of the main event, but don't have the energy — or the oven space — to roast an entire bird? Whether you need easy Thanksgiving potluck recipes for work, or are just trying to streamline your Thanksgiving party prep, this pressure-cooker recipe will get the turkey on the table in minutes. 
All you need is garlic powder, thyme, paprika, sage, and chicken stock for a juicy and flavorful turkey with minimal hassle - ready in just 40 minutes. If you do want to learn more on how to cook a turkey check out our Thanksgiving turkey guide.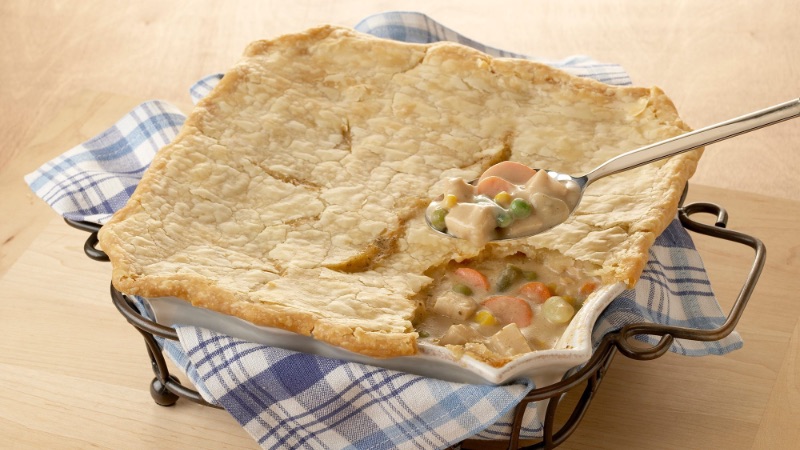 Cover your Thanksgiving potluck bases with this unconventional holiday idea, showcasing both turkey and pie in one swoop! 
Just grab a couple of packages of turkey gravy mix, a bit of poultry seasoning, mixed vegetables and a few cups of already cooked turkey for a creamy yet crunchy take on this holiday dinner classic.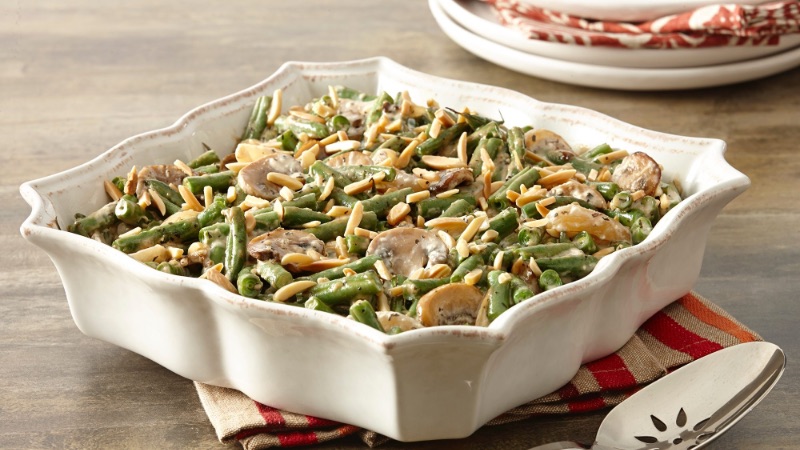 Thanksgiving can definitely be a tricky holiday for anyone with diet restrictions. Not only is creamy green bean casserole the king of easy potluck dishes, it can easily be made gluten-free, without sacrificing even a tiny bit of flavor. 
With caramelized mushrooms and onions, a dash of onion salt and basil leaves for taste, this green bean casserole recipe is a guaranteed crowd-pleaser.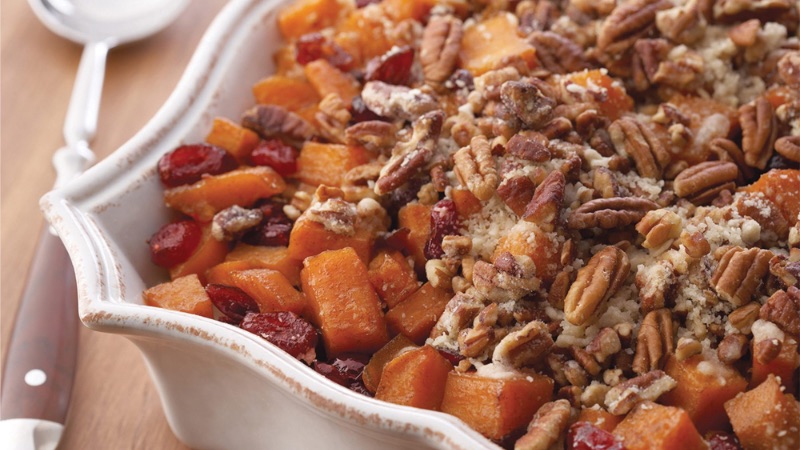 No wonder this is one of the most popular Thanksgiving potluck side dishes. It's practically as indulgent as dessert! Our roasted sweet potato recipe, featuring vanilla extract and ground cinnamon and ginger, fully embraces the concept of sweet n' savory, with a pecan pie-inspired topping.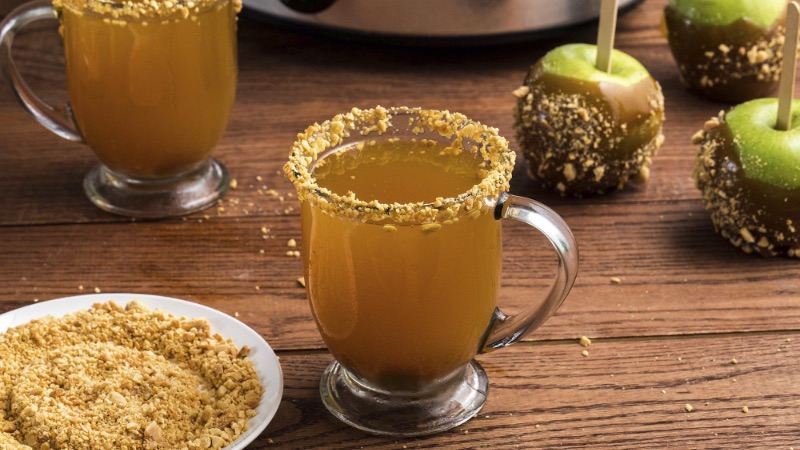 Is there anything a slow cooker can't do? Not only can you use it to infuse spices into this warming spiked cider, but your slow cooker can serve it, and keep it warm as well. Not that we imagine the cocktail will last that long, as guests rush to fill their caramel-rimmed mugs with seconds and thirds.
Cinnamon sticks, whole allspice and cloves with caramel sauce perfectly complement the salted, dry flavor of roasted peanuts and sweet sharpness of caramel vodka.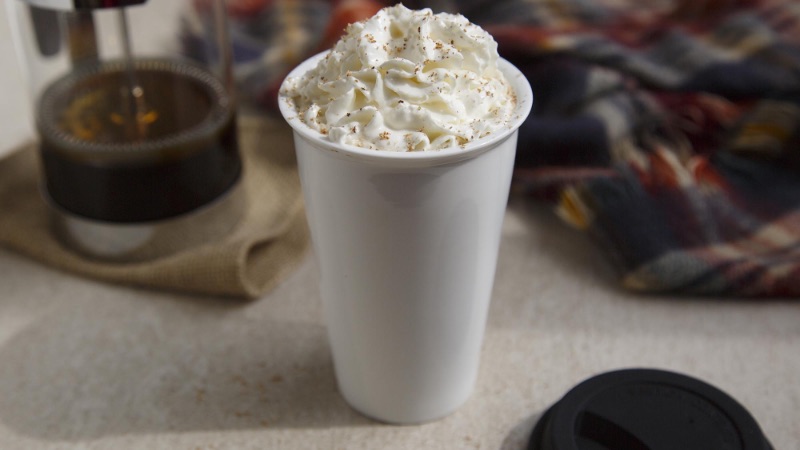 Save your colleagues their daily coffee run by brewing up a large batch of homemade autumnal pumpkin spice latte. We're sure everyone could use the caffeine boost after consuming turkey and trimmings at the office.
Just add pure pumpkin pie spice blend and vanilla extracts with milk, sugar, and brewed espresso. Fall flavor has never been easier to achieve!
We're willing to bet this will become one of your go-to Thanksgiving potluck ideas for many years to come. This apple pie recipe tastes exactly like the beloved holiday staple, but will save you the headache of dealing with double crusts. 
Also known as a rustic tart, all you need is 7 ingredients and a little bit over half an hour to make this decadent dessert. Add in cranberries or the dried fruit of your choice and top with a dollop of whipped cream and vanilla ice cream for an incredible dish filled with holiday flavor.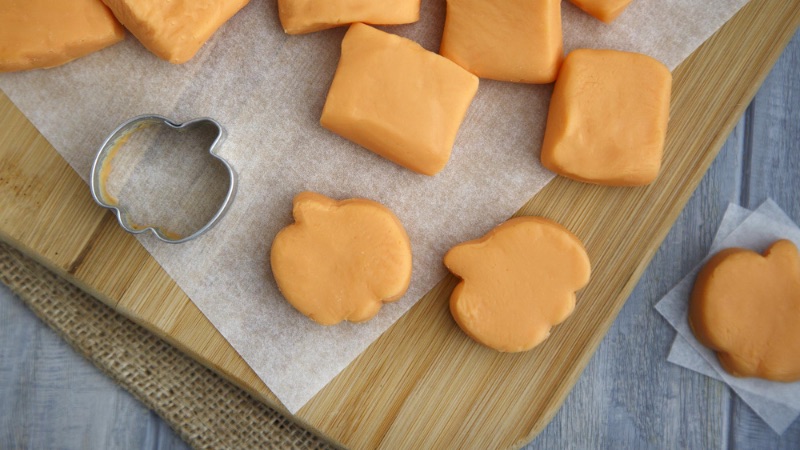 Ready for yet another way to avoid fiddling around with crust? Transform the signature flavors of pumpkin pie into a fun, simple to share fudge! It's easy to make as it is to tote along to potlucks and parties.
Other Thanksgiving Recipes & Holiday Tips
Need more Friendsgiving or easy Thanksgiving recipe ideas? Check out our guide to the ultimate Friendsgiving menu. Plus, learn how to make the perfect stuffing today.
• The Ultimate Checklist For All Your Thanksgiving Prep 
• How To Cook A Thanksgiving Turkey
• How To Cook Thanksgiving Dinner In A Single Sheet Pan
• How Much Food To Prepare For Thanksgiving
• 5 Thanksgiving Disasters You Can Fix
• 8 Tips For A Stress-Free Thanksgiving
• 9 Chef-Approved Thanksgiving Shortcuts That Will Save You Time 
Need help planning your weekly meals and want to try new recipes? Save your favorite food, dessert, drink recipes and organize your ingredients with McCormick Meal Planner.