When is the last time you had a breakfast bowl that made you feel nourished -- on a weekday? As much as we love classic oatmeal, we've all got some other grains sitting in our pantry that need to be used up too. This breakfast grain bowl is basic in the best way, featuring quinoa and steel-cut oats with a refreshing zing of ginger and lemon. Make this bowl-starter on Sunday and you can enjoy it all sorts of ways -- both sweet and savory -- throughout the week.
Cooking the two grains for these bowls is easy. You'll start by flavoring the cooking water with a lemon peel and some fresh ginger, then add the grains and cook them together, stirring occasionally while they simmer. At the very end of cooking, you'll add a squeeze of fresh lemon juice for a burst of flavor.
The benefit of keeping the base fairly simple is that it can easily be sweetened like oatmeal (with a swirl of brown sugar and sliced fruit), or it can be topped with more savory ingredients. Personally, I love some sauteed greens and a soft-boiled egg for a filling, satisfying breakfast bowl that isn't boring.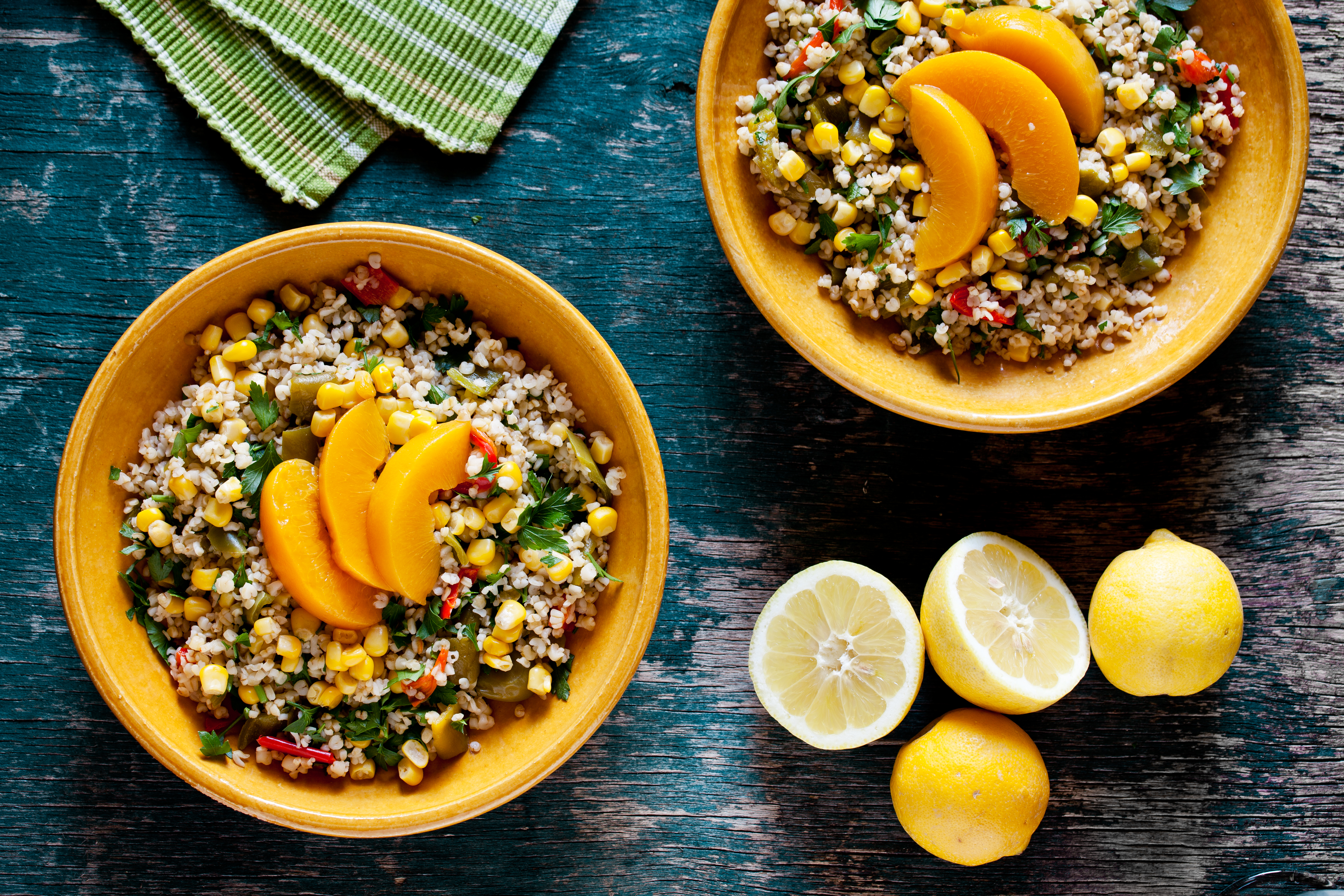 Topping suggestions
Savory: Roasted tomatoes, sauteed greens, fried egg; avocado, crumbled bacon, Greek yogurt, soft-boiled egg.
Sweet: Yogurt, honey, mango and fresh raspberries; brown sugar and sliced stone fruit.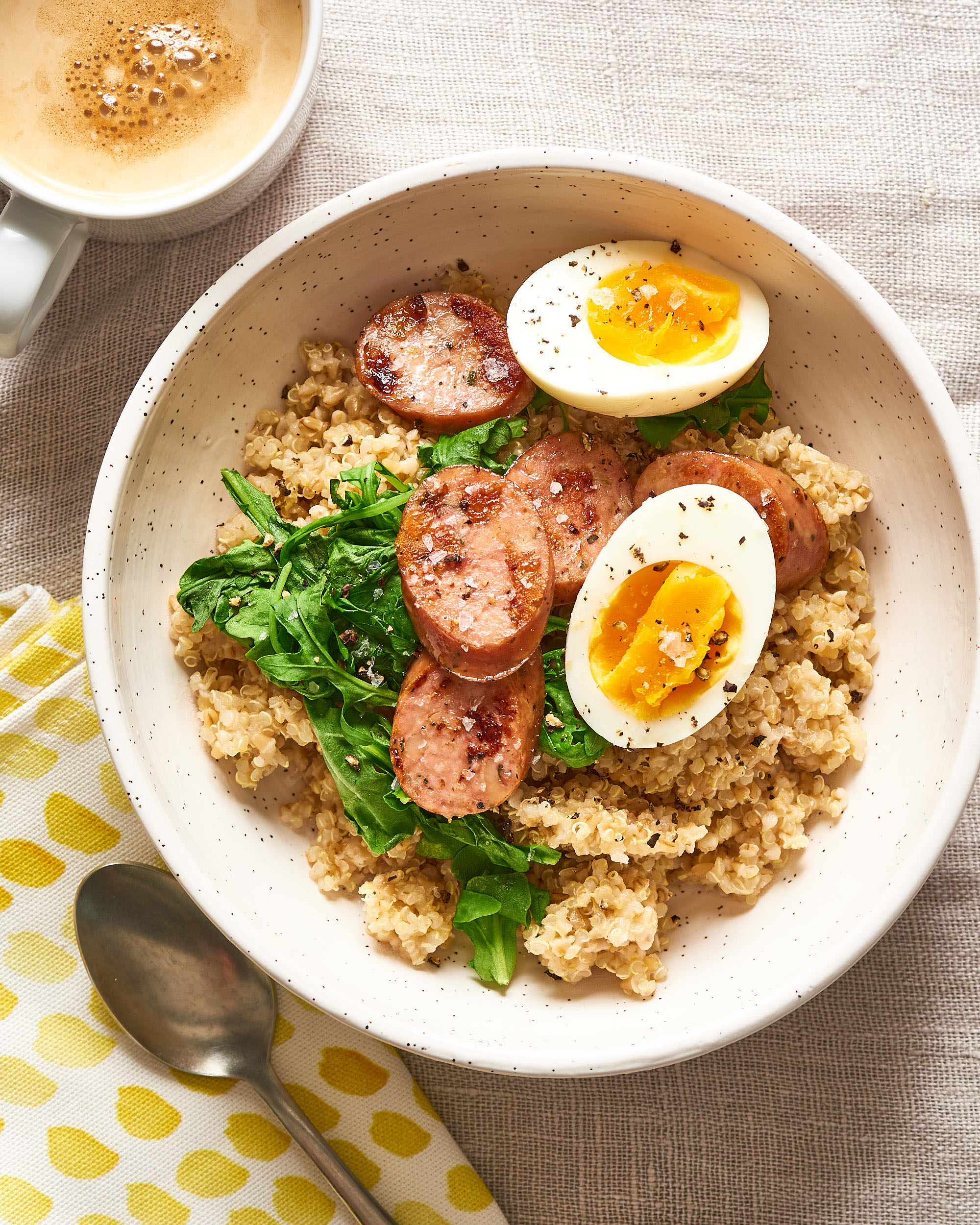 Breakfast Grain Bowl Mix
Serves 8 to 10
Prep time: 15 minutes
Cooking time: 35 minutes to 40 minutes
1 large lemon, scrubbed and rinsed
6 cups water
2 tablespoons grated, peeled fresh ginger (from a 2-inch piece)
1 teaspoon kosher salt
1 cup quinoa
2 cups steel-cut oats
Peel the lemon with a vegetable peeler into wide strips. Place the peels in a medium saucepan (reserve the peeled lemon). Add the water, ginger and salt and bring to a boil over high heat. Meanwhile, place the quinoa in a fine-mesh strainer and rinse under cool water for about 1 minute.
When the water comes to a boil, reduce the heat to medium-low and add the rinsed quinoa and steel-cut oats. Stir, then cover and simmer until the quinoa grains start to pop open and the oats are tender but chewy, 20 to 25 minutes. Meanwhile, halve the peeled lemon.
When the grains are ready, remove from the heat. Squeeze the juice from the lemon halves in to taste, 2 to 3 tablespoons. Remove the lemon peels, and serve immediately.
Recipe notes: The cooked grains can be refrigerated in an airtight container for up to five days.
This article is written by Meghan Splawn from The Kitchn and was legally licensed via the Tribune Content Agency through the NewsCred publisher network. Please direct all licensing questions to legal@newscred.com.