Indian cuisine has a diversity of flavors that can surprise and delight any palate. The taste variations are endless, making for a uniquely flavorful cuisine.
India has a wide range of cooking techniques and ingredients, which reflects the diversity of the country itself––its people, climates, and cultures. Despite differences, Indian cuisine is tied together by many base spices and seasonings:
• Black mustard seed
• Cardamom
• Cumin
• Turmeric
• Asafoetida
• Ginger
• Coriander
• Garlic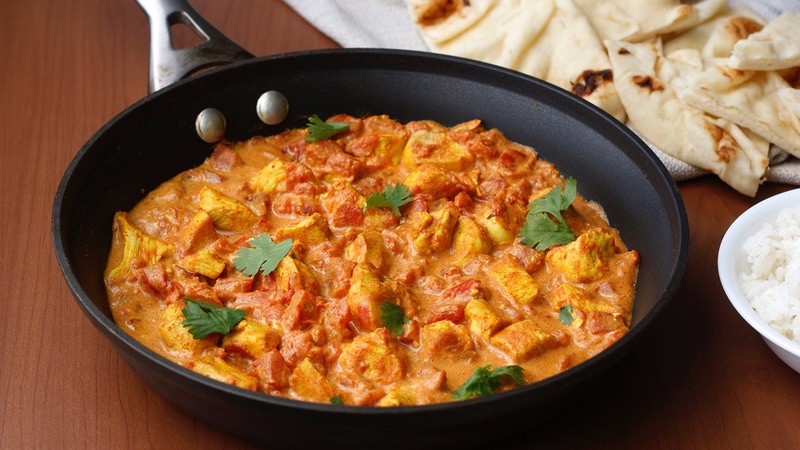 Spices
When we first think of Indian food, we often think of spicy curries, naan flatbread, and perhaps samosas. Lentils and vegetables used in curries are an important part of recipes, but much of Indian food is not at all spicy.
Indian cuisine in the traditional sense is well-balanced and spiced with heady aromatics. Some southern dishes may be accentuated with chili peppers, but this depends on individual taste preferences.
Traditional warming spices above are often combined into a blend known as garam masala. This typically includes peppercorns, cloves, cinnamon, mace, cardamom, bay leaf, cumin, and coriander. Combined, these complement the neutral flavors of a recipe's ingredients.
And, of course, there is a more common spice blend known as curry powder, which is a derivative of blends like garam masala. Curry powder has many variations, all of which revolve around turmeric. That bright gold hue of foods cooked in curry powder is from the generous dose of turmeric.
Other spices that are the foundation of curry power are coriander, cumin, fenugreek, and chili peppers. With these spices as a base, any number of additional flavors can be added––from ginger to mustard seed.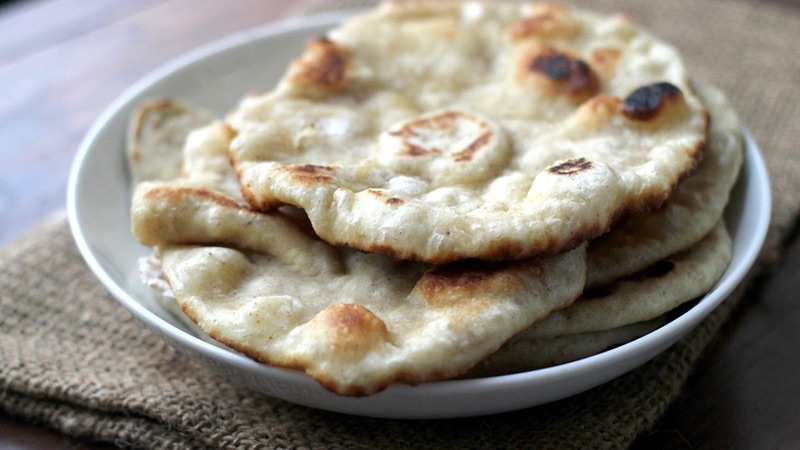 Naan and Other Flatbreads
The northern region of Punjab near the border with Pakistan is where many of the most beloved stateside Indian foods originate: naan, paneer, tandoori, chai tea, and rich stuffed pakoras. Naan is a leavened chewy flatbread eaten with stews or curries.
It can vary widely from a simple wheat bread to one spiced with aromatics, stuffed with meats or fruits, or brushed with butter for even more oomph. Traditionally made in an outdoor oven called a tandoor, naan is best enjoyed fresh and warm.
Other flatbreads are unleavened, such as garam masala spiced roti, and easy to make in your own kitchen.
From the region of Uttar Pradesh comes another favorite Indian snack: samosas. Stuffed with spices, or potatoes or chickpeas or meat, samosas are as versatile as tacos and a fantastic hand-held food. 
Dal (Lentils)
With flatbreads like roti or naan, of course, we are going to need to get into scoop-worthy stews and their fascinating history. Indian cuisine would be nothing without dal (lentils), a nutritious staple crucial to an area that is predominantly vegetarian.
Dal simply means "lentils, cooked and seasoned to preference." In the north of India, this might include rich add-ins like butter or vegetable aromatics like onions and garlic. To the south, the traditional flavor notes might include spicier or more assertive components: chiles, tamarind, tomatoes, or nuts. The varieties are truly wondrous.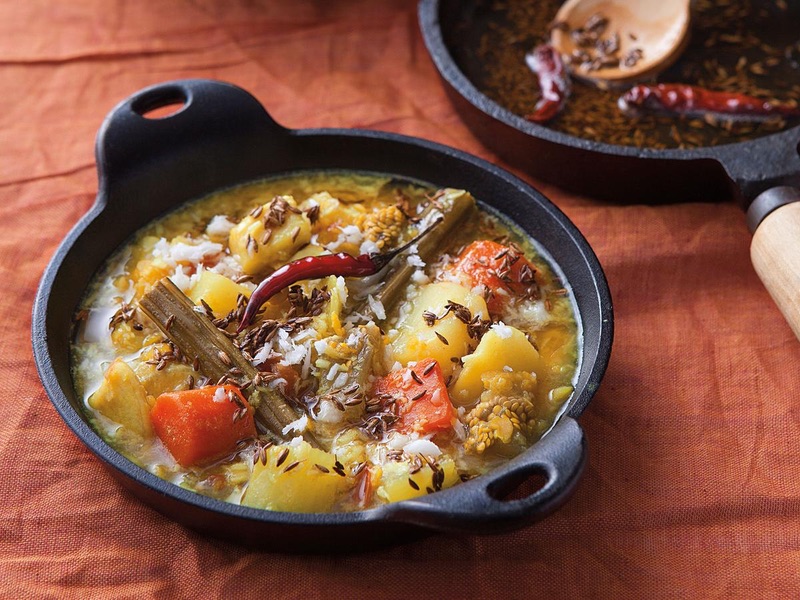 Rice is served with both dal and curries as an alternative to bread, whether simply steamed or accentuated by herbs and mild flavors like saffron and butter. Rice goes well with most of the heavier dishes in Indian cuisine, including curries.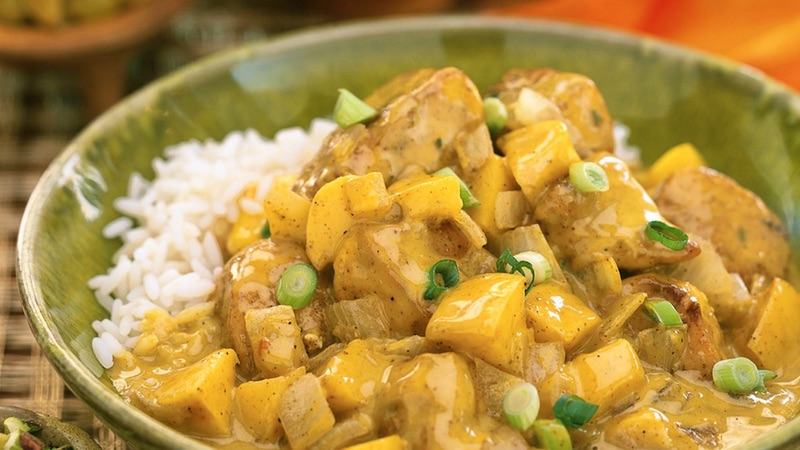 Curries and Meats
Many Indian recipes are heavy on the veggies and lentils and light on the meat. This comes as no surprise for a region with a long history of vegetarianism due to religious and economic reasons. But when meat is used, it is cause for a flavorful celebration. Chicken and lamb (or mutton) are most commonly used, but goat and pig are also popular in many regions. 
Some of the most delicious curries come from the northern regions of India where the rich add-ons are plentiful: butter, cream, and cheese.
Tikka Masala takes the humble chicken breast and simmers it in aromatics and tomatoes before a finishing dose of cream. With a bowl of rice or wedge of naan on the side, it's comfort food everyone can agree on.
And if stew is not calling your name, look no further than tandoori chicken, cooked on a grill or in an outdoor oven called a tandoor. In restaurants, the bright color comes from heavy doses of paprika or chilies in the yogurt-based marinade, but you can also find delight in a tandoori-style dish called Indian curry and yogurt marinated chicken, made perfect for the home kitchen.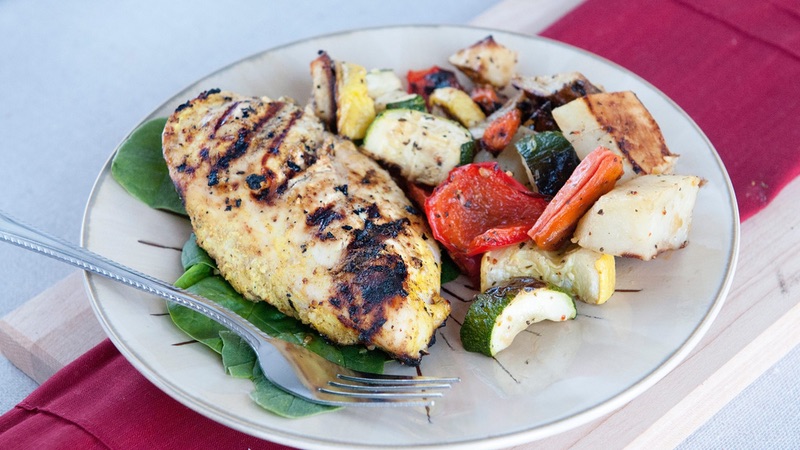 More Indian-Inspired Cooking 
We've but scratched the surface of the history of some of the most beloved Indian dishes that can be found in stateside restaurants, but there is much more to discover in both flavors and history.
How about a tropics-inspired coconut fish stew from Kerala? Or Kashmir-style sour and tangy fermented pickles? Or the rich and fiery mutton that can only be found in the Maharashtra region?
Let your curiosity be your guide and enjoy all that this subcontinent has to offer, right from your own kitchen.
Need inspiration? Discover more Indian recipes here.