We love roasted vegetables around here, and we're always interested in simple ways to make this already-versatile technique even more appealing. A recent oven fries bender got me thinking: if a little cornstarch can turn sad, limp, roasted potato sticks into crunchy, basically fried goodness, can it do the same for other vegetables?
After a few weeks of adding cornstarch to roasted chunks of various plant bits, I can confirm that it absolutely makes them crispier, and it's just as simple as it sounds. If you need to get vegetables into the oven for dinner right now, add some starch after you've seasoned them with oil, salt, and your spices of choice, tossing to get a thin, even coating. You don't need much—a tablespoon of starch per pound of veg should do it. Spread the vegetables on a parchment- or foil-lined baking sheet and roast as usual for extra-crisp results—with maybe thirty seconds of extra work.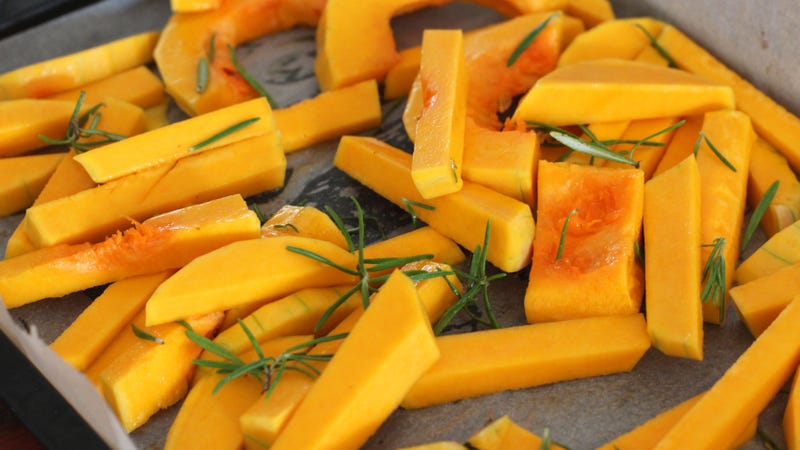 Photo: Sara Dubler (Unsplash)
While I'm all for expediency, the cornstarch method really shines when you take a few minutes to jumpstart the browning process. I do this by par-cooking seasoned, starch-coated vegetables on the stovetop in a hot, well-oiled skillet. (Cast iron works fine, but stainless steel produces the best crust.) Once I've browned the veg on all sides, I transfer the skillet to a preheated oven and roast away. You can totally pull this off in a sheet pan, too: preheat your pan with the oven, then pour about two tablespoons of oil in the hot pan and return it to the oven for two to three minutes. Carefully roll the pan around to distribute the hot oil, add the vegetables in a single layer, and roast until browned and tender, giving them a little stir halfway through. Leaving some space in between the pieces helps develop a good crust, but don't worry—they'll turn out great even if they're a bit crowded.
I've used cornstarch on roasted carrots, sweet potatoes, parsnips, cauliflower, broccoli, and Yukon Golds, and it's worked a treat every time. Cubed eggplant and slabs of delicata squash are next—and I have a feeling they'll be delicious, too.
This article was written by A.A. Newton on Skillet and shared by A.A. Newton to Lifehacker from Lifehacker and was legally licensed through the NewsCred publisher network. Please direct all licensing questions to legal@newscred.com.