Risotto might seem like a simple dish—it's basically just rice, white wine and butter—that you probably rely on for a quick weeknight meal for your family, but there are several ways you can upgrade your technique to make this meal even better. Rocco DiSpirito stopped by the Sun Food and Wine Festival to demonstrate how to make the perfect risotto, passing along a few of his tips that will help you cook creamy, dreamy risotto in your own home.
To start off, you'll need a pan with straight, not curved sides. During his demo, DiSpirito added shallots and garlic to his pan (along with butter and olive oil—the proper amount depends on the recipe that you use) but points out that some people prefer onions instead of shallots. Here is where the chef says things get tricky: You'll want to cook your shallots until they are translucent, not browned. You don't want to your risotto to have a caramelized flavor.
"Risotto should have a delicate, perfumey flavor," he explains. "It should feel like 12-ply cashmere in your mouth when you're done."
Once the shallots are cooked, you can add the rice. DiSpirito says your rice should be "toasted," but makes an important addendum: The rice shouldn't be browned, just hardened on the outside. Once the outside of the rice (which cooks faster than the inside of the grain) gets hardened, you can start adding liquids to give the rice flavor and its signature creamy texture. DiSpirito used white wine and chicken stock in his version. If you use white wine at home, you'll want to add it to the pan first, a little at a time, stirring constantly.
"The rice should be dry," he advises. "There shouldn't be any liquid in the pan because the rice should have absorbed [the white wine]."
Once the wine has been absorbed, you can start adding the chicken stock, a little at a time. Always remember to stir the rice as it's cooking.
"Risotto is like a new born baby," says DiSpirito. "You cannot leave it alone in it's crib."
As you probably know, there's no cream in risotto, but it should have a smooth texture. It can only achieve that texture from continual stirring, according to DiSpirito.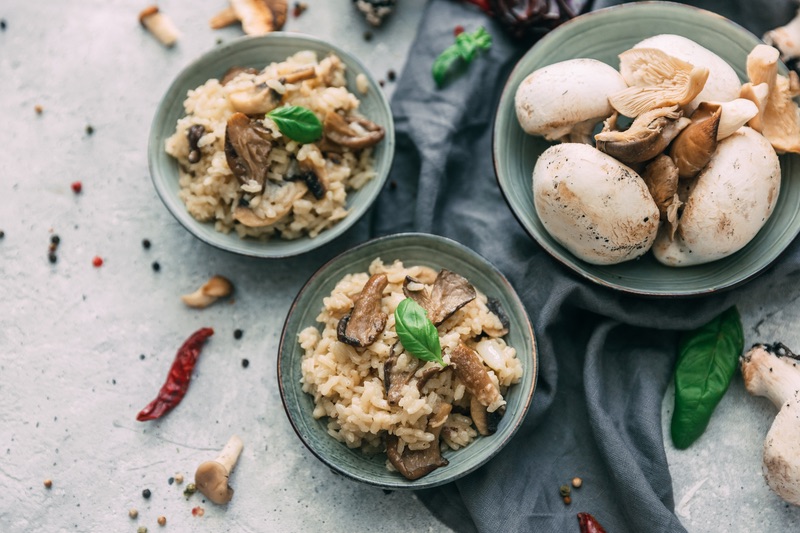 "You beat the starch out of the rice into the liquid," he says. "So you have this thickened liquid that is enveloping the rice that is perfectly soft."
You know that you have the texture right when it feels like a "gummy bear." If the dish is still crunchy, you can add more liquid to the pan and stir, to keep the rice cooking.
By the end of the process, you may have poured what feels like a ton of liquid into your pan. Don't worry, you didn't overdo it.
"If you're cooking risotto properly, you're adding two to three times the volume of liquid to rice," says DiSpirito.
During the demonstration, the chef's assistant (a volunteer from the audience, actually) hardly ever moved away the stove or put down the spatula. That's how important it is to keep the rice moving in the pan—remember, if you want to get that creamy texture, you have to "beat the starch" out of the rice. If you're doing this at home and don't have the luxury of a sous chef, be sure to keep your ingredients close by so that you don't have to stop stirring to reach into a cabinet or open a drawer. Looking for a healthier version? Try using cauliflower rice.
This article was written by Elisabeth Sherman from Food & Wine and was legally licensed through the NewsCred publisher network. Please direct all licensing questions to legal@newscred.com.