Tea has long been beloved for its refreshing qualities and purported health benefits. But it's only recently that it's been fully appreciated for how well it pairs with alcohol! From white to green to red to black and even herbal, with tasting notes that range from fruity and floral to smoky and woodsy, tea makes an incredibly versatile base for all sorts of spirited drinks. So read on for our tea with alcohol recipe ideas for a boozy tea party! 
Recipes For Tea With Alcohol
1. White Tea: Delicate and refreshing white tea is known for its sweet honey notes and subtle vegetable flavors. In order to highlight those qualities without overwhelming them, pair with white rum, vodka, or gin.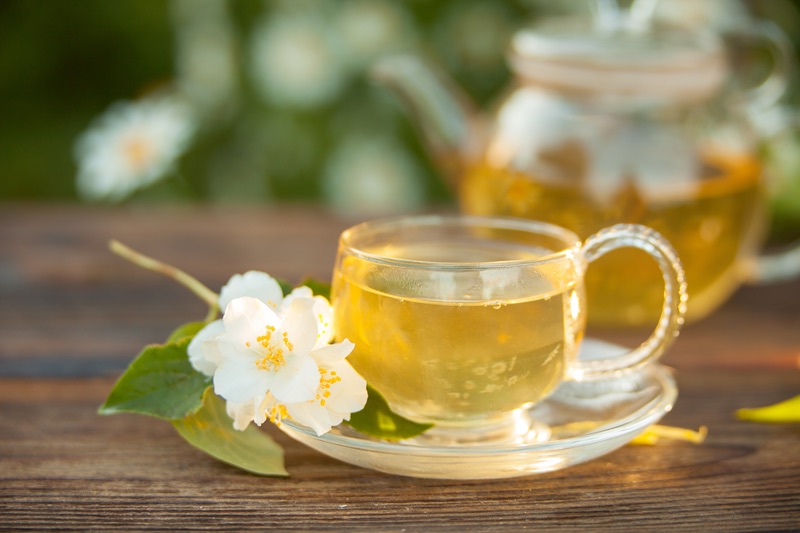 White Tea With Alcohol Recipe
Cardamom White Iced Tea: White tea leaves and whole cardamom pods are steeped together to create a light and floral beverage. Sweeten with simple syrup, and add a splash of spiced rum or flavored vodka for fun.
2. Green Tea: Green tea is grassy, nutty, vegetal, and herbaceous. Pay homage to its provenance by teaming it up with Japanese whiskey or sake, underline its herbal quality by mixing it with gin, or give it a gentle lift with a splash of champagne, prosecco, or sparkling wine.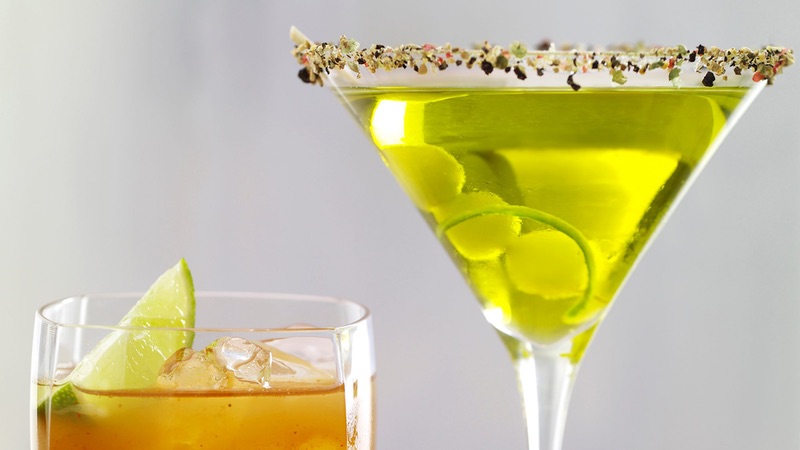 Green Tea Cocktails
Sake Green Tea Martini: No additions needed! This chic cocktail recipe already includes booze — think dry sake and vodka, paired with green tea and rimmed with crushed peppercorns. 
Apple Cucumber Chilled Green Tea: While this restorative recipe was originally developed as a morning pick-me-up, there's no reason it couldn't be enjoyed on the weekend, as a refreshing hair of the dog!
Iced Green Tea Latte: Made with organic matcha green tea, almond milk and spicy ginger, this creamy green latte is decadent enough to be dessert. But if you add a splash of vanilla vodka or Irish cream, it could also be part of cocktail hour! 
3. Red Tea: Smooth, earthy, naturally sweet, and not at all bitter, red tea has hints of vanilla and nuts. It can stand up to more flavorful and full-bodied alcohol options, which make it a great partner for bourbon, red wine, or spiced rum.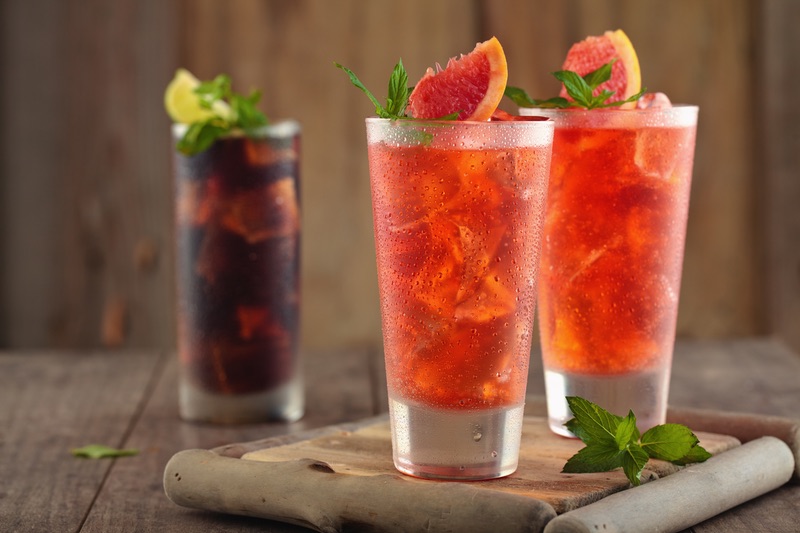 Red Tea With Alcohol Recipe
Cinnamon Red Iced Tea: Steep red rooibos tea leaves and cinnamon sticks in the sun, for a sweet and spicy tea that would welcome a glug of smooth bourbon, or a floater of red wine. 
4. Herbal Tea: Since herbal tea is made from a variety of botanicals, flowers, and fruit, it comes in a wide range of flavors that can be mixed and matched with all manners of spirits and syrups. Try chamomile with gin, hibiscus with vodka, or lemongrass with soju.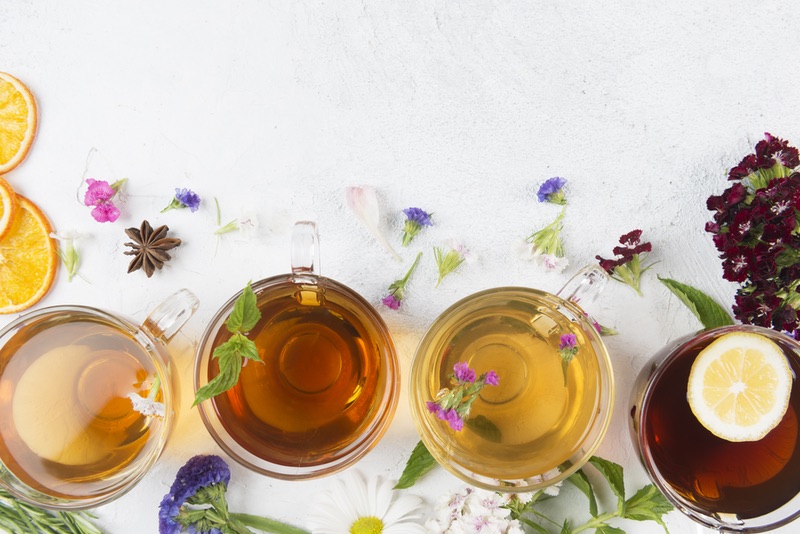 Herbal Alcoholic Tea Drinks
Hibiscus Clove Iced Tea: Dried hibiscus herbal tea leaves and whole cloves give this gorgeously fuschia drink a lush, tropical flavor. Treat yourself to an instant vacation, but stirring it with a bit of vodka, and topping with a paper umbrella! 
Ginger, Turmeric and Beet Sipping Elixir: This ruby-hued elixir is intended to help you rebalance at the end of the day. And what could be more relaxing than adding a drop of gin to the mix?
5. Black Tea: Rich, earthy, and sweet, with undertones of caramel, smoke, and spice, you can look for the same qualities in your alcohol pairings — namely, rum, whiskey, bourbon, or even Irish cream.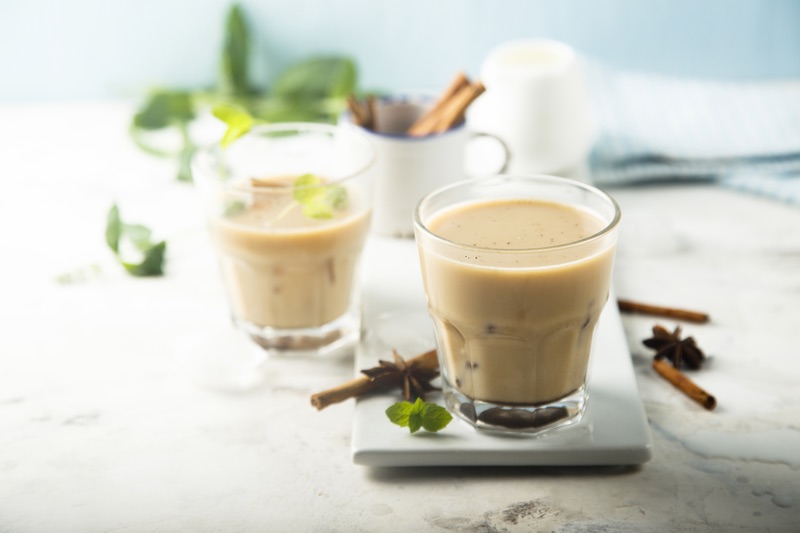 Boozy Tea With Black Tea
Coconut Thai Iced Tea: This creamy, cinnamon and clove-spiced sipper would be incredible spiked with something a bit harder — such as a splash of coconut rum! 
Chai: There's no better way to finish out a long, cold, or rainy day than cuddled on the couch by a fire — ideally, with your hands wrapped around a mug of spicy, rum-spiked chai. 
Honey Lemon Tea: Hot Toddies are one of the few traditional cocktails that contain tea. And they remain a great way to cure what ails you, by adding a splash of fiery bourbon or whiskey.
Sweet Tea Lemonade: The great thing about a classic Arnold Palmer is you don't have to choose between tea and lemonade. But you can do the Southern summertime sipper even better, by inviting a third member (such as whiskey) to the party!
Alcohol Free Teas To Try 
Tea Infused Foods
Learn More About Tea
Save your favorite tea recipes and organize your ingredients with our online meal planner. You can also make meal prep simple by creating a Flavor Profile, so you can store your favorite recipes and create grocery lists for easy shopping.