My friend had been telling me about a dish she made when she had little time. She gave me a rough idea of what she did, and I then made the recipe my own.
The salmon is cut into bite-sized pieces and coated with an assertive yogurt herb marinade. The herbs are complementary, and the ground turmeric adds a bright yellow color to the mixture. The marinade not only tenderizes the salmon but also adds a burst of Middle Eastern flavor.
Look for your favorite tzatziki at the supermarket or make your own to drizzle on top of the salmon pitas. For crunch, shredded lettuce or cabbage does the trick. Sometimes I'll add cilantro leaves and chopped tomatoes on top of the salmon. Make sure to heat the pita halves to soften them so it is easy to fill them up.
What to serve with these delectable sandwiches? How about sweet potato chips or fries? To drink? A crisp sauvignon blanc completes the dish.
Tasty tips
The key to moist salmon, along with the marinade, is to cook it at a very high heat for just 10 minutes or so. The salmon should have a burnished golden yellow exterior.
I like to have plates arranged while the salmon is cooking. If you have rectangular plates, it makes for a pretty presentation.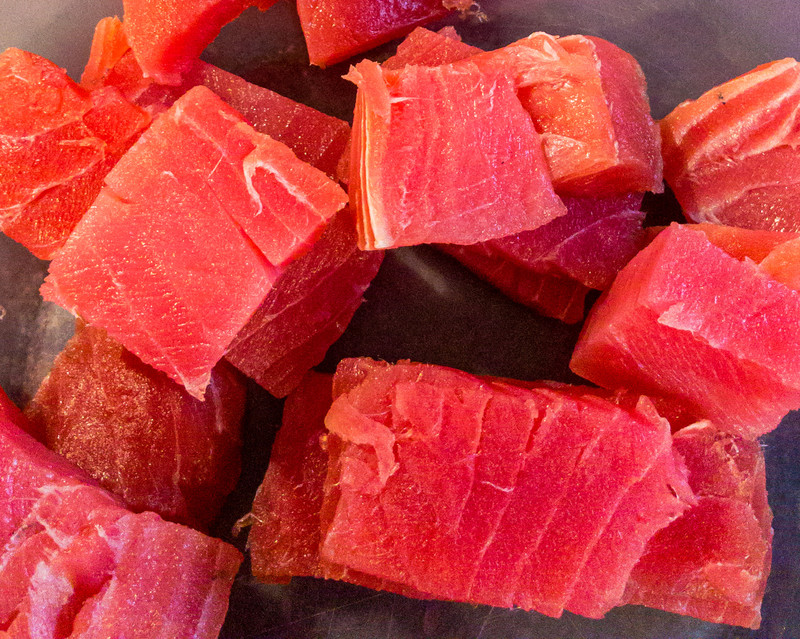 Quick Roasted Salmon Cubes in Pita Pockets
Serves 4
1 pound salmon filet cut into bite-sized pieces
For the marinade:
1/3 cup full-fat Greek yogurt
1 garlic clove, minced
1/2 teaspoon sumac
1/2 teaspoon cumin
1/2 teaspoon ground turmeric
1/2 teaspoon smoked paprika
Zest of 1 lemon
Juice of half lemon
1 tablespoon olive oil
Salt and freshly ground pepper
For garnish:
Pita bread halves, warmed
Shredded lettuce or cabbage
Tzatziki, homemade or store-bought
1. Mix all the marinade ingredients together in a mixing bowl. Add the salmon and turn with tongs until well coated in the marinade. Marinate for 2 hours covered and refrigerated.
2. When ready to make: Preheat your oven to 500 F. Line a sheet pan with parchment paper. Spray oil on paper evenly.
3. Using tongs, arrange the salmon pieces on the sheet pan. Roast for about 10 minutes or until the salmon pieces are just cooked through and golden yellow.
4. Arrange the salmon on a rectangular platter with warm pita halves or quarters, shredded lettuce and tzatziki. Serve immediately.
This article is written by Diane Rossen Worthington from Seriously Simple and was legally licensed via the Tribune Content Agency through the Industry Dive publisher network. Please direct all licensing questions to legal@industrydive.com.