For those who love to cook - and who appreciate the rich taste of a well-crafted candy bar - get ready to make some magic. These recipes will give you an action plan for the moments you can't resist that chocolate craving we all know too well. Some recipes use up the candy in your pantry, while others bring to life our favorite candy bar flavors. Combining home cooking with candy or chocolates couldn't be simpler.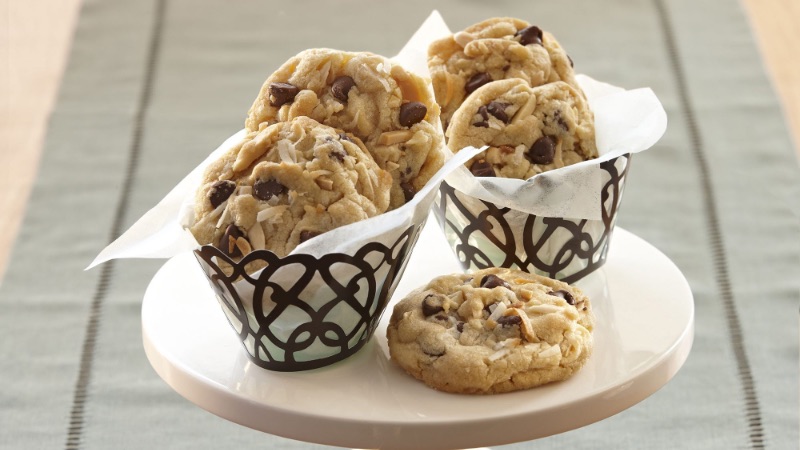 Let's start with sweet crowd-pleaser, shall we? Almonds and coconut go together well, but adding chocolate just raises the bar even higher. Rather than starting with a pile of Almond Joys and a knife, create something special: these Coconut Almond Chocolate Chip Cookies are the best of the cookie and the candy bar world, all in one handheld treat.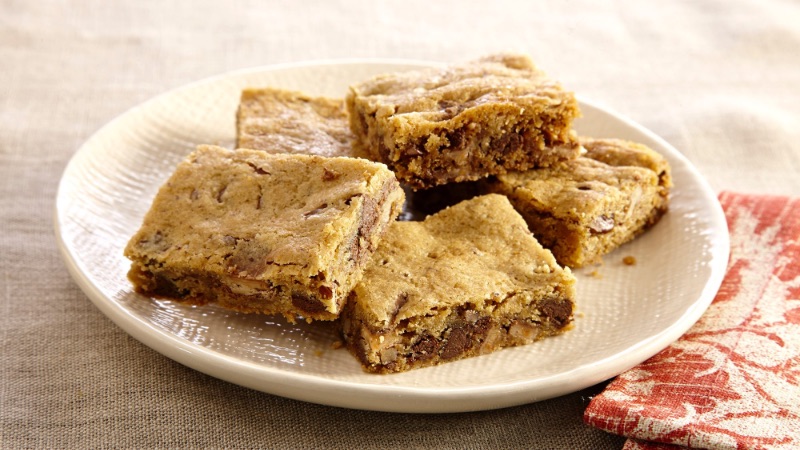 Now that we're talking cookies, let's bring in the cookie bars: For a delightful chewy cookie, start with this recipe for Toffee Pecan Cookie Bars and go absolutely wild. The pecan cookie recipe includes three kinds of chopped mix-ins, for a grand total of 2 3/4 cups of flair.
Get inspired and add your favorite candy to the formula - just make sure you dice everything down to chocolate chip size before proceeding. How about a mixture of chocolate chips and sugary candy corn? The possibilities are endless.
Candy corn are not necessarily a universal favorite. Some adore the chewy morsels, while others find the texture strange. Perhaps both groups can come together for these Candy Corn Cupcakes. Oh yes, we went there. Without the cloying sweetness of real candy corn, each cake is vibrantly colored and deliciously light. Decorate the frosting with real candy corn, if you dare!
Honestly, the holidays just wouldn't be as flavorful without a good peppermint bark recipe. Requiring just four main ingredients (red food color, peppermint extract, crushed up peppermints and white chocolate chips), this classic Peppermint Bark recipe serves 12. So, don't hesitate to spread the holiday love and share this treat's fancy flavors with friends and family.
Love a good bark but peppermint isn't your thing? Not a problem. Try a simple twist with Cinnamon Chocolate Bark. This chocolate bark recipe calls for almonds, chopped finely. Sprinkle in any kind of candy your heart desires, whether that's peanut butter cups, malted milk balls, chocolate bar miniatures or candy-coated chocolates. Everyone you know will be asking for the recipe any time you make a batch.
Mug desserts are perfectly portioned and easy-peasy to clean-up! Not everyone goes crazy for chocolate, but this from-scratch Candy Bar Mug Blondie covers all of the delicious gooey bases.
Making a cookie in a mug has never been easier. Genius upgrade: chop up a crunchy cookie-based candy bar for added oomph.
For the chocoholics out there, there is of course a Spiced Fudge Mug Brownie just for you. In addition to this mug dessert's dark chocolate chips, ground cinnamon, and vanilla extract, dice up any of those chocolate miniatures from the Halloween bowl that your kids didn't eat. Milk chocolate, dark chocolate, nutty chocolate - it's all welcome in this mug of sweetness.
No social gathering is complete without a festive beverage, yet many liqueur-based drinks are overly sugary. A heartwarming mug of Slow Cooker Red Wine Hot Chocolate strikes a balance between the aromatic cinnamon and nutmeg, and the fruity wine. It's the perfect thing for those first cool evenings of fall and winter. Try adding in cacao powder for a richer, slightly darker hot chocolate recipe.
If you love the taste of mint chocolate but feel guilty about having it first thing in the morning, you'll love this better for breakfast compromise. Wake up to the best morning-fuel with this Mint Chocolate Smoothie recipe. A smooth blend of banana, avocado, spinach, peppermint extract and vanilla it's a decadent yet tasty way to drink to your wellness. What could be better than satisfying your sweet-tooth, while getting a serving of greens all in one glass?
Looking for a fall inspired cookie bar recipe? These pumpkin oatmeal bars feature the season's favorite vegetable. It's an easy to incorporate canned or fresh pumpkin into a deliciously quick snack, plus the warm flavors of nutmeg, cinnamon, and ginger complements the delicate sweetness of melted caramel and vanilla extract.
For even more ideas, let your mind wander to any recipe you love that includes chocolate chips, or "mix-ins" of the sweet and crunchy kind. Cookies, bars, pies, smoothies, you name it. Take that excess melty chocolate candy and start making those recipes your own. It's win-win for your candy bowl and your friends and family who share in your good taste.
Incorporate these quick, tasty desserts into your next Halloween party menu, or take it a step further and learn how to make more of your own Halloween treats (plus find out what to do with all that leftover Halloween candy). Check out more Halloween recipes now!