If you're trying to have a White Lotus summer from the confines of your home – instead of the beaches of Sicily – you can still get a taste of the lifestyle. Summer means an excess of delicious herbs, so much so that you may find yourself with an excess, especially if you garden. Regular old parsley and mint may be a garnish to some, but in Mediterranean food they have a starring role.
Experience a taste of Sicily by using a glut of herbs to make a beloved street food: panelle.
The street food in Italy, especially in Sicily, is the stuff of legend, and often there is a legend behind the food itself. Somewhat similar to socca bread or falafel, panelle are fritters made of chickpea flour with different seasonings, depending on where you're getting them.
Chickpea-based dishes are popular all around the Mediterranean, and in Sicily they're in pasta, salads, and street foods like panelle. While it is said that these foods introduced by the ninth and tenth century's Arabic rulers, like many of the other delights we adopted – citrus, almonds, and olives – there is no official or written record of the details.
This uniquely Sicilian food is widely available, both as street food and at fried food-focused restaurants called "fritteria." Panelle can be plain, seasoned with parsley, lemon, or black pepper, or topped with cheese like sharp caciocavallo or pecorino. Sometimes panelle get shoved into a soft sesame seed bun, sesame being another beloved Arabic import. After immigrants started making them here in America, primarily in South Brooklyn, where my family immigrated to, it was served with a dollop of fresh ricotta.
I first had panelle when one of my aunts whipped it up at Christmas, a vegetarian appetizer coming in before our Feast of the Seven Fishes, also known as "Sette Pesci." In the years since, I've made my own in so many different ways.
Panelle are much quicker to prepare than falafel, but a little bit more labor-intensive than socca bread. They are a wonderful appetizer or a carby meal if you have them in a sandwich. Like falafel, panelle are fried to a nice golden, crusty finish. Chickpea cakes are even served on top of pizza in Argentina and Uruguay, and while they're not called panelle, there's nothing stopping you from doing that with the ones you make.
My version is speckled with black pepper and parsley, plus a generous glug of olive oil and salt, but lately I've been experimenting by adding additional herbs from the garden like mint, chives, and tarragon. These are also delicious when made with fennel fronds, and sometimes I get extra fancy and add lemon zest into the mix.
No matter what goes in my panelle batter, I like to eat them solo more than on a sandwich, but that's probably just because I'm parked here in America, and not in the Sicilian sun, where the bread is finely tuned to this dish. I always squeeze a generous amount of lemon juice, sprinkle extra parsley and salt on top, and devour as many as I can stand immediately after frying.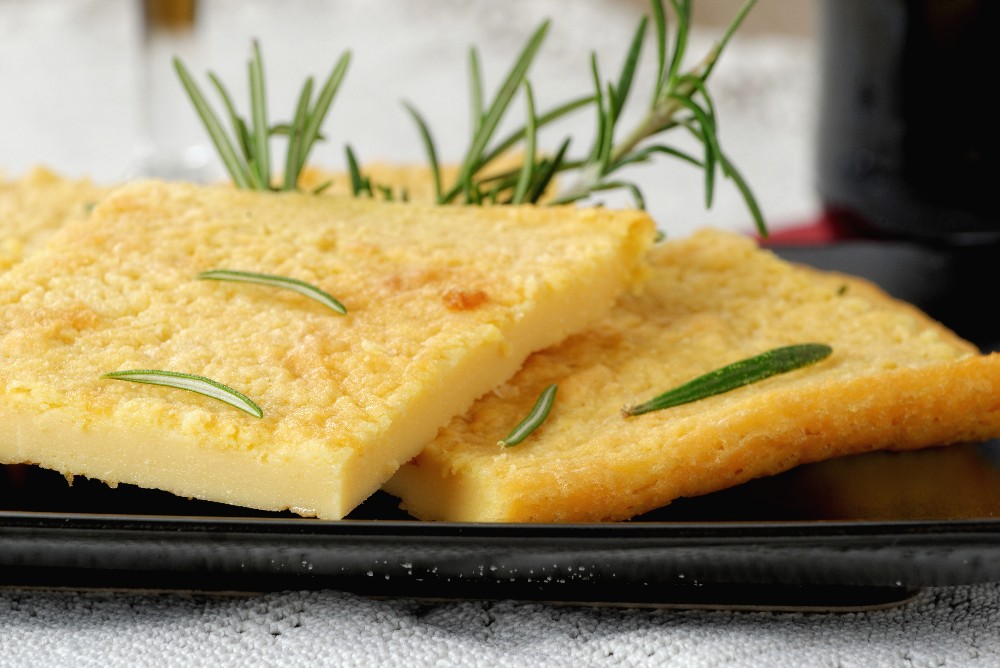 Herby Panelle
Ingredients:
½ cup chopped fresh parsley (any type will do) or 2 tablespoons each of chopped chives, mint, and parsley
1 ½ cups chickpea flour
3 cups water
1 tablespoon olive oil
1 teaspoon salt
½ cup at least of neutral frying oil
Lemon wedges, salt, and chopped parsley/herbs for serving
Oil a cookie sheet well and set aside.
Mix chickpea flour and water in a saucepan over medium heat, it will take a minute to emulsify as the flour is quite dry.
Before any boiling happens, toss in the salt and keep stirring.
As the mixture comes to a boil, it will thicken rapidly.
After cooking at a boil for two to three minutes, quickly drop in the olive oil and herbs and stir for 30 seconds to a minute, until it's as thick as oatmeal.
Spread the mixture on the cookie sheet with an offset spatula, and allow it to cool.
The mixture needs about an hour to cool down, and you can put it in the fridge if you want to speed things up, but the mixture will congeal nicely as it stops cooking.
Cut into squares or wedges, then fry in hot oil (at least 360-370° F) using a heavy bottomed pan. If the oil is not hot enough, the panelle will break up and make a huge mess, but it's quite a tasty one.
Ensuring your oil is hot enough will also help form a golden brown crust, so don't overcrowd the pan, and get the oil going well before you start dropping in any fritters.
Drain panelle on paper towels, if you can even wait that long. I usually start eating them while they are hot as lava, and I regret nothing.
Garnish with a squeeze of lemon, chopped herbs, and a sprinkle of cheese if you're feeling fancy, but I promise they don't need any cheese.
Serve immediately, or put away to reheat. While it's better to prep the batter and save it and fry them fresh, panelle are great hot or at room temp.
While some food bloggers don't like reheated panelle, I'm a big fan, especially when they're reheated in an air fryer. If you fry them properly, they should be greasy enough to crisp up a second time in the table-top convection oven.
Enjoy with your at-home aperitivo, happy hour beer, or as part of a simple, summery dinner. With their well-balanced combination of saltiness, lemony freshness, and slight bitterness they bring to the table, panelle go lovely with a side salad, or even on top of other carbs like pizza and sandwiches.
This article was written by Danielle Guercio from Lifehacker and was legally licensed through the Industry Dive Content Marketplace. Please direct all licensing questions to legal@industrydive.com.