Is there any better crowd-pleaser than pizza? Endlessly adaptable, pizza recipes can work for any occasion: relaxed date nights, low-key Sunday dinners and fun summer BBQs. 
And if your experiences with pizza-making have been limited to frozen pizza from the grocery store, you're missing out. Making homemade pizza is surprisingly simple, and so is inventing totally custom creations. Read on to learn how to make pizza at home – and for some delicious pizza recipes to get you started.
Steps To Making Homemade Pizza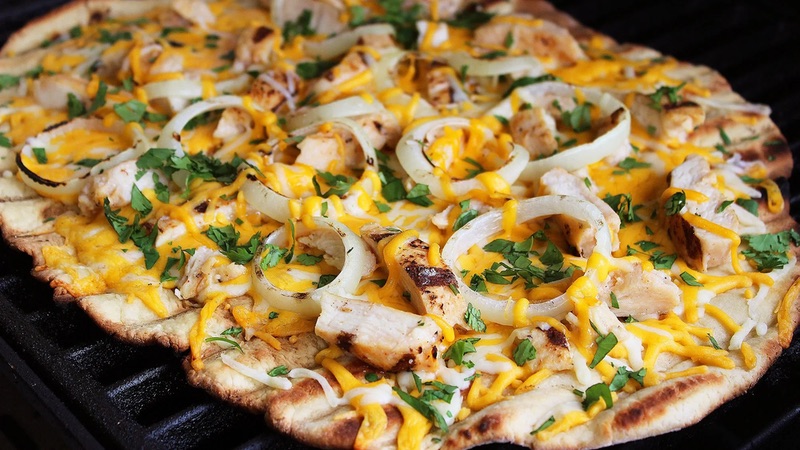 1. Great Pizza Starts With The Right Dough
Getting the dough right is key for a great slice, and making homemade pizza dough is easy. This traditional white pizza dough recipe calls for just 6 ingredients – just make the dough a few hours in advance so it rises by dinner. Store bought refrigerated pizza dough is also delicious when you're in a rush. 
You also don't need to use pizza dough. Try flatbread, na'an, tortillas or even ramen noodles, instead. Or look for store bought pizza dough made from cauliflower or almond flour to mix it up. 
2. Baked Or Grilled Pizza? You Decide!
When it comes to homemade pizza, baking and grilling reign supreme. Both have their advantages, and a few strategies to customize them to your taste. 
Baked pizza is an easy and convenient way to make pizza year-round, and you'll get the perfect golden brown crust in under half an hour. Make delicious, thicker crust pizza in a sheet pan, like we did for this Sheet Pan Veggie Pizza. Or place a pizza stone in your oven before preheating and cook the dough directly on top for a crispy crust similar to what you'd get from a stone oven.
Grilling infuses your pizza with smoky flavor. It's a great way to mix up your pizza nights during grilling season, especially if experiment with different wood chips. It can, however, burn easily. Avoid too much char by grilling your pizza over lower heat and checking regularly.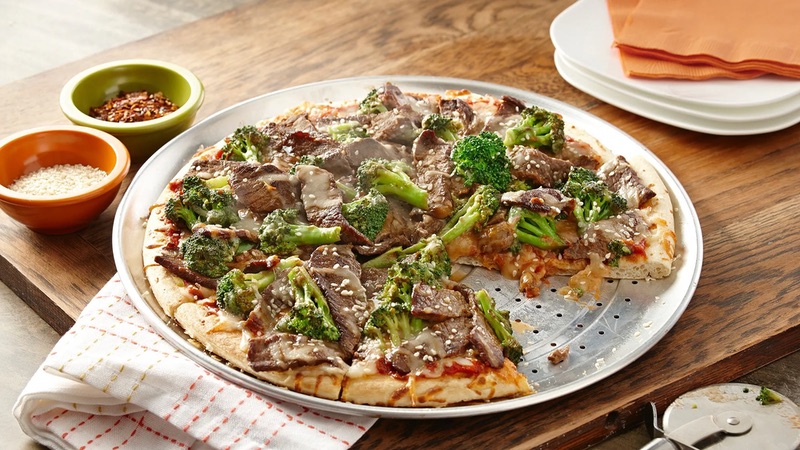 3. Switch Up Pizza Toppings To Create New Family Faves
Traditional toppings like tomato sauce, veggies, pepperoni or sausage are beloved for a reason, but they're not your only options. The beauty of homemade pizza is being able to switch up the sauce, toppings and cheese to create combinations you might not see at pizzerias. 
Forego the tomato sauce to flavor veggie pizzas with homemade Vegan Arugula Basil Pesto, or use homemade All American Barbecue Sauce to give chicken pizzas smoky flavor. Try a creamy alfredo sauce for a richer slice, or use tangy honey mustard to give chicken pizza an unexpected kick. 
Change up the cheese to add new flavors and textures, too. A few dollops of burrata adds creaminess to pizza,  while tangy feta or goat cheese add pleasant tartness. Use jalapeno-infused cheddar or Havarti to turn up the heat, or try paneer for a mild-but-flavorful option.
When it comes to other toppings, the sky's the limit. Add roasted veggies for a greater depth of flavor, sprinkle leafy greens over your pizza after cooking for texture, and play with unexpected proteins (tempeh or smoked salmon, anyone?). You can even layer sweet and savory flavors. Add fresh summer peach slices to a prosciutto pizza, or drizzle garlic-infused honey over classic pepperoni pizza.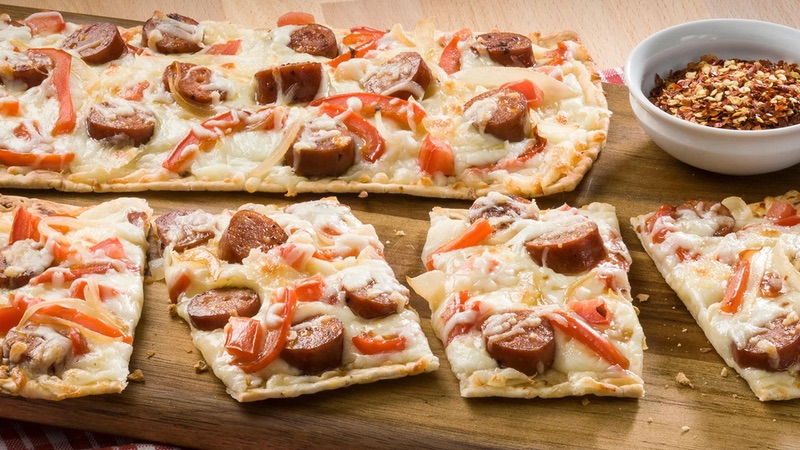 Try These Easy And Delicious Pizza Recipes
Part of the joy of pizza-making is creating combinations you've never tried before. But if you're newer to making pizza, a recipe helps. Use these delicious pizza recipes as a starting point, then adapt to make 'em your own. 
Check out all of our pizza recipes to try at home! 
Learn More About Making Homemade Pizza
PS: Make planning future pizza nights a breeze by creating a Flavor Profile. You can store your favorite pizza recipes and create grocery lists for easy shopping later.