Summer desserts are meant to celebrate the season. Fruit pies, cobblers, buckles and crisps are made for the sweet fruits of summer. These casual yet undeniably satisfying fruit desserts depend upon the best seasonal fruits, usually topped with a cake, streusel or both.
There are differences between these traditional American desserts, so here is a quick primer.
A fruit pie made with a classic pie crust can be single or double crusted and features a cooked fruit filling interior.
A cobbler is a deep-dish fruit pie with a biscuit-style crust baked on top.
A buckle is a cake made in a single layer, usually with berries mixed in the batter. It is covered with a streusel-like topping which gives it a crumpled or buckled appearance.
And, finally, we have the classic fruit crisp: a mixture of selected fruit combined with a bit of flour and sugar and finished with a crumb-streusel like topping.
All of these make standout summer desserts.
I developed this recipe for my family, who loves summer stone fruits and berries in any dish I cook. This recipe is easy to assemble with crowd-pleasing results.
A mixture of juicy peaches and fresh sweet raspberries and blueberries is layered with a creme fraiche custard filling and finished with a sprinkling of soft dough pieces that bake into a crisp buttery crust. The creme fraiche layer adds a sophisticated touch to the simple crisp making for a spectacular combination of flavors and textures.
Serve this just out of the oven or at room temperature. A scoop of French vanilla ice cream is the perfect accompaniment.
Tasty tips
Look for creme fraiche in the dairy aisle.
Don't bother peeling the peaches: Slice them in half and then scoop out the pit with a spoon. Cut into pieces.
Try this same recipe using plums or nectarines instead of the peaches.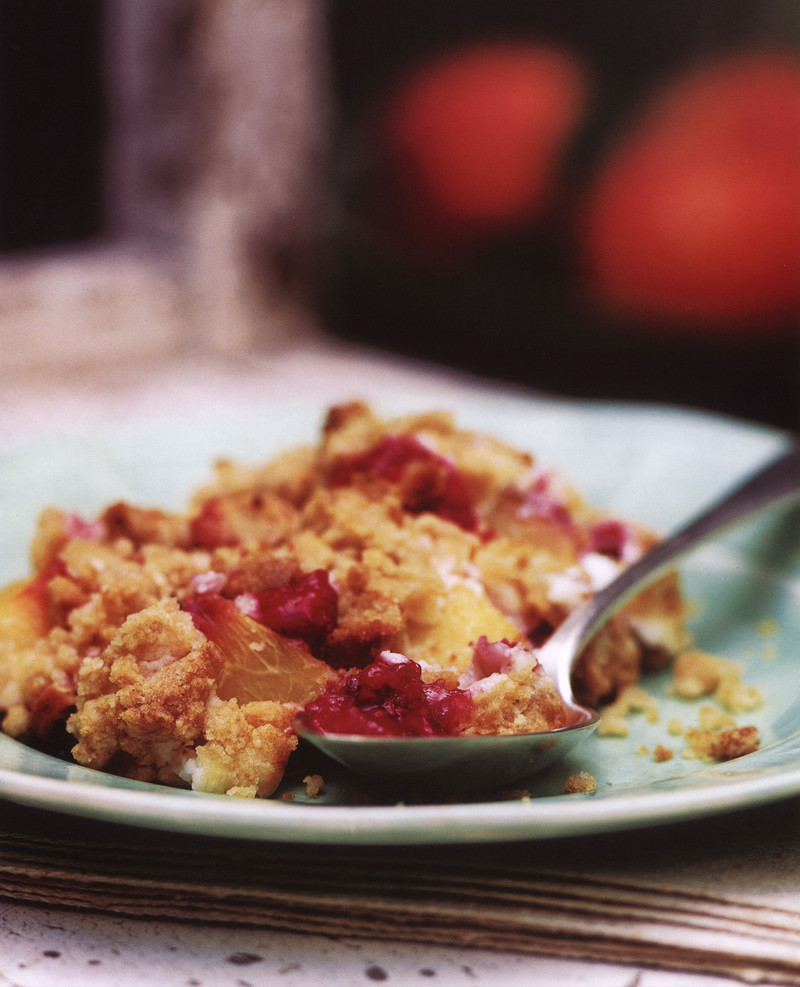 Peach Berry Crisp with Vanilla Custard
Serves 6 to 8
For the fruit:
1 1/2 cups raspberries (1 6-ounce package), cleaned and picked over
1 1/2 cups blueberries (1 6-ounce package), cleaned and picked over
3 medium peaches, pitted and cut into 2-inch dice
1/2 cup all-purpose flour
1/4 cup sugar
For the custard:
2 eggs
1 cup creme fraiche
1 teaspoon vanilla extract
1 tablespoon all-purpose flour
For the crisp topping:
6 tablespoons brown sugar
1 cup all-purpose flour
1/2 teaspoon salt
1 teaspoon finely chopped lemon zest
1 teaspoon vanilla
1/2 cup melted unsalted butter
1. Preheat the oven to 375 F.
2. In a mixing bowl mix together the fruit, 1/2 cup flour and 1/4 sugar until well the fruit is well coated. Transfer to an 8-by-10-inch or a 9-by-12-inch greased gratin pan or baking dish. Press down with a spatula to make an even layer with no gaps. Place on a baking sheet.
3. For the custard: In a medium bowl beat the eggs well. Add the creme fraiche and vanilla and whisk until blended. Sift in the flour, whisking well to make sure the custard is smooth with no lumps. Set aside.
4. For the crisp topping: In a mixing bowl combine the brown sugar, 1 cup flour, salt, lemon zest and mix together. Add the vanilla and melted butter and mix until it becomes soft dough.
5. Spread an even layer of the custard cream mixture over the fruit. Crumble the dough mixture with your fingers evenly over the fruit. Bake for 35 to 45 minutes or until the top is golden brown and completely cooked through. Serve immediately or at room temperature.
Advance Preparation: This may be prepared 8 hours ahead, covered and kept at room temperature before serving. Reheat in a 375 F oven for 10 minutes before serving.
This article is written by Diane Rossen Worthington from Seriously Simple and was legally licensed via the Tribune Content Agency through the Industry Dive publisher network. Please direct all licensing questions to legal@industrydive.com.