Babka Origins
What is babka? When it comes to sweet breads, it simply doesn't get sweeter than babka. An Eastern European specialty (the name translates to "grandmother" in Polish, because it looks like a pleated skirt), babka bread is made with a yeast-leavened dough, spread with a delectable filling, braided, and then baked. Its roots came from rolling up extra challah dough with cinnamon or fruit jam and baking it alongside the original challah. Chocolate, not readily available in the 19th century, represents a more modern ingredient. Cheese, apples, almond paste as well as many other ingredients and different dough preparation methods can be found in a modern babka.
Babka Recipe Variations
Cinnamon, poppy seeds, almond paste and cheese are all traditional companions for the cake with the challah-like crumb. But it doesn't get more popular than chocolate babka nowadays, which adds an element of decadence to the dense loaf. In fact, many may recall the infamous Seinfeld babka, where classic cinnamon is deemed the "lesser babka" to contemporary, sought after chocolate babka. But as far as we're concerned, when it comes to buttery, layered babka, you really can't go wrong!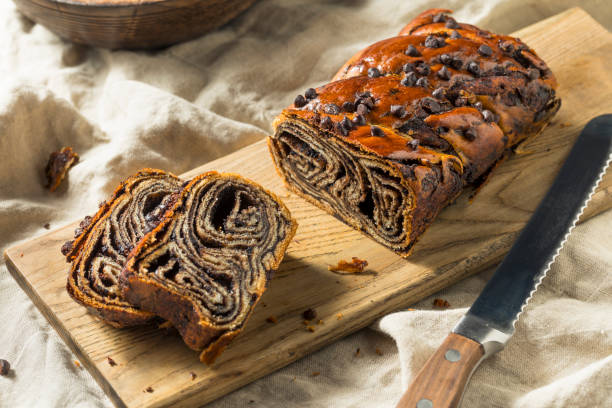 Babka Filling
What to fill your babka with? Try cinnamon sugar (or this tasty Vanilla Cinnamon!), Apple Butter sprinkled with chopped walnuts or pecans, Dried Fig, Honey and Spice Compote, or Pumpkin Spice Cream Cheese scattered with raisins. For a crowd-pleasing chocolate babka recipe, consider dollops of Nutella, our Three-Chile Mole Fondue, or chopped or shaved dark or bittersweet chocolate from a baking bar. Don't use chocolate chips, which don't melt as nicely, or milk chocolate, which tends to be too sweet.
How to Make Babka
Needless to say, you can simply buy a babka at most Jewish bakeries. But what's the fun in that, when you can bake warm, homemade babka yourself? Here are steps you can follow to start creating your own Babka recipe:
1. Start with your favorite recipe for yeast-raised sweet dough – similar to a brioche, monkey bread or cinnamon roll dough. We prefer a batter that gets moistened with warm milk, and includes plenty of eggs, sugar and butter for richness.
2. Knead it just until smooth (if you overwork the dough, it'll become tough).
3. Let rise until doubled in size; about 1 hour.
4. Punch the dough down to release any air bubbles and roll out onto a floured surface.
5. Divide the dough in half; working with one half at a time, roll the dough into 16x10-inch rectangles.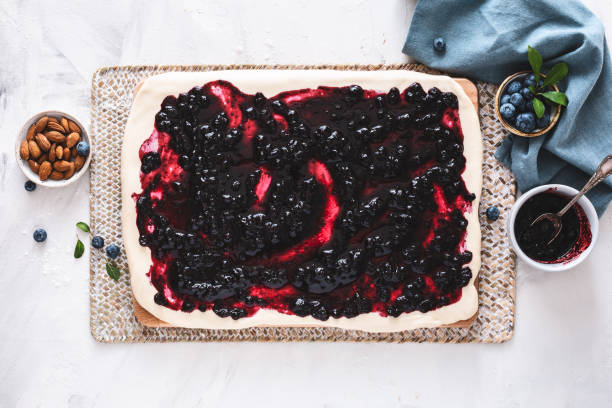 6. Evenly divide your filling of choice between each square of dough, leaving about a ½-inch border of uncovered dough all around.
7. Brush the borders with egg wash.
8. Roll the dough lengthwise into a log, pinching the edges to seal.
9. Place the log seam-side down and use a sharp knife or pizza cutter to cut the log in half lengthwise. With the cut sides facing up, crisscross one half over the other, evenly braiding the two halves together.
10. Place into a well-greased or parchment-lined loaf pan and cover with a clean towel, then repeat with the second half of dough.
11. Bake babkas at 350F for 45-50 minutes or until golden brown and internal temperature reaches 190F.
12. Brush the tops of each babka with a sugar syrup (Spicy Maple Syrup, Thyme Syrup, or Chai Simple Syrup are all lovely options), or a crumbly Classic Streusel.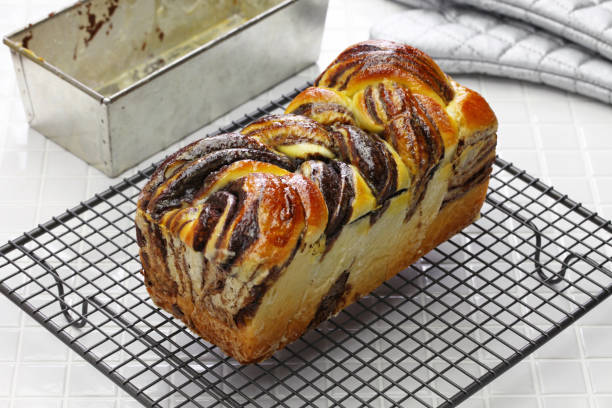 13. Transfer to wire racks to cool completely, then wrap the babkas tightly in plastic wrap, and store on the counter for up to 4 days. Or, you can wrap them first in plastic wrap and then foil, place in airtight plastic bags, and freeze for up to 3 months.
Enjoy your babka for breakfast, brunch, dessert, or a late-night snack. Or, wrap them in pretty paper, as a welcome holiday gift alternative to fruitcake! 
Other Sweet Bakery Recipes & Tips
Now that you got a taste for your own Babka, here are other baking recipes that might give you an idea for your next new recipe!
Learn More About Dietary Substitutions From Our Bakery Experts
Baking can be especially challenging for dairy- or gluten-free diets, but don't get discouraged! Learn more about dietary substitutions in baking from our chefs.
Need help planning you weekly meals? Save your favorite food, dessert, drink recipes and organize your ingredients with McCormick Meal Planner.