If you're a fan of American cinnamon rolls, it's time to meet their wild Swedish cousins. They've got ribbons of cinnamon sugar, crunchy almonds and pools of sticky salted caramel contrasting with a pillowy-soft interior. Yep, these cinnamon buns topped with salted caramel from Lagom: The Swedish Art of Eating Harmoniously by Steffi Knowles-Dellner are worth every single minute it takes to make them from scratch (and most of it is hands-off anyway).
Yuki Sugiura/Lagom
Dough
⅔ cup unsalted butter
2 cups whole milk
1¾ ounces fresh yeast
¾ cup superfine sugar
2 teaspoons ground cardamom
½ teaspoon salt
5¾ cups strong white bread flour, divided
1 large egg, beaten
Caramel
½ cup plus 1 tablespoon unsalted butter, softened
¾ cup light brown sugar
3 tablespoons light corn syrup
¾ cup heavy cream
Sea salt
Generous ⅓ cup almonds, roughly chopped
3 teaspoons ground cinnamon
½ cup superfine sugar
Filling
3½ tablespoons very soft butter
3 tablespoons superfine sugar
2 teaspoons ground cardamom
1 tablespoon ground cinnamon
1. Line a high-sided 9-by-13-inch cake pan with parchment paper.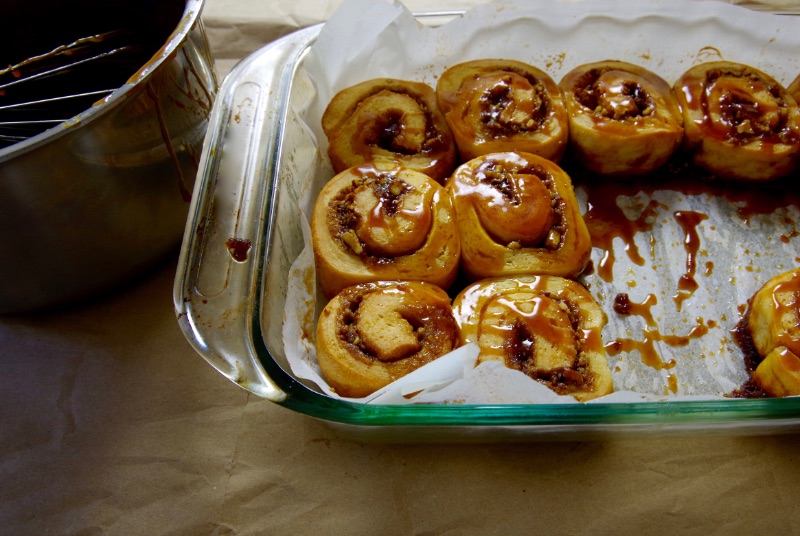 2. Make the Dough: Melt the butter in a skillet, pour in the milk and heat over low heat until just warm to the touch. Crumble the yeast into a large bowl with a little of the buttery milk. Stir until the yeast has dissolved, then add the remaining liquid. Add the sugar, cardamom, salt and 5 cups of the flour.
3. Mix until you have a wet dough, then tip it onto a lightly floured surface and knead until it comes together. It will be a bit difficult to handle, but moving it vigorously around or slapping and folding it will have an impact. Add a bit more flour if absolutely necessary. Place the dough in a clean bowl and sprinkle with flour. Cover with a tea towel and allow it to rise in a warmish place until doubled in size and smooth, about 1 hour.
4. Make the Caramel: Melt half of the butter in a small saucepan, then add the brown sugar and corn syrup. Simmer over medium-low heat until the sugar has dissolved, then add the cream and bring to a boil for 5 minutes. Add a pinch of sea salt and allow the mixture to cool until just warm to the touch, tasting to see if more salt is necessary. Sprinkle the almonds, if using, into the cake pan and pour the caramel sauce evenly over the bottom of the pan. [[when do you add the rest of the butter, and the 3 teaspoons ground cinnamon and ½ cup superfine sugar that are listed in ingredients for caramel?]]
5. Knock the dough back a bit while still in the bowl, then tip it onto a floured surface. Knead for a few minutes, adding more flour if the dough seems very wet. It is ready when it releases from the surface easily and, if you slash into the dough with a very sharp knife, you can see small, evenly distributed air bubbles. Cut the dough in half and roll out each half to form a rectangle, roughly 12 by 16 inches and ¼-inch thick, with the longest side facing you.
6. Spread the rectangles with the softened butter, then sprinkle with the sugar, cardamom and cinnamon. Tightly roll up the rectangles and then slice the rollinto about eighteen 1-inch-thick buns. Pinch or tuck in the ends and arrange on top of the caramel, spacing them about ½ inch apart. Cover with a tea towel and let rest for 30 minutes.
7. Preheat the oven to 400ºF. Bake the buns for 15 to 20 minutes, then remove from the oven and allow to cool a little before flipping over to release from the pan. You may find that some of the caramel sticks to the baking parchment, but you should be able to scrape it off and disperse it over the buns. Cool completely on a wire rack set over a baking sheet to catch any dripping caramel. Sprinkle with a little extra sea salt and pull apart to serve.
This article was from PureWow and was legally licensed through the NewsCred publisher network. Please direct all licensing questions to legal@newscred.com.