Sure, you've stocked your Thai pantry and you've mastered some classic dishes, like mango salad and Pad Thai. But branching out into other areas of Thai cuisine is easier than you think. Whether you're in the mood for vibrant Thai curries, crispy tod mun pla (Thai fish cakes) or something else entirely, we're here to help you bring the tastes of Thailand to your kitchen with these Thai recipes. Here's how.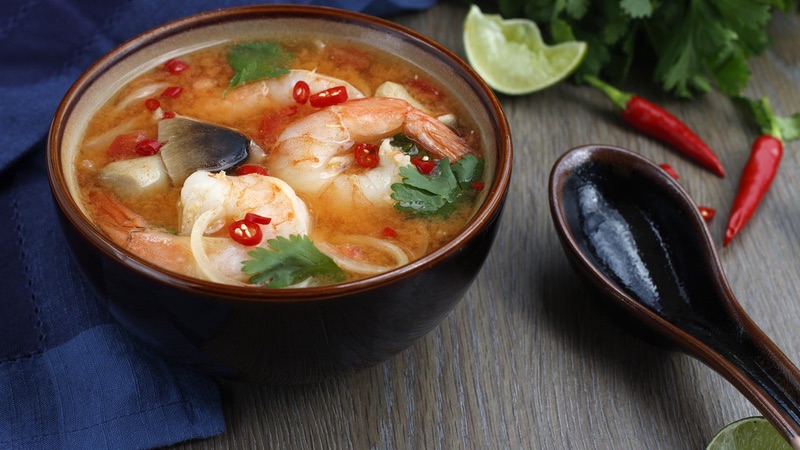 Start with Classic Thai Soups and Salads
There's nothing more satisfying than a refreshing salad in the summer, so use the warmer months as a chance to try out classic Thai salads. This Shrimp and Papaya Salad has it all: sweet papaya, satisfying shrimp, and a fiery ginger, lime and Thai chili vinaigrette. Or try out this Cold Thai Broccoli Salad for an easy weeknight side. 
Looking for something more comforting? Try a classic Thai soup. This fiery Thai Chicken and Coconut Soup, also called Tom Kha Gai, is a great place to start. A mix of lemongrass, ginger and crushed red pepper add intensely satisfying Thai flavor, while a creamy coconut milk base adds richness. Or go for a lighter option with hot and sour Tom Yum Soup. It takes just 40 minutes to cook, so you can get a light dinner on the table in a snap.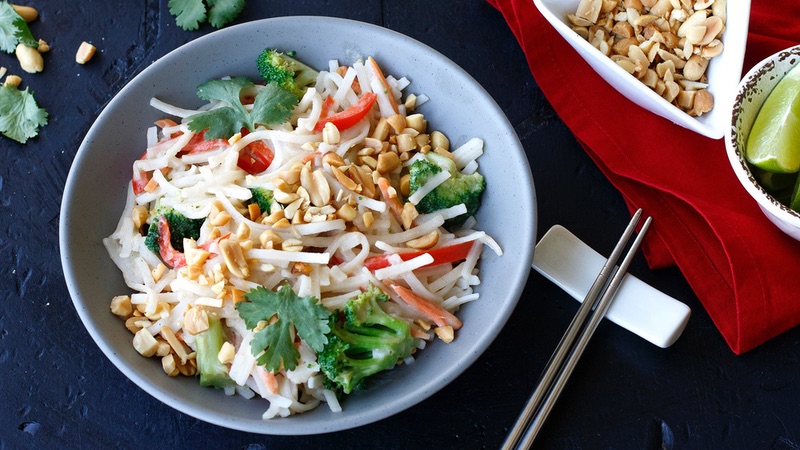 Make Next-Level Pad Thai and Noodles
Chances are, Pad Thai was one of your entry points to Thai cuisine. And if you've mastered traditional Pad Thai at home, you can up your Thai cooking skills by trying out different variations on this classic Thai recipe. 
Start with this Pad Thai Primavera. It has all the Thai flavors you love — coconut milk, creamy peanut butter and fish sauce — and packs in plenty of veggies for a better-for-you option. Alternatively, switch up Pad Thai night by playing with different proteins. Satisfy a seafood craving with this tasty Easy Shrimp Pad Thai, or use up those chicken breasts in your freezer with Easy Chicken Pad Thai. 
Of course, Pad Thai isn't the only way to enjoy Thai noodles. Branch out with this Spicy Thai Basil Chicken and Noodle Stir Fry. Thai basil infuses this dish with a subtle anise aroma, while fish sauce, garlic and Thai chilies add the classic Thai flavors you love.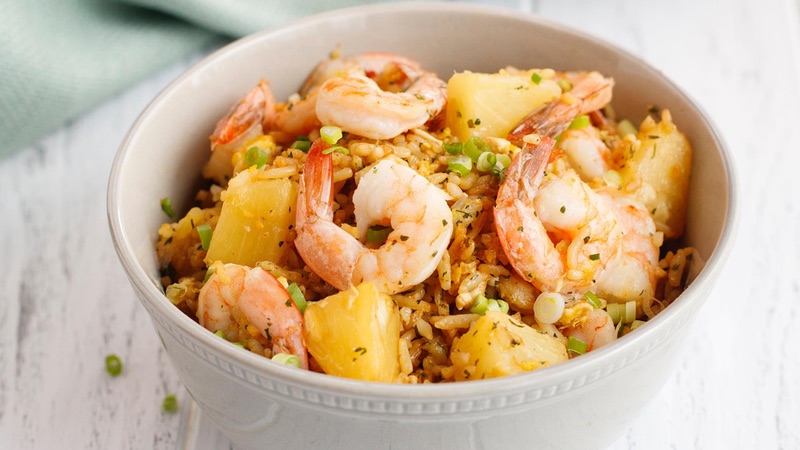 Try Thai Fried Rice
Rice is a staple grain in Thai cuisine, and there's no easier (and more delicious!) way to turn it into an entrée than with Thai fried rice. This classic Thai Fried Rice recipe packs in plenty of flavor thanks to Spicy Thai Chili Sauce and Thai Kitchen® Gluten Free Premium Fish Sauce. And, because it can be made with any protein in your fridge — beef, chicken, shrimp, tofu, or more — it's also endlessly adaptable. 
And if you want a fun twist on a classic Thai fried rice recipe? Try this Thai Pineapple Shrimp option. Juicy pineapple adds a burst of natural sweetness, while classic Thai seasonings like ginger and fish sauce add savory flavor.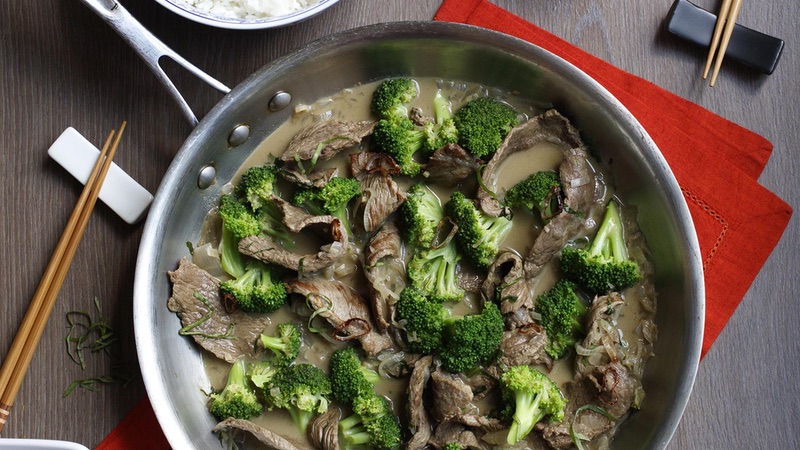 Serve Up Thai Stir Fries and Curries
One-pot meals are the simplest way to get dinner on the table quickly, and Thai cuisine has plenty of options for busy weeknight meals. This Thai Chicken Stir Fry with Coconut Rice is both easy to make and intensely flavorful — the coconut rice is so tasty, so you could eat it on its own — while this Beef and Broccoli Stir Fry with Green Curry offers a simple-but-delicious alternative to takeout. 
Speaking of curries, explore Thai cuisine by trying out different curry bases. Pick up Thai Kitchen® Gluten Free Red Curry Paste, which gets its rich flavor and gorgeous hue from a mix of red chilies, to make Red Curry Chicken and Red Curry Shrimp and Vegetables. Or go with Thai Kitchen® Gluten Free Green Curry Paste, infused with lemongrass and fresh green chili, for this refreshing Green Curry Chicken with Basil.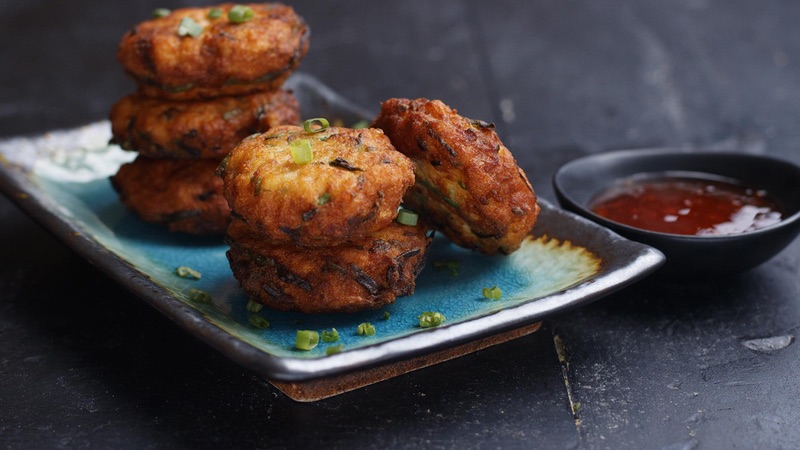 Make Tasty Thai Sides and Starters
Finally, round out your Thai meals with finger foods, which work equally well for weeknight dinners as they do for entertaining. Try out traditional Thai Crispy Fish Cakes, also called Tod Mun Pla, for a satisfyingly crunchy side. 
Or make homemade Thai spring rolls as a better-for-you alternative to takeout. These Chicken Spring Rolls are simple to make and sure to please any crowd, especially paired with this savory Carrot Dipping Sauce. Or go with these fresh Vegetable Spring Rolls as a tasty plant-based option — then show off those spring roll-making skills on your Instagram feed.