Nothing says summer quite like a bundle of sweet corn. A vegetable that can be enjoyed all year long, it peaks during the summer months and makes for an appetizing side dish or salad. With corn, you don't need to do much. It's simple and quick to cook, and a generous spread of butter, salt, and pepper does the trick. Boiling corn is usually the go-to cooking method, but there's various cooking techniques you can use to enjoy the staple vegetable of the season.
How To Shuck Corn
Corn can be cooked either shucked or unshucked. To shuck corn, start at the tip of the ear, grabbing all the husk and silk strings. Strip down. Repeat until the ear is bare.
5 Ways To Cook Corn On The Cob
1. Microwave Corn
How to cook corn on the cob in the microwave
For shucked corn, wrap each ear in a damp paper towel.
Place no more than four ears in a single row on a microwave-safe dish.
For unshucked corn, simply place the ears on the dish.
How long to microwave corn on the cob
Cooking time will depend on the number of ears.
A single one usually takes 4-5 minutes.
It can take up to 15 minutes for four ears.
Turn the corn halfway through cooking.
2. Steamed Corn
How to steam corn
Using shucked corn, place the ears in a steaming basket and place in a pot with boiling water.
The water should not rise above the basket.
Turn the heat down to allow water to simmer.
How long to steam corn on the cob
Cover the pot and steam for 15-20 minutes.
3. Boiling Corn
How to boil corn
Place whole, shucked corn in boiling, salted water.
How long to boil corn
Boil for 5 minutes. Done!
You can keep the corn in water for an additional 10 minutes to keep them warm, but any longer than that and the corn will become tough.
Learn more about boiling corn on the cob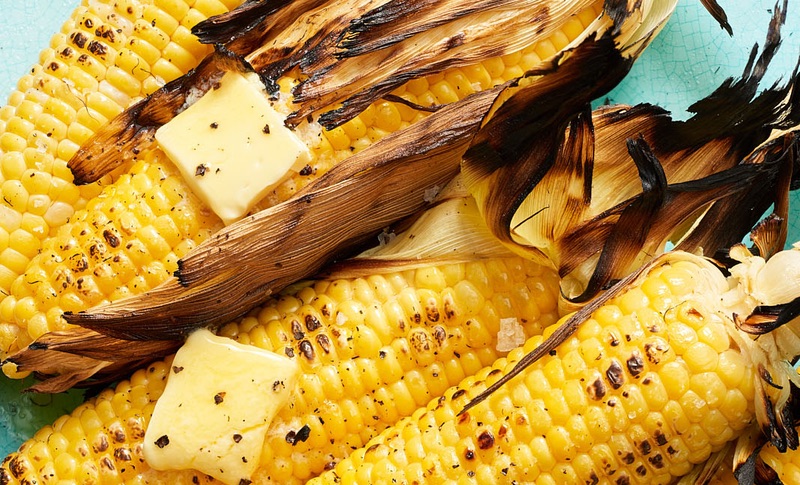 4. Oven-Roasted Corn
How to roast corn in the oven
Preheat oven between 350 and 375 degrees.
With unshucked corn, remove any dry leaves and silks, as these may burn.
Place in a single layer on the oven rack and roast for 30 – 35 minutes.
For shucked corn, you can roast as uncovered or in aluminum foil.
Before wrapping in the foil, add butter, spices, or herbs.
Roast between 20 – 30 minutes.
5. Grilled Corn
How to grill corn
Preheat grill over high heat, about 400 – 450 degrees.
To grill corn with the husks on, prepare by trimming the silk off.
Cook for about 15 minutes, rotating often. When the husks begin to pull away from the tip of the ear, the corn is done.
To grill corn without the husks, brush the ear with olive oil or melted butter, then season with salt. You can do this before wrapping the ear in foil, too.
Place the corn on the grill, close the lid, and cook for about 8-12 minutes, turning every couple of minutes until the sides are golden or charred, depending on your preference.
Corn Recipes You Must Try
Now it's time to enjoy that juicy, crunchy corn cob! Try this Taco Spiced Street Corn and coat it with crumbled Cotija cheese - inspired by the popular grilled corn on the cob sold by street vendors in Mexico. For other ways to dress up your corn on the cob, make Grilled Mexican Style Corn on the Cob with Lime Mayonnaise, Grilled Corn with Spicy Honey Butter or Grilled Corn with Chile-Lime Butter.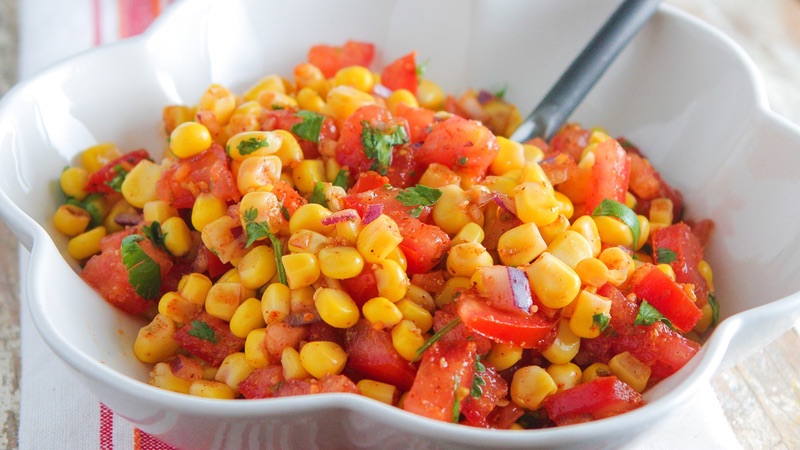 In the mood for corn off the cob? After removing the kernels, use them in a homemade salsa for chips or as a condiment for burgers, like this Corn Salsa Fresca or Old Bay Grilled Corn Pico de Gallo. No cookout is complete without a corn-based salad. Try Grilled Corn Salad with Toasted Cumin Dressing or Tex-Mex Grilled Corn Salad. Serve Caribbean Summer Salad alongside your grilled meats or chicken, or eat it alone, chilled. Corn also makes for a beautiful relish, like this Grilled Pork Chops with Baja Corn Relish. For another idea, put together some maque choux, a dish with Native American origins, traditionally made with corn, tomatoes, onions, and bell peppers.
Watch Our Videos On Cooking Corn
Learn More About How To Cook Corn
Save your favorite corn recipes and organize your ingredients with our online meal planner. You can also make meal prep simple by creating a Flavor Profile, so you can store your favorite recipes and create grocery lists for easy shopping.