If you're familiar with Indian food, you've probably eaten naan alongside a bowl of flavorful curry at an Indian restaurant or picked up a pack from a local bakery—and maybe you're thinking about making it at home!
What Is Naan Bread? 
Naan bread is a soft flatbread made with yeast eaten in Indian cuisine. Traditionally, it's baked in a tandoor, a clay oven. The naan is thrown against the walls of the tandoor, where it sticks and cooks quickly from the heat. 
The good news is that you don't need a tandoor or any fancy equipment—just a nice and hot pan. There are so many versatile uses for naan bread—making it is quick and easy, and can be a dinner staple you make at home.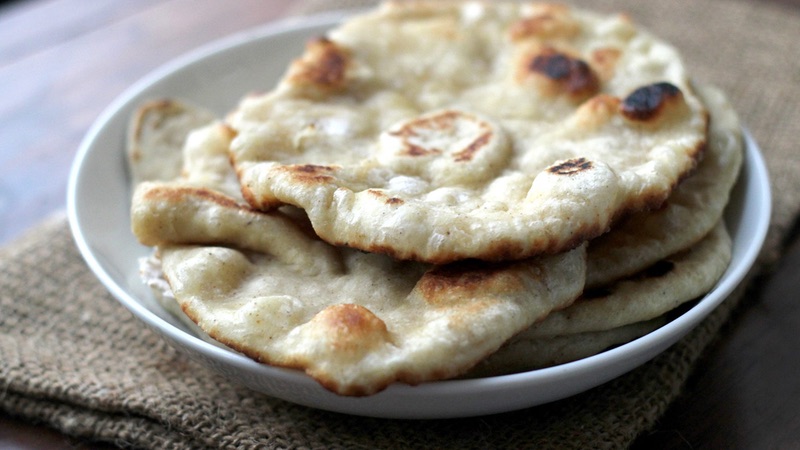 How To Make Naan Bread
As with most bread, a naan bread recipe starts with a mix of flour, water, yeast, and salt. However, naan is a little different from your regular loaf of bread because of an unlikely ingredient: yogurt. Yogurt's fat content, unique flavor, and texture give naan bread its signature softness and pillow-like texture. That's because ingredients rich in fat like yogurt, eggs, and milk slow gluten development, which means that naan will rise slightly when cooking.
To make naan bread you'll want to start by proofing your yeast with a little sugar and warm water for about five minutes.
While you wait, combine flour and salt.
Once the yeast is proofed, add it into the flour along with the yogurt, and knead with your hands until it forms a soft, sticky ball (don't be alarmed, this is normal!)
Let it sit until it doubles in size (which will take an hour), then divide into equal portions, flatten into disks, and cook in a very hot pan until the bottom is brown and the naan is filled with air bubbles. 
It's easy to make naan bread at home, and you likely have everything you need to churn out delicious homemade naan in no time. However, if you're looking to purchase naan bread instead, you can easily find it in an Indian store, or even in the bakery department or the frozen food section of your local supermarket!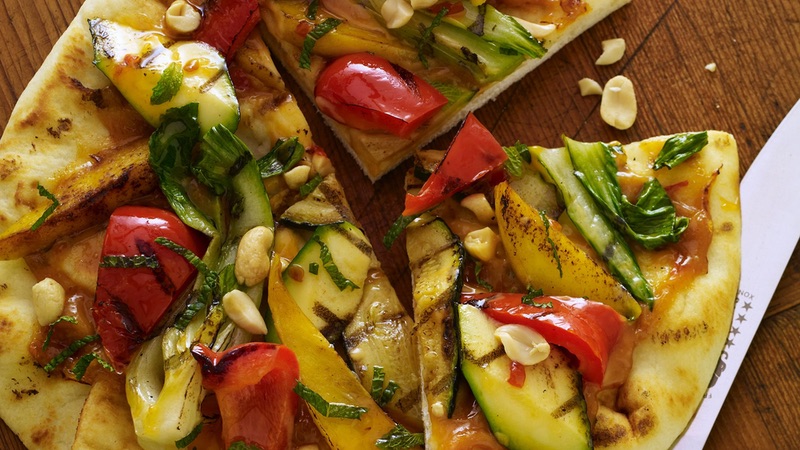 Types Of Naan Bread
While naan bread is a staple in Indian cuisine, variations can also be found in other Southeast Asian, Persian, Caribbean, and Middle Eastern cuisines. In Myanmar, buttered naan is sometimes accompanied by a cup of coffee or tea. Nan-e Barbari (or Persian flatbread) is often topped with nigella and sesame seeds for a bit of crunch and can be served with a spread of marinated olives, feta cheese, and hummus for a great snack or hors d'oeuvres.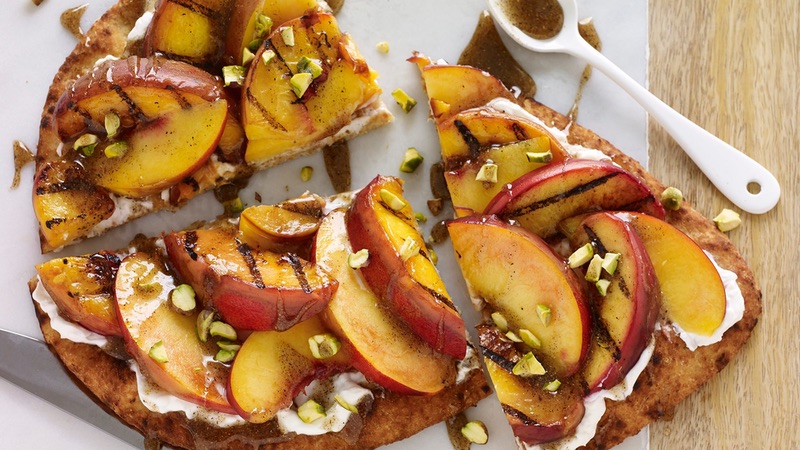 Naan Bread Recipes
Naan's versatility means that you can eat it for any meal during various times of the day—and it serves as the perfect canvas for all types of flavors!
1. Naan Bread Pizza
If you're looking for a different take on traditional pizza, why not try a naan bread pizza instead? This Grilled Indian-Spiced Flatbread recipe uses packaged naan as a vehicle for fragrant, turmeric-spiced onion, vine-ripened tomatoes, and creamy goat cheese.
2. Naan Bread Sandwich
For a great work-from-home lunch option, our recipe for Chicken Jalfrezi, a classic Indian chicken and bell pepper dish, is served "street truck style" as a sandwich using naan and a minty yogurt sauce.
3. Naan Bread Wraps
Craving an easy weeknight dinner? Make these naan wraps filled with cumin-spiced lamb, shredded iceberg lettuce, and a quick homemade cucumber raita.
4. Naan Bread Dessert
For a sweet twist, our Grilled Fruit Tart with Spiced Honey Drizzle uses grilled naan as the base for grilled summer fruit, creamy yogurt, pistachios, and a Garam Masala-spiced honey drizzle. 
Whether you try your hand at making naan bread at home or pick it up in-store, the possibilities are endless! 
More Naan Recipes You Must Try
Learn About Cooking With Naan Bread
Ready To Cook With Naan? 
Save your favorite naan recipes and organize your ingredients with our online meal planner.  You can also make meal prep simple by creating a Flavor Profile, so you can store your favorite recipes and create grocery lists for easy shopping.