Foodies can't wait for Ramadan to come – I know I am, not just because of the heavy, hearty meals at every breakfast. But also for the most important part of Ramadan meals, dessert! It is safe to generalize here but don't we all get a little excited when Qatayef or Konafa is served after a long elaborate meal filled with family quality time and joy. But, if you're a true foodie, you must've wondered where did they originally come from? Let's find out.
Qatayef
Who doesn't love Pancakes? This Middle Eastern version is a yeast batter cooked low and slow on a griddle. Its signature look of bubbly side with tiny pore-like holes makes it a very good carrier for flavors and textures, the combinations are practically endless. Typically served as is, in a shape of a "cat ear" filled with whipped cream and decorated with nuts. The other popular form is stuffing the Qatayef, traditionally with nuts and raisins and deep-fried to crisp perfection.
Like most desserts on this list, food historians differ in tracing it to its origins. But, it mostly dates back to the Fatimid Dynasty or even further back to the Abbasid Caliphate from the 10th century. Modernly speaking it originated in the Levant region.
Baklava
This well-known dessert not just regionally but globally is a layered filo dough stuffed with a crushed nut of choice. Fairly simple and straightforward yet utterly delicious and addictive. It is widely known that we got this dessert from Turkey, yet some historians date it back even further to 9th century Persia.
Kunafa
This one is a drama queen, claimed by every MENA region country, loved by almost everyone. This dessert is a runny batter cooked on a griddle while using a specific tool to dispense it making it in the form of hair or cotton candy. Then, it is mixed with gee, pressed tightly, and filled with whatever your heart desires. With so many ways of cooking and filling it is hard to locate its origins but it most probably came to form Nablus in the Levant region.
Balah El-Sham
An international superstar, known worldwide by many different names like Churro in Spain, Tulumab in Turkey. This simple dessert is a deep-fried Choux pastry drenched in either sugar syrup, honey, cinnamon sugar, or chocolate depending on where you live. And even though Choux pastry makes anyone think immediately of France but most historians agree that it originated back in the Ottoman Empire days.
Lokmat El-Kadi
Known as "Awamat" in the Levant region, "Zalabia" in parts of Egypt, and Greek Doughnuts to the west. This dessert is practically a deep-fried ball-shaped doughnut. As the origin goes it is probably from ancient Greece and made its way to the Arab world back in Abbasid Caliphate in the 11th century.
Basbousa
This crumbly cake-like dessert is made from semolina flour eggs and dairy. Baked, then soaked in sugar syrup. This delicate lushes dessert is actually native to Egypt, it even has a vegan variation made by Egyptian Christians for their fasting. However, like all things MENA, it has different variations from different countries like filling with pastry cream in the Levantine region.
Dried Fruits
Also known in Egypt as Yameesh Ramadan. Dried fruits are practically everywhere and no one cares much about where they come from. But since drying fruits is one of the oldest preservation methods, historians trace it back to ancient times and civilizations like the Mediterranean, Mesopotamia, India. But, dried fruits making it into the Ramadan menu is a whole other story.
Khoshaf
Dried fruit compote, the most traditional starter, is a staple of every breakfast in Ramadan. Made by soaking a mix of dried fruits commonly figs, apricots, dates, raisins, and sour plums in water and sometimes sugar. This one can be traced back to many cultures like soaking dried fruits in liquor for Christmas! But without Khoshaf, many feel like the Ramadan meal isn't complete.
Stuffed Dates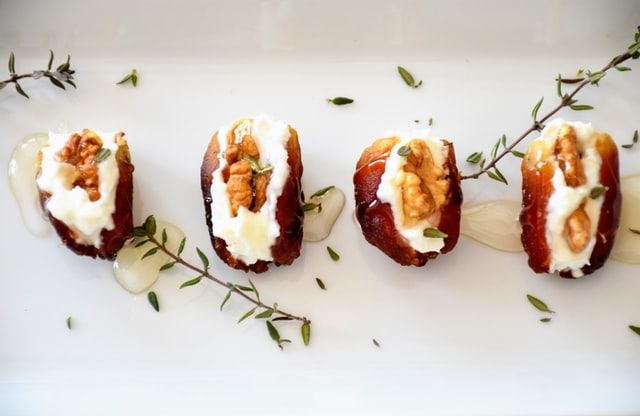 Photo by Boba Jaglicic on Unsplash
The fruit itself originates from the Arabian peninsula whether in the Levantine region or in GCC countries. But the idea of bitting the fruit and stuffing dates back to ancient civilizations in the Levantine region where it was surprisingly served as a savory dish stuffed with minced meat and mint. Now in our modern days, they are served as the sweetest dessert filled with all kinds of goodness from nuts, nut butter, to chocolate.
Kahk (snow cookies)
Commonly known as snow cookies, these buttery biscuits are filled traditionally with a date paste or nuts. They are not a Ramadan staple per se, they are more than that. They just ooze with the joy of Eid announcing the end of the holy month. They are also the most Egyptian dessert in more than one way. Archeologists found carvings on temple walls in Memphis and Thebes depicting ancient Egyptians making Kahk that date as far back as 3500 BC.
Finally, while it is fun to know where our rich culture and cuisine comes from, it is even more important to get into the spirit of the holy month, and enjoy the food and the wholesome vibe that comes with it.
By Ahmed Gabr
This article was from Scoop Empire and was legally licensed through the Industry Dive Content Marketplace. Please direct all licensing questions to legal@industrydive.com.