July 22 was National Hot Dog Day, when the US came together to celebrate one of its culinary treasures. Just because the National Hot Dog and Sausage Council has given the meal its own day, though, doesn't mean that you can't indulge for the rest of the summer. Here are some tasty, convenient hot dog ideas that work all year round.
Dating back to the late 19th century in the US the hot dog has long been a street foot staple, and is the perfect dish for summertime tailgate parties everywhere (outdoors with appropriate social distancing, of course).
What makes a hot dog? Is it the bun, or the frankfurter that goes inside it? Is it the relish or other sauce that finishes it off? The answer, of course, is all of the above. These three critical components may seem simple, but they give us enough options to experiment and embellish, creating hot dog recipes unique to certain cities.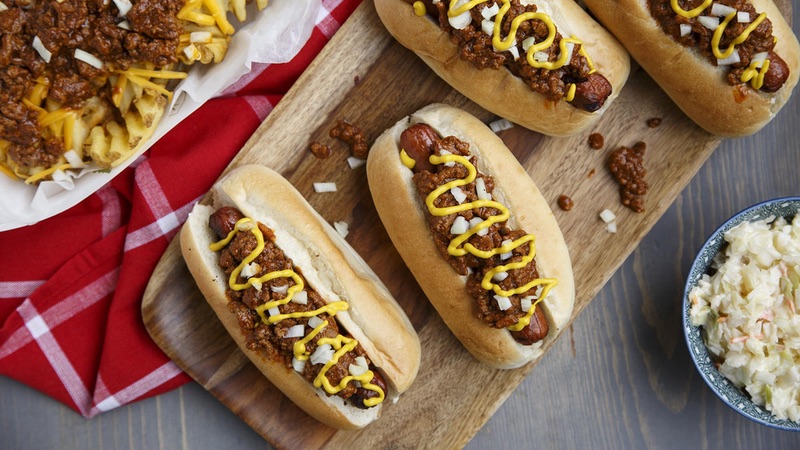 Regional hot dog recipes
Every US city thinks it has the best way to cook hot dogs - and they're all right! The New York dog features spicy brown mustard like French's with sauerkraut. NYC's Coney Island was also the birthplace for the Coney Chili Hot Dog, which comes with a ground beef topping. In spite of its name, the Coney dog has spread out to other parts of the country, and you'll find variations from Detroit to Kalamazoo as cities make it their own.
Atlantans, on the other hand, like 'slaw dogs. For a variation on this theme, try our Smoky Applewood & Cheddar Sausages with Coleslaw recipe. For extra decadence, add some french fries to your 'slaw topping with this B-More French Fry Slaw Dog recipe. Out west, San Franciscans have developed a fondness for bacon on their dogs. Try out our FRENCH'S Bacon Cheddar Dog to understand why it's so irresistible.
Folks in the Windy City have their own Chicago Style Dog, loaded with tomato, dill pickle, peppers, and relish. That relish is easier to make than you might think; McCormick® Ground Mustard is the basis for this Dilly Pickle Relish which uses fresh vegetables to give your hot dog a healthy, tasty kick.
Home-made sauce opportunities don't stop at relish. While you'll find French's Tomato Ketchup gracing plates around the states, don't be afraid to level up your dressings using this Smoky Tomato Ketchup with Poblano Chile, which gets its smoky flavor from McCormick® Grill Mates® Smokehouse Maple Seasoning.
There's really no limit to what you can legitimately put on a hot dog. Chili sauce is a perennial favorite. Our FRENCH'S Chili Dog comes with a dash of French's Spicy Brown Mustard for lovers of spicy hot dogs.
Don't stop there, though; consider fruit among your hot dog ideas. Pineapple slices aren't just for Hawaiian burgers. They go well with hot dogs, especially when combined with a beer and mustard sauce. Check out our video to see those recipes in action and then subscribe to our channel for the rest of our Flavor Makers series. Continue on this fruit theme by using the mango in our Banh Mi Hot Dog recipe.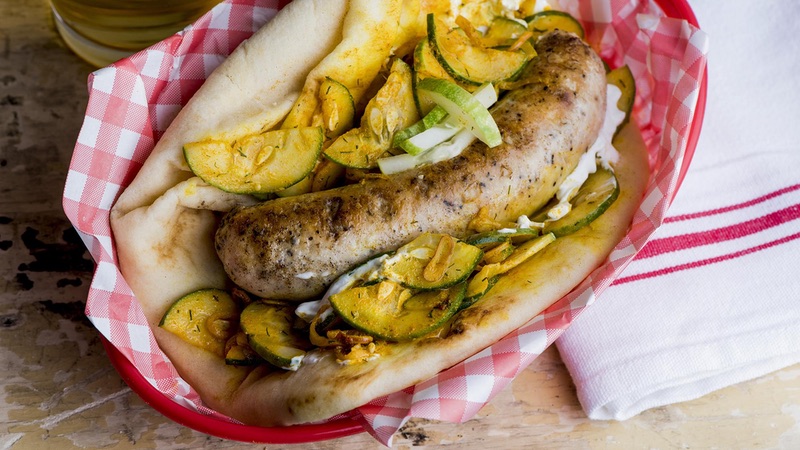 Hot dogs: The Advanced Class
These hot dog recipes will get you through hot dogology 101 and 201, but here's your stretch goal: the hot dog advanced class. At this level, you can start breaking the rules, swapping out those critical bun and dog components for alternatives. For example, this Grilled Turkey Sausage with Cucumber Relish recipe replaces the bun with naan and sour cream, and the traditional frankfurter with turkey (they're not just for Thanksgiving, you know). Never thought you'd see McCormick® Ground Turmeric in a hot dog recipe? Think again.
All this attention on what goes inside the bun is important, but spare a thought for what goes on the side. Every tailgate get-together should include a pleasing dish to round out the meal. This Sweet Hickory BBQ Baked Beans recipe should do the trick.
Equipped with these hot dog recipes, you can make your tailgate a prime destination between now and next year's National Hot Dog Day. Just remember that according to scientists the theoretical ceiling for competitive hot dog eating is officially 84 hot dogs in ten minutes. Pace yourself, now.