Nothing says comfort food quite like homemade mac and cheese. It's always a satisfying choice when you're warming up on a cold day or enjoying a long-awaited family gathering. Using a great selection of spices and seasonings, you can pick the mac and cheese recipe that's right for you.
Types Of Mac And Cheese
Whether you prefer baked mac and cheese, cauliflower mac and cheese, vegan mac and cheese, or buffalo chicken mac and cheese, there's an endless variety of easy mac and cheese recipes you can make in your own kitchen. For fans of cheddar cheese, Parmesan cheese, or other types of cheese, mac and cheese sure is a delicious way to get your carbs on! Check out all of our recipes below on how to make mac and cheese. 
Who Invented Mac And Cheese?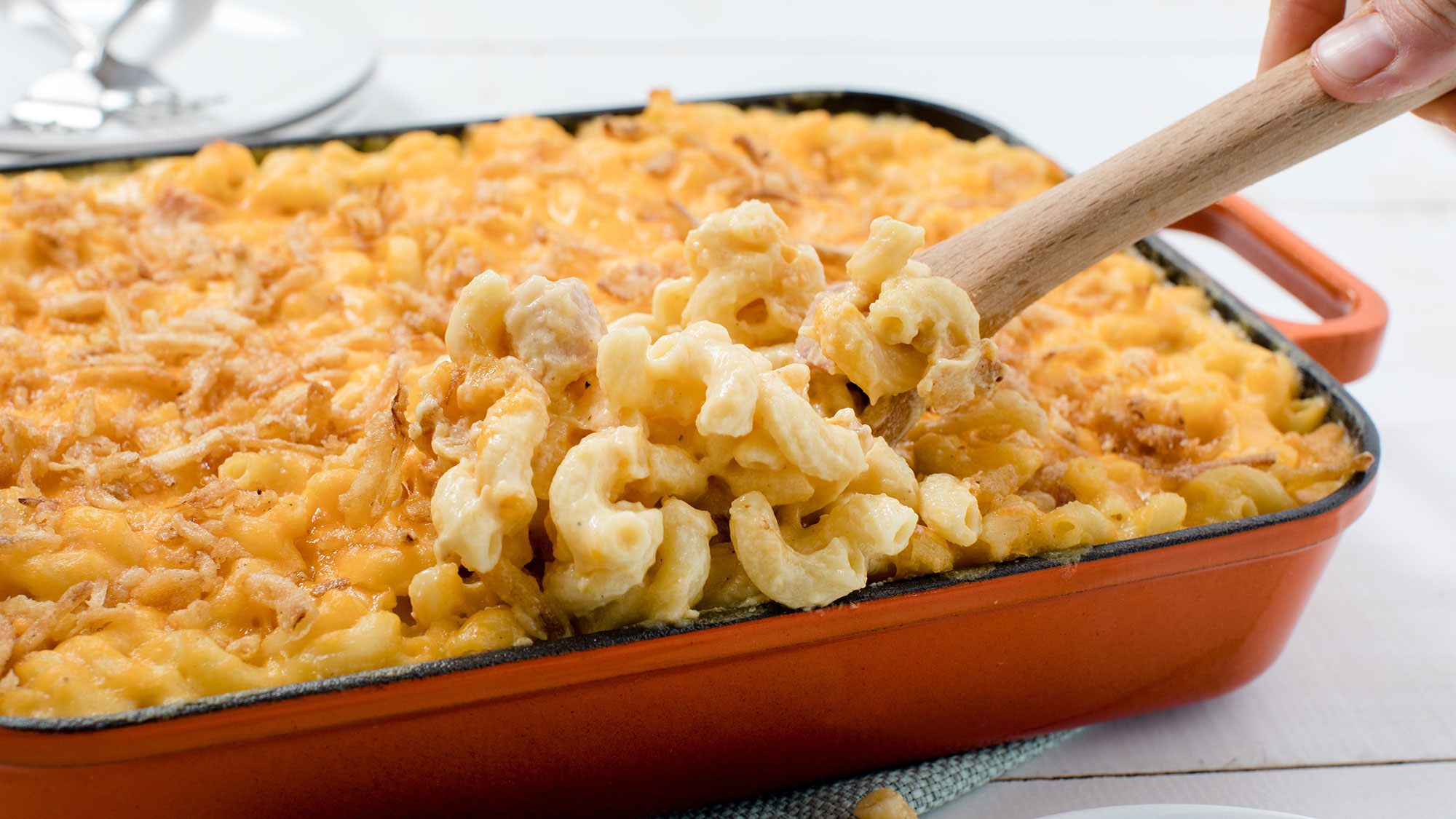 Curious about the origins of mac and cheese? According to food historians, it dates back to 14th-century Italian and English recipes. Businesswoman Elizabeth Raffald published an influential mac and cheese recipe in her 1769 book The Experienced English Housekeeper. And President Thomas Jefferson is often credited with popularizing mac and cheese in the United States.
Today, this tasty dish inspires everything from wine pairings with mac and cheese to festivals that celebrate mac and cheese. Right now, let's spotlight 7 mac and cheese recipes that will make you say, "Yes, please!"
How To Make Mac And Cheese
Depending on the recipe used, the steps for how to make mac and cheese can vary. The most basic and general steps are: 
Boil the pasta and cook until al dente
Drain, rinse pasta with cold water
Make the cheese sauce - combine cheese, butter, flour and milk 
Whisk until the sauce starts to thicken 
Add more cheese, continue to stir 
Combine cooked pasta with the cheese sauce, continue to stir
Move pasta and cheese mix to a baking dish
Sprinkle more cheese on top
Bake in the oven at 350 - 400 F degrees for 30 minutes
Take out of oven once top is slightly brown and crispy
Let it cool for a few minutes and serve! 
Try These Easy Mac And Cheese Recipes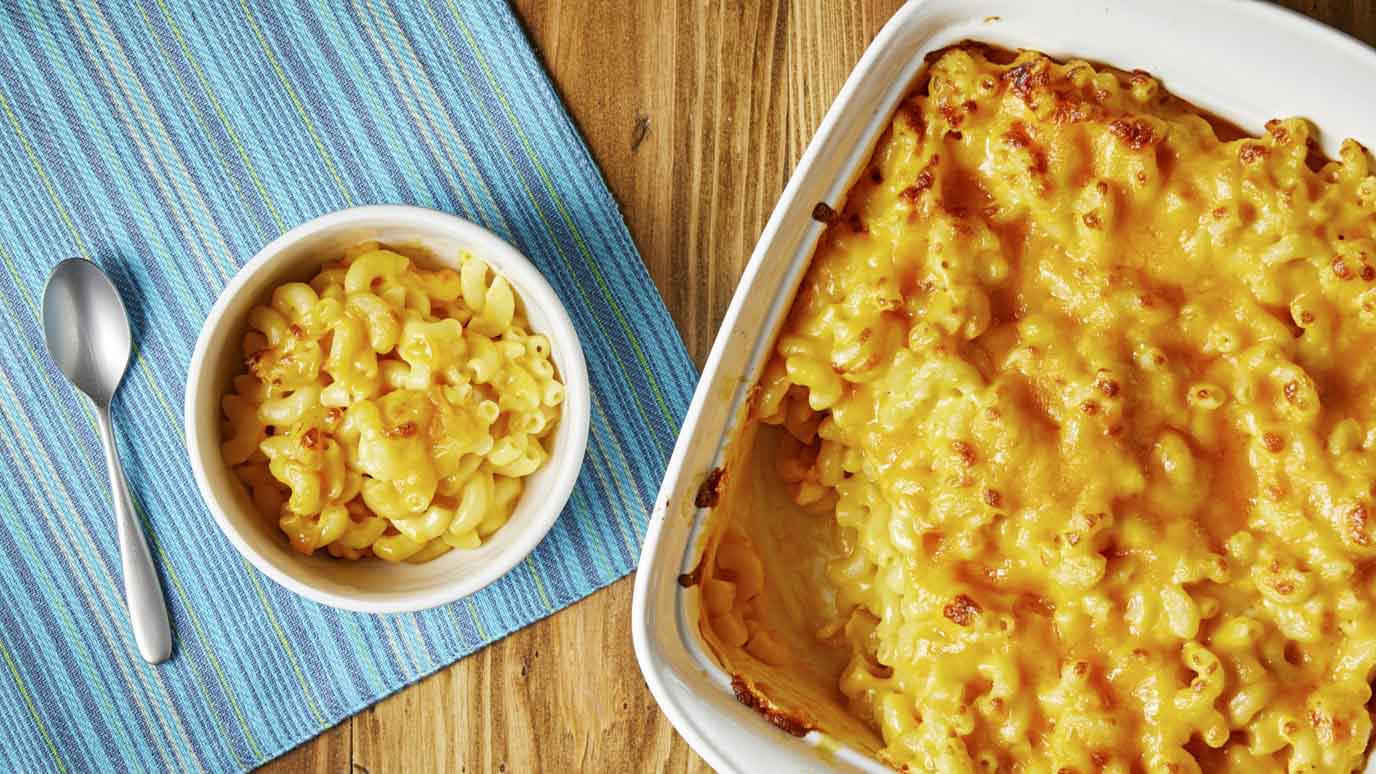 Looking for a quick weeknight meal? This easy mac and cheese recipe is a great go-to. It involves just six ingredients, including French's Classic Yellow Mustard, shredded cheddar cheese, and condensed cheddar cheese soup. Bring on the creamy, bubbly, cheesy goodness!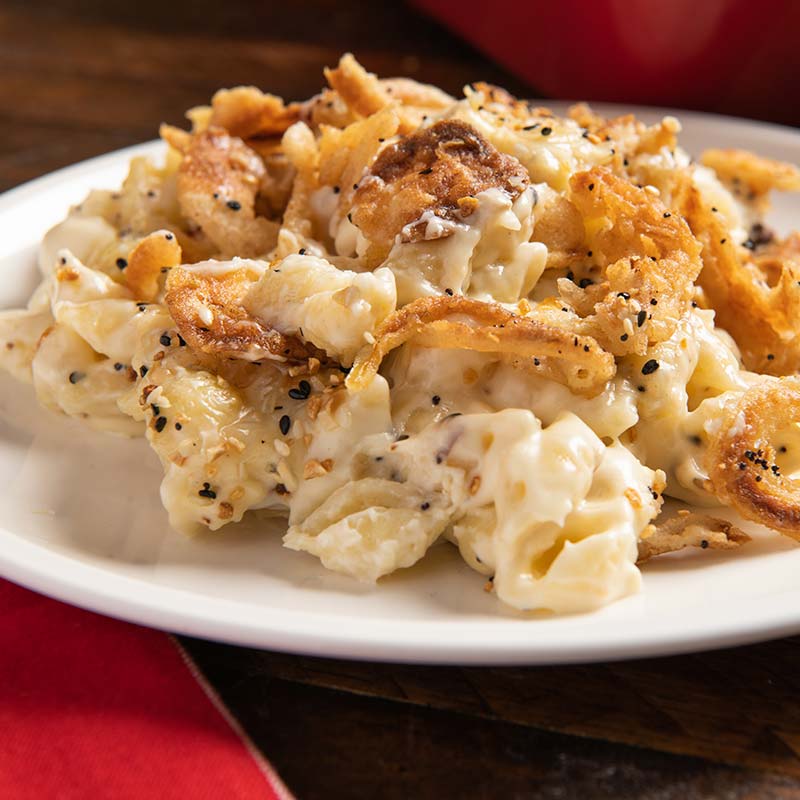 What could possibly make mac and cheese with smoked Gouda, cream cheese, and cheddar cheese even tastier? Answer: adding Everything Bagel All Purpose Seasoning. Our classic seasoning mix keeps you coming back with the flavors of garlic, sesame, and onion. This baked mac and cheese recipe, which also features Original Crispy Fried Onions, delivers 10 servings.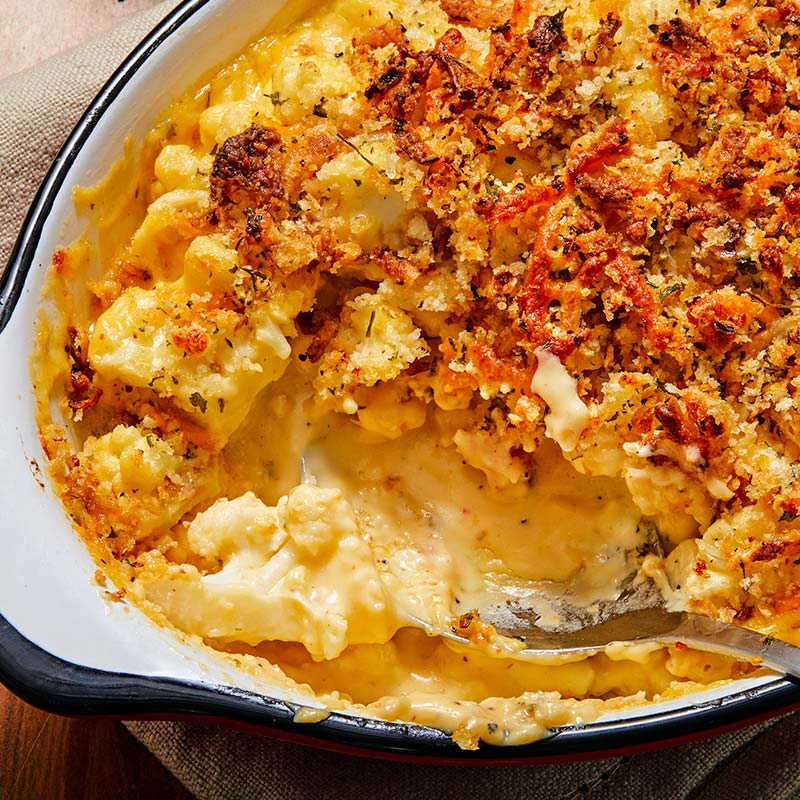 Similar to how cauliflower wings offer a vegetarian alternative to buffalo wings, this cauliflower mac and cheese recipe provides a mouthwatering way to make a better for you mac and cheese without macaroni. Our Himalayan Pink Salt with Black Pepper and Garlic All Purpose Seasoning – including dried red bell pepper and lemon peel – brings a unique tang to this recipe, which uses 12 cups of cauliflower.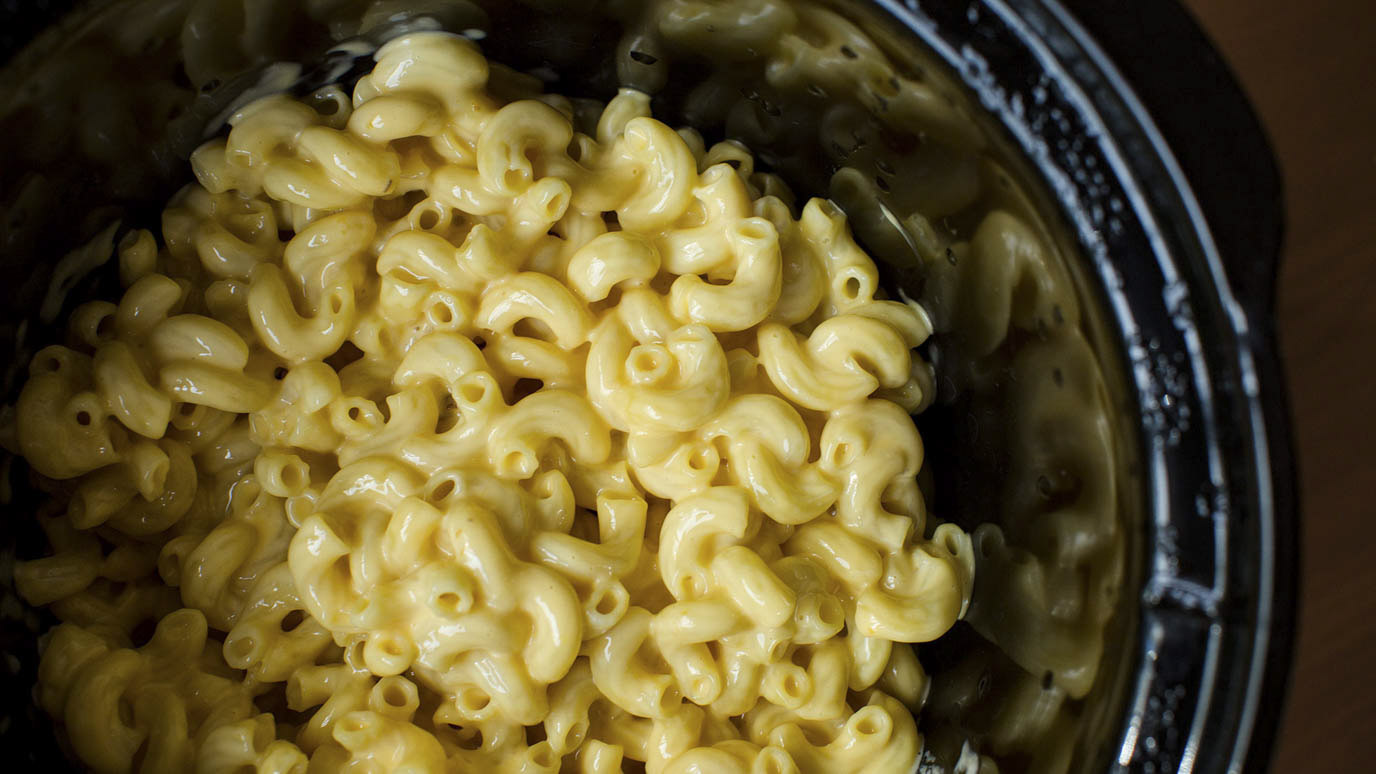 If you're obsessed with your slow cooker or Instant Pot, this is the crockpot mac and cheese recipe for you. With a wonderful creamy, cheesy consistency, it incorporates Ground Mustard, Roasted Garlic Powder, and Coarse Ground Black Pepper.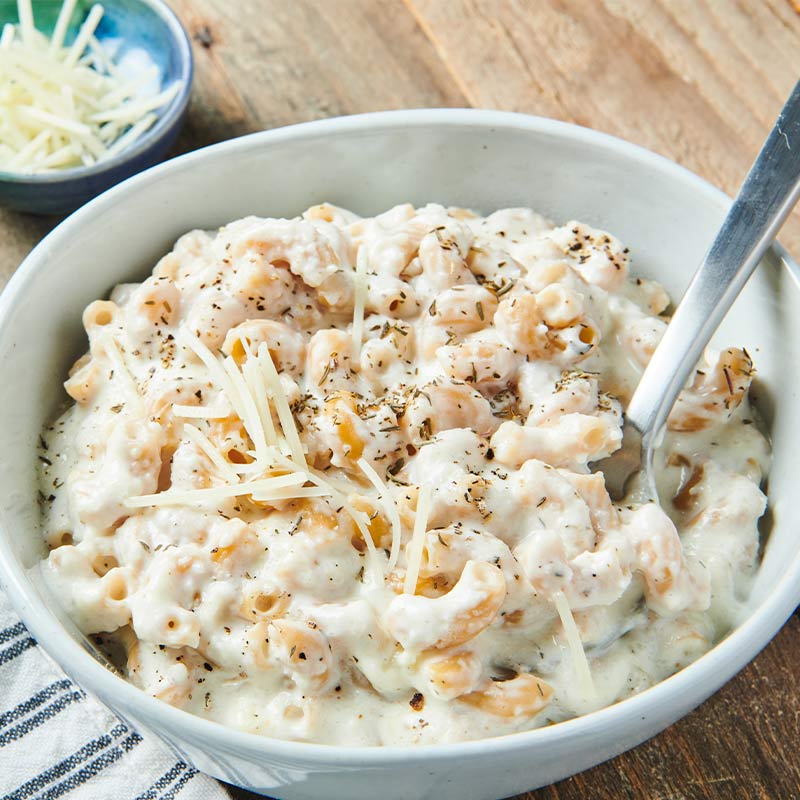 This creamy mac and cheese recipe includes four (yes, four!) different kinds of cheese in a delectable cheese sauce with pureed cauliflower. The stovetop dish, which takes about half an hour to make, includes the savory goodness of Thyme Leaves and Coarse Ground Black Pepper.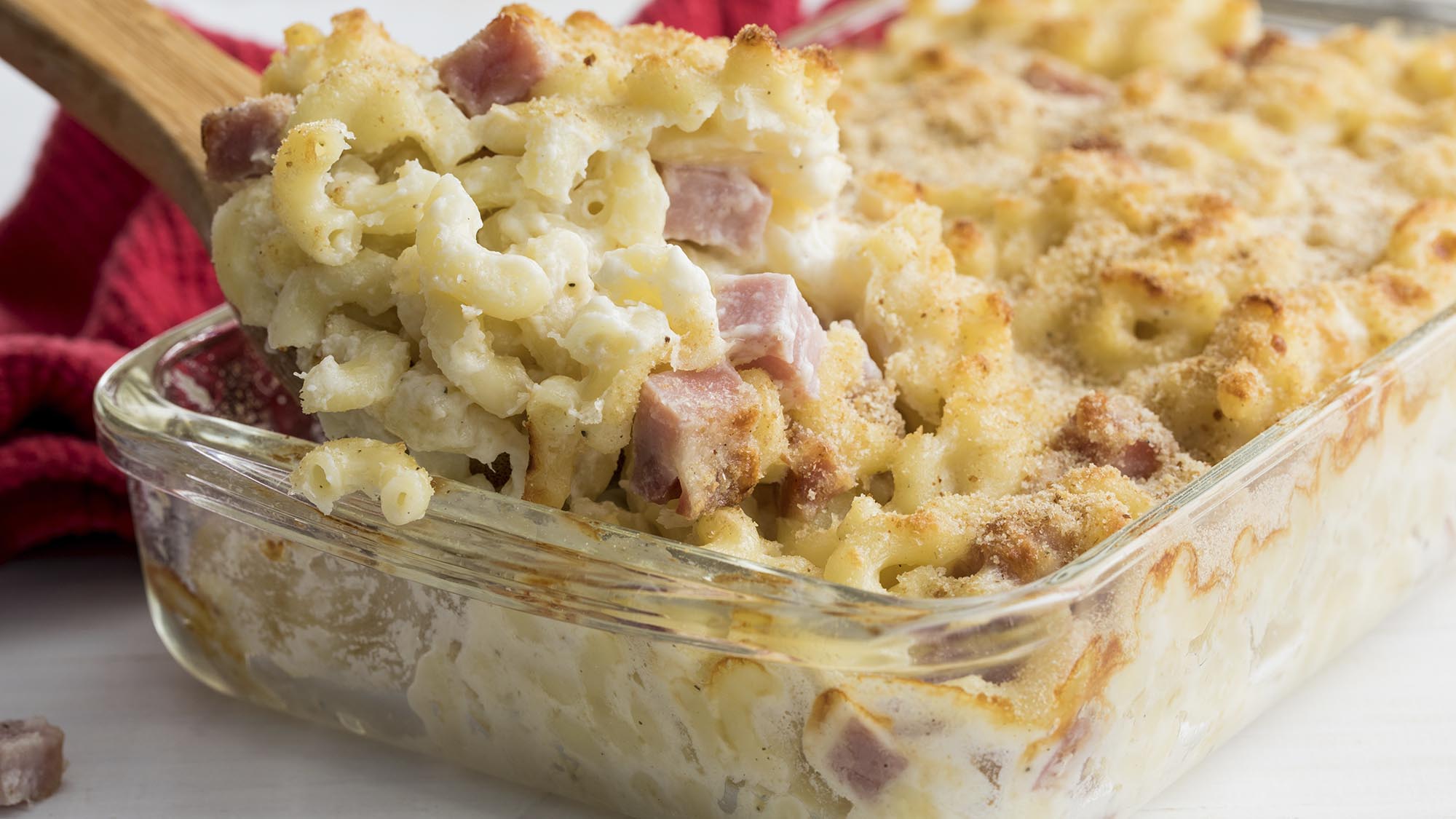 Anyone who loves a ham and Swiss sandwich will go wild for this easy baked mac and cheese recipe. Topped with bread crumbs and seasoned with Ground Mustard, Rubbed Sage, and Sea Salt Grinder, it delivers a hearty and distinctive twist on traditional homemade mac and cheese.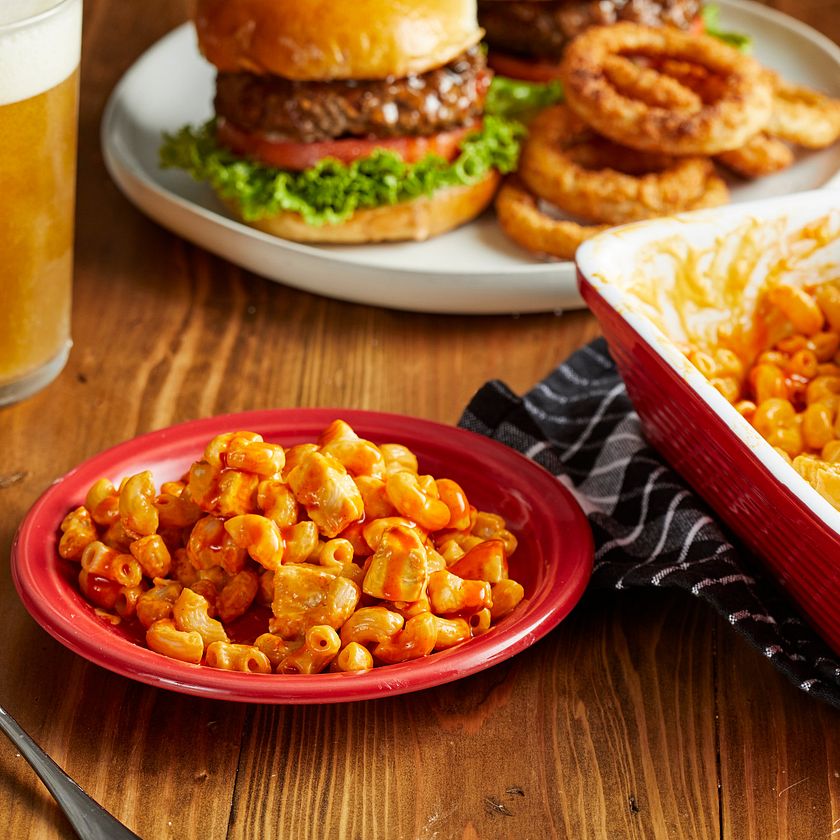 Like it hot? Love chowing down on chicken? You've come to the right place for an easy buffalo chicken mac and cheese dinner. This recipe uses two store-bought boxes of mac and cheese to save time. Frank's RedHot Buffalo Wings Hot Sauce is the rocket fuel you need. We have lift-off!
More Marvelous Mac And Cheese Recipes
Your quest for the perfect mac and cheese recipe can become a lifelong passion! To help you on your way, here are some more delicious, easy mac and cheese recipes:
More Tips On How To Make Mac And Cheese
Save your favorite mac n cheese recipes and organize your ingredients with our online meal planner.  You can also make meal prep simple by creating a Flavor Profile, so you can store your favorite recipes and create grocery lists for easy shopping.